France, June 2022
Genesus Global Market Report
High hog prices and high feed prices
After a sharp rise in the hog market price for a few weeks between February 28 and May 7 (+0.39 € per kg carcass), the price has not changed in the last 5 weeks and remains at 1.698 €.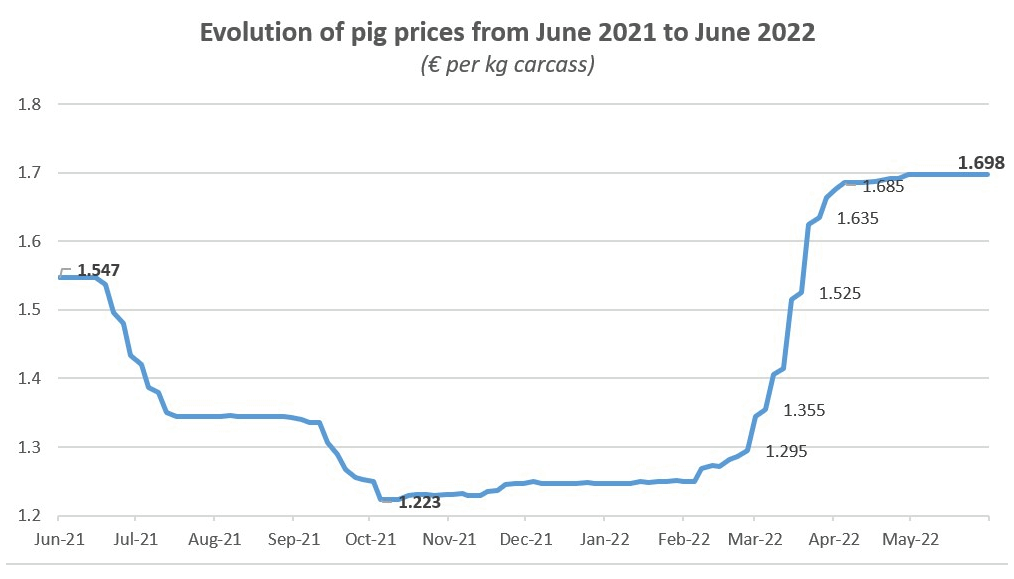 The average price for the last 12 months is 1.391 €. Moreover, the average price for the first 22 weeks of 2022 is 1.481 € compared to an average price of 1.332 € in 2021.

The supply of pigs is decreasing in France week after week, like in other European countries (Belgium…) in a context of seasonal decline in production; and cyclical decline with reductions in production or even a permanent shutdown for some producers or temporary for others.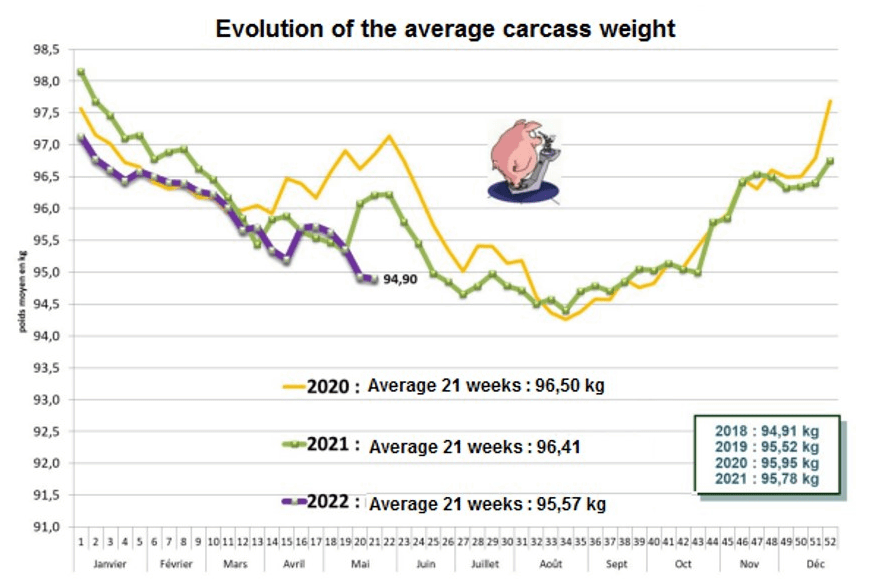 Average carcass weight is decreasing, a consequence of the drop in production. The main reason for production decline is record feed prices.
In December 2021, the average feed price was 322 € per Ton (compare to 268 € a year before) and about 330 € per Ton at the end of January 2022. At the end of May, the average feed price was around 370 € and continues to rise. Many people expect a price over 400 € per Ton in a few months. It would be totally insane! Of course, feed price could be a bit different depending on the 2022 harvest level, and whether Ukraine can export its cereals….
Economic and social resilience plan
As we wrote in our previous report, the French Prime Minister presented an economic and social resilience plan to address, among other things, the brutal increases in commodity prices linked to the war in Ukraine. This support has been validated by the European Commission on 10th May and could benefit more than 100 000 farmers this summer.
The amount of this aid will vary between 1,000 and 35,000 Euros per farm, depending on the dependence on the purchase of animal feed. We have already heard that some producers are waiting for this assistance before making a decision on whether or not to continue their activity.
The French pig industry has not experienced such a serious economic crisis in a very long time.
Source : Marché du Porc Breton, Ministère de l'Agriculture