World Pork Expo reflects producers' commitment to productivity, innovation
Producer attitudes reveal near-term caution, long-term optimism, international visitors return
The World Pork Expo completed its 34th year on June 8-10, with more than 10,000 producers and industry professionals convening at the Iowa State Fairgrounds in Des Moines. Presented by the National Pork Producers Council (NPPC), Expo features the world's largest pork specific trade show and a first look at many new technologies and innovations.

"World Pork Expo is a great place for pork producers to interact and share ideas," said NPPC President Terry Wolters, owner of Stoney Creek Farms, Pipestone, Minnesota. "Producers are always on the hunt for ways to improve the productivity and sustainability of their operations, and enhance the care and wellbeing of their animals. Between the trade show, seminars and personal interactions, Expo delivers that and much more."
Notable at this year's Expo was a return of more international visitors, including pork industry personnel from Mexico, Canada, Europe, South America and some Asian countries.
In addition, Expo attendees were treated to a favorite tradition, the Big Grill, once again staffed by Iowa's Tama County Pork Producers Association and friends. During the three-day event, more than 3,500 free pork lunches were served.
Producers are Cautiously Optimistic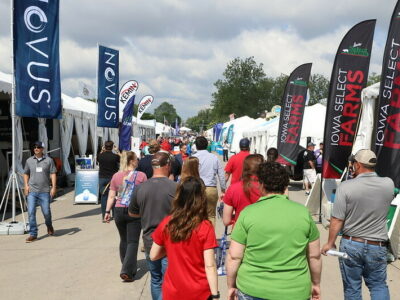 During Expo, the trade show and hospitality tents provide opportunities for producers to visit with allied industry representatives and learn about the products, services and technologies that could benefit their businesses back home.
The consensus among exhibitors at this year's Expo was that producers are focused on weathering the storm of high feed and construction costs along with other inputs.
"We have good hog markets to help offset some of that, but for the past year or two producers have been in kind of a holding pattern," said Randy Leete, national accounts manager for APC, Ankeny, Iowa. "They're trying to decide whether to expand, hold steady, remodel or build; waiting to see what the next opportunities are going to be."
One thing that rings true is that producers are committed to keeping their pigs healthy and growing all the way to market to ensure high-quality pork products for consumers.
"Producers are very interested in products or applications that keep their pigs alive and thriving," he noted. "There are important factors to consider when feed costs are high – feed conversion is a priority. When hog prices are high, there's nothing more important than a live pig that makes it all the way through the system and on to the market."
A range of technologies are helping producers make better, smarter decisions faster and meet their pigs' daily needs.
"There's a huge desire and need for more technology solutions to be implemented every day on farms," said Drew Mogler, with BarnTools. "We saw lots of interest from producers of all shapes and sizes who want to bring their farms to the next level in terms of technology."
This involves such things as real-time monitoring of environmental conditions inside hog barns and combining that data with pig behaviors to ensure the systems are working properly and pigs are doing well.
Labor is another challenge that producers have had to deal with for several years and one that they're looking to technology for help. "Producers are trying to find ways to make jobs in the barn as easy as possible, and with fewer people," Mogler added.
Long term, with economic uncertainty and some disease pressures challenging the industry, he views producers as cautiously optimistic. "Pork producers are naturally optimistic; the fact that we had so much interest tells me that producers are continuing to improve and invest in their operations."
In all, the 2022 Expo trade show featured nearly 400 companies displaying products, services and technologies across more than 300,000 square feet of indoor and outdoor exhibit space. Filling the fairground's Grand Concourse were another 50 hospitality tents where producers and company representatives could visit, enjoy some tasty pork and conduct business in a relaxed setting.
Seminars Address Critical Topics, Offer Solutions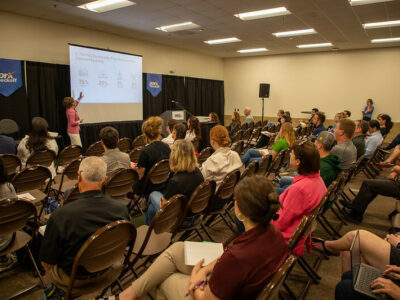 Always in search of the latest information and ideas, pork producers and their staff visiting Expo could tap into any of the many free educational seminars available on Wednesday and Thursday.
The five Business Seminars, presented by allied industry companies, covered such topics as labor and supply chain challenges, swine nutrition research, maximizing hog performance this fall, crop and hog markets outlook, and innovations to boost market gilts' growth.
This year's Pork Academy line-up, presented by the National Pork Board (NPB) and Pork Checkoff, focused on foreign animal disease and sustainability issues, emphasizing direct applications for the farm. There also was a session to interact with NPB personnel and discuss hot topics and future innovations for the pork industry.
"Expo seminars are an efficient way for producers to get the latest information on important industry topics and find solutions that they can share with their staff and apply to their operations," Wolters said.
Expo to Celebrate Landmark Anniversary
The 2023 Expo is sure to be special as World Pork Expo will mark its 35th year.
"Since 1988, Expo is just one of many ways that NPPC demonstrates its commitment to the U.S. pork industry, and we encourage every producer to attend," said Bryan Humphreys, NPPC CEO.
Mark your calendars for June 7-9, 2023, and make plans to attend Expo at the Iowa State Fairgrounds in Des Moines.