Genesus global market report: EU and Spanish markets - October 2023
Market price analysis from Genesus Genetics
We had been for 13 weeks with a value never seen (2.03 € / kg live) and in a few weeks we are at values like a year ago 1.74 € / kg live. In eleven weeks, the price has been falling until this week that has not been agreed at the "table of Mercolleida! And it has had to be the Governing Board of Mercolleida that has set the price...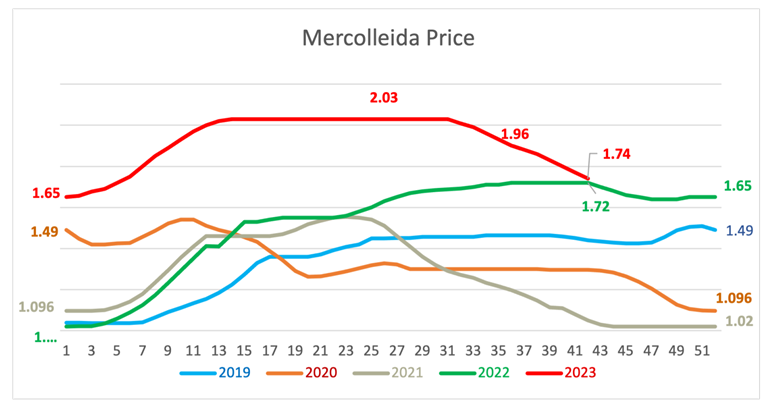 Source Mercolleida
Producers do not want it to continue falling because there is no supply and the industry needs it to be at prices that allow them not to continue losing. Normally it never goes up or down more than 3 cents of €, and this time it has surpassed it.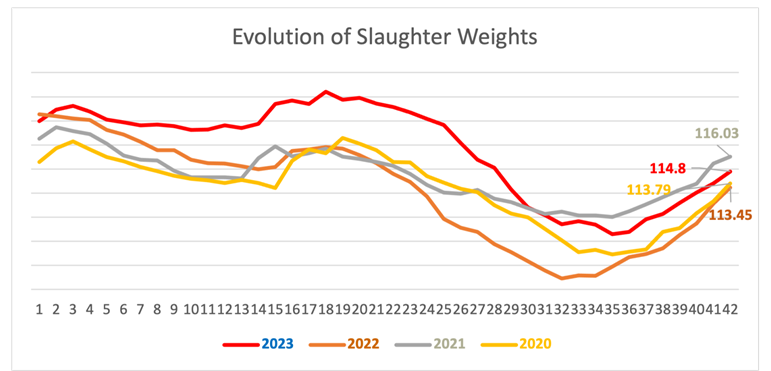 Source Mercolleida
Weights continue to increase. We are in autumn, and we are already at 114.8 kg live above a year ago, but already in weights in which the market has been moving in recent years.
The price of piglets is recovering, even though it dropped, it is still higher than a year ago.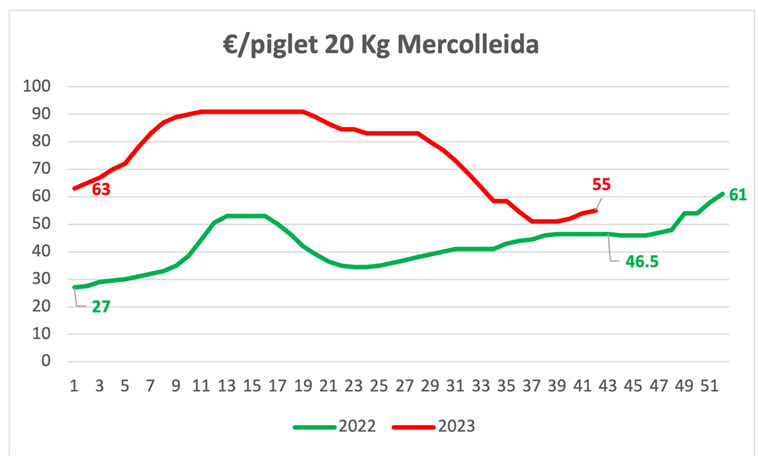 Source Mercolleida
These prices are not understandable since there is a lack of production in Spain. There are empty fattening places and there are no piglets to fill them. Piglets are being brought in from Holland with an important extra premium, but there are not enough piglets to fill the facilities either.
Although Spain has the highest prices, in the EU there is no longer as much difference as there has been.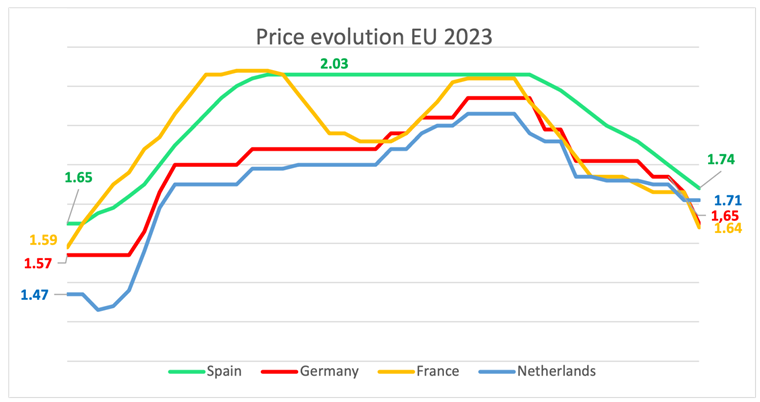 Source Mercolleida
Both Germany and the Netherlands continue to reduce the sow herd. Meanwhile, in Spain, the provisional census of the Ministry of Agriculture, Fisheries and Food (MAPA) as of May is 2,724,962 (2,394,033 white and 330,929 Iberian). The census does not decrease, although production has been greatly affected by PRRS.
As for the number of processed pigs, according to MAPA there have been 30,628,462 up to July, 6.8% less than in 2022, with 2,845,149 tons of pork, 4.07 less than in 2022.
This year in the pig sector, the production has had, is having, an excellent year as we can see in the table according to data from SIP Consultors.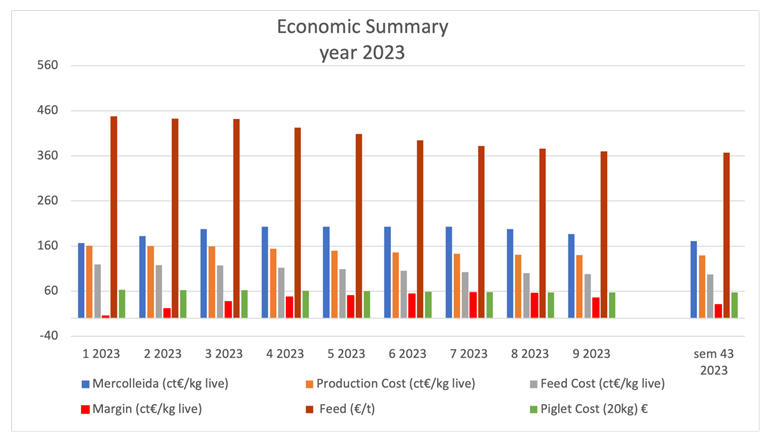 Source: SIP Consultors
Meanwhile, for the industry it has been, and is being, a very difficult year. Some have fallen by the wayside, and for others the bottom line is very complicated.
The structural changes that the Pork Sector has undergone are very significant:
In Spain, production is increasingly in fewer and fewer hands and more and more verticalized.
Situations such as this year's have led to the disappearance of packing plants and the financial situation of others has been affected.
In the EU, there has been a significant drop in production, both in Germany and Holland the closure of farms continues to be encouraged, and the census continues to fall.
Excess of packing places in the whole EU
Exporting outside the EU does not help.
All this gives us a new perspective that it is difficult to know what is going to happen for the rest of the year, let alone how the new year will start.