Here we look at the role nutrition may have on disease syndromes but for more extensive information on nutrition itself the reader is referred to specific books dealing with this (for example, The Science and Practice of Pig Production or Piglet Nutrition Notes).
A major role for the stockperson on the farm is to judge the interaction between the pig, its age and/or productive cycle against the quality, content and intake of feed. The role of management in this respect has an important influence not only on the levels of disease in the herd but also whether the pig maximises its biological potential.
The essential nutrients include protein and amino acids, energy, essential fatty acids, water, vitamins and minerals. A guide to the normal requirements is shown in Fig.14-1 both by weight of pig and ration type.
If you feel you have a feed-related problem, study the list of clinical problems associated with nutrition
First identify the problem by symptoms and this will suggest potential nutrient deficiencies or problem areas. You would be advised at this time to consult with your feed supplier because a knowledge of the composition of the diet will then assist in determining more specific areas, for example insufficient energy or lysine for the particular age group of pigs in that environment. Fig.14-3 relates the clinical signs to possible causes where there are deficiencies or excesses of minerals and similarly Fig.14-4 of nutrients and vitamins, although it would be uncommon today to see many of them. Details of individual nutrients are given in subsequent pages within the Feed and nutrition section.
The most common problems on farms today however relate to the failure of the diet to satisfy the amino acid and energy requirements for the pig.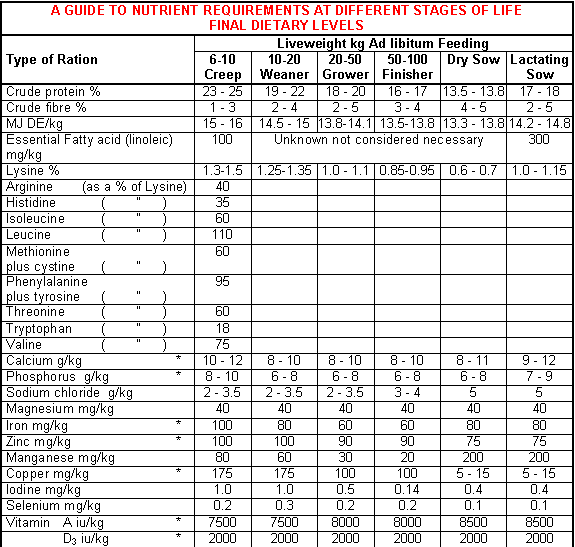 Clinical problems associated with nutrition
Energy
Fungal toxins present
Iron
Aflatoxin
Anticoagulants
Coal tar poisoning
Copper
Iron
Protein
Vitamin E - Selenium (gastric ulcers)
Calcium *
Magnesium
Manganese
Nicotinamide
Phosphorus *
Vitamins * - A, D3, E
Excess protein, tapioca
High levels of wheat
Increased levels of potassium and magnesium
Iron
Nicotinamide
Pantothenic acid
Haemorrhage
Biotin
Calcium
Copper
Magnesium
Manganese
Pantothenic acid
Phosphorus
Vitamins * - A, B6, D3, * E
Water *
Poor growth, poor appetite
All aspects of nutrition *
Amino acids * - lysine, arginine, histidine, isoleucine, methionine, cystine, threonine, tryptophan
Energy *
Feeds of poor digestibility *
Iron *
Magnesium
Phosphorus
Potassium
Protein *
Sodium chloride *
Vitamins -* A, B6, B12, * D3, choline, riboflavin, pantothenic acid niacin
Water *
Zinc
Poor litter size
Choline
Energy *
Folic acid
Lysine *
Other essential amino acids
Vitamin E *
Reproductive failure
Choline
Energy *
Folic acid
Iodine
Lysine *
Manganese
Other essential amino acids
Riboflavin
Vitamins - B12, * E
Respiratory diseases
Skin changes
Iron *
Essential fatty acids * - linoleic acid
Nicotinamide
Potassium
Riboflavin
Salt
Zinc
Sudden death
Selenium *
Thiamine
Vitamin E *
Water - salt poisoning
* Likely to occur. Others uncommon or rare.