The objectives for using records
Before spending a considerable amount of money on a computer programme, a lot of time entering data and producing a great deal of paper it is important to answer a simple question. "What are we trying to do?" There are five reasons for producing information:
To improve overall efficiency.
To maximise profitability.
To produce end data that defines:

- Production levels.
- Reproduction levels.
- Management achievements.
- Economics.
- The use of feeds.
- Growth performance.
- The levels of disease.
- The levels of medicinal treatment.


For epidemiological studies to understand problems.
Finally as aids for daily use by management.
Fig.3-15 shows the pathways for using data so that management control, production and disease can be monitored and better understood.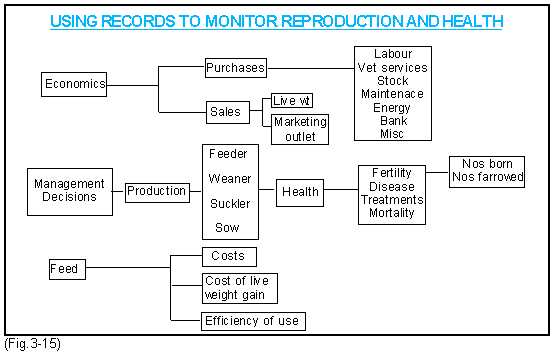 There are 3 major areas crucial to management decisions, namely economics, production and feed. The total liveweight of pigs leaving the farm is fundamental to profitability. Every extra kilogram of liveweight sold increases the margin over feed with few extra overheads. Likewise matching the type of pig to the best market is another important management decision.
Production is monitored from individual records of the sow, sucking pig, weaner and grower-finisher and in each of these disease, treatment and mortality levels are recorded.
Feed usage, the third recording area, is also the largest cost centre, and the monitoring of costs per tonne, costs of liveweight gain and efficiency of use are vital. It is here that the greatest use of records and computer technology can be made but it is also the area where there is often the least input.
Fig.3-16 shows data from national information in the UK to illustrate the costs as a percentage of sales. It can be seen that the veterinary medicines costs were 2.12% of the net sales. These might at first sight appear small but it does not take into account the costs of any disease, poor production and poor feed efficiency which on some farms could be a further 8-10%. Veterinary services in this respect can be highly cost effective.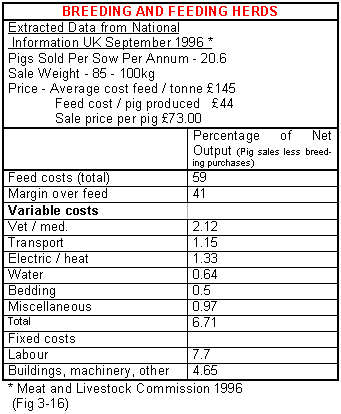 Recorded information can be classified into four main categories for practical use:
Action information - This is used on a weekly basis by the manager and staff. It should provide data relating to animals that are due for service, pregnancy testing, vaccination, and farrowing. Most computers forecast what is likely to happen in the weeks ahead.
End data - This is summary information produced as rolling averages of the previous month, several months or years. It indicates on a cumulative basis what has been happening during any defined period. This helps to monitor the efficiency of the production and the effects of disease and it is used against target figures to identify problem areas. End data does not however provide information for epidemiological analysis and problem solving.
Epidemiological information - This is the detail that produces the end data and consists of a number of individual pieces of information. Unfortunately many computerised systems do not retain this, or if they do its presentation is in such a vast amount or in an illogical format that it can be extremely difficult for the pig farmer or the veterinarian to use and assimilate. A much more simple procedure is to identify the specific points of information that are required relative to the problem and analyse these manually. Using this method we can then utilise the observations and clinical examinations of the stock people, identify the animals which form the core group of the problem and then study them to identify any common features.
Forecasting information - this is used for planning and targeting and there are a number of useful computer programmes that respond to changing productions and disease information and allow more reliable decisions to be made. What ever system of record keeping is used or proposed to be used on the farm, consider the following questions:
What are you trying to do?
Is it possible to do it?
How do you record it?
Is the effort going to be worthwhile?
Is the method of collection and presentation simple and straightforward?
Is the information to be collected accurate and reliable?
How do you intend to use the information?
The consultant veterinarian has an important role to play in the analysis of recorded information and in its epidemiological use.
The following simple formats and examples have proved of value in both monitoring and investigating problems on the farm. Fig.3-17 to Fig.3-27.
These records could be documented weekly and the format is valuable as a monitor to achieving efficient production. It allows remedial action to be taken.