ASF gap in China drives global protein inflation
Brett Stuart, President of Global Agri-Trends, argues that the ASF gap in China is actually causing global protein inflation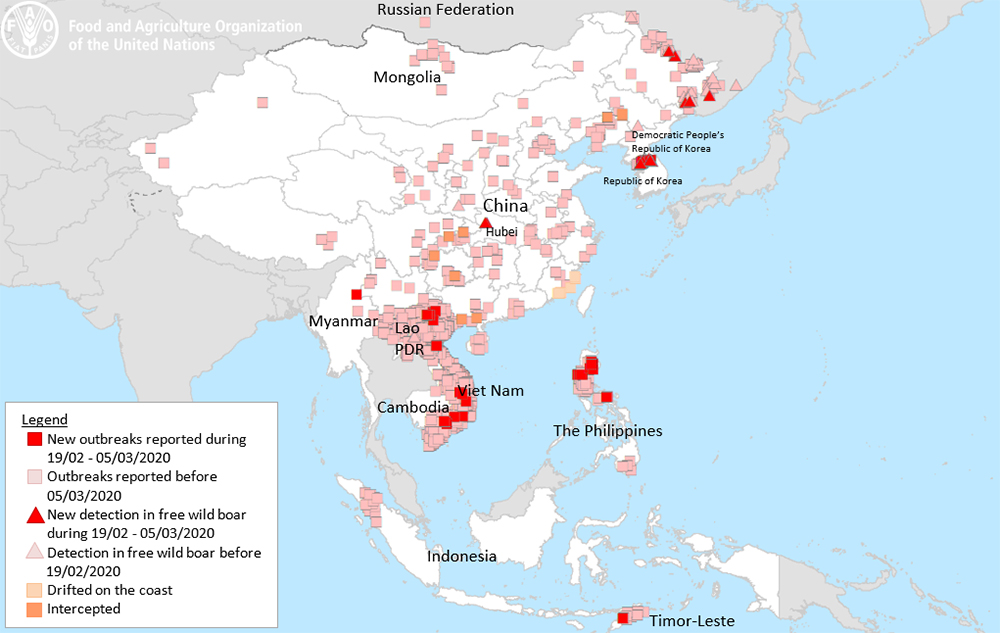 Explaining the numbers

As of January 2020, there were an estimated 677.6 million domestic pigs worldwide. Despite dramatic losses due to ASF, China was and is still home to the largest number of pigs – nearly half of the world's supply – with 310.41 million heads. The European Union, and mostly Western Europe, represents the second largest region of production with 148 million heads. The U.S. is third on the list with 78 million heads.
Since ASF first hit China in August of 2018, it's estimated that they've lost 60 per cent of their herd. Sixty per cent of half the hogs in the world is 30 per cent of the global total, Stuart explained. That's a 24-million ton port gap, he said.
"How do you fill the gap?" he asked. "Well, you can probably increase pork imports another 2.5 million tons. You can increase chicken production, chicken imports, beef imports…"
"But the problem with a loss this massive is that here is no global protein source that can fill this gap," he said. "You can shoot every bullet you have and you're still 17 million tons short in China."
The harsh reality, said Stuart, is nothing can fill this gap. The Chinese are simply eating less protein.
"When you think about what that means to the global markets, it is significant," he said.
When ASF first hit China in August 2018 it was slow to spread. In the first half of 2019, widespread culling was wreaking havoc on China's pork supply. Between July and November of that same year, pork prices rose steadily, capping at RMB 42/kilo. When Stuart spoke at the virtual conference in August, hog prices in China were RMB 38.1/kilo.
"That's the equivalent of USD$3.20/lb.," said Stuart. "U.S. hogs today, the cutout is around USD$0.60/lb. So you can see how significant this is. It's 5–6 times the U.S. pork price."
This has been enormously frustrating for U.S. hog producers who don't understand why China isn't buying more and why hog futures are wavering.
"If I went out to the cattle world and said, "Hey, a third of the global beef herd is going to be dead this year," there would be no end to the top of cattle future," said Stuart. "But here we have seen a third of the global swine herd gone and hog futures are floundering."
"Farmers are going out of business in the U.S. and Canada," he continued. "It is a dire situation."
Technically, China is buying more pork, though, just not enough to greatly impact markets. Last spring, China purchased 10 per cent of total U.S. production. Today, they're buying 5 per cent of total production, said Stuart
"But the thing to remember is that China is not a market economy," he said.
This means they don't react to markets and the government has not opened up trade. "We have a trade war going on right now," explained Stuart. "We're coming into a election and China is simply, while they're buying a lot of U.S. pork, they're not buying enough to lift our markets."
"We have this massive global price disparity in port, and it's not just the U.S.," he added. "The EU hog prices are also very low right now, as China endorse these massive shortages, high prices and refuses to step in the global markets and truly buy in earnest – really, over politics."
Germany hit by ASF
Since Stuart's talk in mid-August, ASF was discovered in Germany, wreaking further havoc on hog markets. Since the first ASF-positive boar was discovered on September 10, another 35 cases have surfaced, bringing the total to 36.
Since the discovery, China has banned imports of German pork. Chinese pork prices have surged as a result.
Will China recover by next year?
While reports out of China and the U.S. suggest that China's pork supply will be close to recovered by next year, Stuart doesn't believe that to be the case. ASF is still a problem in Asia. In fact, the commercial mega-farms that have claimed victory over ASF represent just 12 per cent of China's production, said Stuart.
What this means is that 88 per cent of production is still on farms with less than 1,000 head. Those smaller farms share trucking, feed mills and infrastructure – and they continue to battle ASF, said Stuart.
"So while the big farms put out a lot of press releases about how well they're doing and their success, the reality is China is not going to get over this anytime soon," he said. "That gap will not be filled. Those prices will stay very high for a very long time and those high prices have an enormous effect on imports."
Rising imports have an enormous impact on global prices, too, and global meat supplies are not infinite. China and other Asian countries, like Japan, have been aggressively buying beef from the Southern Hemisphere, and pork from the EU, U.S. and Canada.
Pulling hard on global protein supplies causes inflation, said Stuart.
"That's where we're headed now," he said. "This ASF gap in China, bottom line, is driving global protein inflation."