DipTest: do-it-yourself, low-tech E. coli testing
Treating and preventing E. Coli can be an expensive prospect - after an outbreak, a farmer may experience a period of time with more loss than profit in his operation, writes Yvonne Dick. Glacierclean technology introduces DipTest, the cheaper, faster home-testing kit that can identify E. Coli bacterial infections in as little as 30 minutes.
Pigs are livestock especially prone to E. Coli and acute diarrhoea of piglets under five days of age is most commonly caused by this bacterium. One of the other danger periods to a young pig occurs at the age of weaning - piglets are more at risk of bacterial and viral infections when they first stop drinking the sow's milk, with its high levels of protective immunity. Within five days of weaning is when E. Coli can be present for the second time in a young piglet's life and sometimes, the first sign is finding a dead pig or piglet in a corner.
Farmers sometimes unknowingly encourage E. Coli transmission. Bacteria can be introduced to the water supply from contaminants, such as faeces, which assists in the quick spread of the disease among pigs, whether they share a water trough or not.
Farmers know that treating E. Coli can be very costly. With variable clinical signs and sometimes multiple pigs falling ill simultaneously, the infection can be widespread. Some pigs, of course, will be too ill to recover from treatment. Treating pigs with antimicrobials as preventatives can become both expensive and time-consuming, and before sending pigs to market they must be antibiotic-free. 21 and 42-day treatments for pigs and piglets at risk involve veterinarian advice and monitoring. When disinfecting a barn, it is also difficult to attain a 100% wipeout of all bacteria – it takes a mere ten of them to cause infection.
At 1–2 micrometres long and around 0.25 micrometres in diameter, laboratory sample testing must be used to identify the bacteria so treating for potential E. Coli cases without diagnosis could affect a herd's future protection against other infectious diseases as antimicrobial resistance expands. Expensive equipment and wait periods make the testing prohibitive; a single test sample can cost as much as CAD$70 and take up to three days for results. That is, until now.
Glacierclean technology Co-founders, Professor Sushanta K. Mitra and Dr Naga Siva Kumar Gunda, of the University of Waterloo in Ontario Canada, have developed a new test for E. Coli in water samples. Their simple test strip may provide another tool for keeping farm E. Coli under control. It is known as the DipTest.
Professor Mitra, the executive director of the Waterloo Institute for Nanotechnology, explains:
It is designed for testing in 100 ml of water, you can take a sample from a lake or a river. This shows you how accurate and sensitive the test can be.
Once you have your sample, dip the test strip into the test tube and you will have results in as little as half an hour. The DipTest is set apart from other similar tests due to its inexpensive components and quick results. Glacierclean previously created two generations of portable E. Coli tests involving rapid lab results and smartphone technology. Mitra says their latest project, "...could be easily adapted to farming applications, where farmers are using antimicrobial treatments as prevention of E. Coli in livestock such as poultry, swine, etc".
DipTest looks a bit like a home pregnancy test; your results appear in the window of the stick, two lines for E. Coli presence in the water sample. The testing paper contains a mix of chemicals and sugar infused paper. In the presence of E. Coli bacteria, it causes a reaction which appears as the results. If your sample is highly contaminated, you may see results on the testing stick in as little as 30 minutes. Milder reactions may take up to three hours. Using time as an indicator of levels of E. Coli present in affected water can provide severity information for the veterinary treatment used. This can help reduce the over use of antimicrobials and also encourage faster, earlier treatment.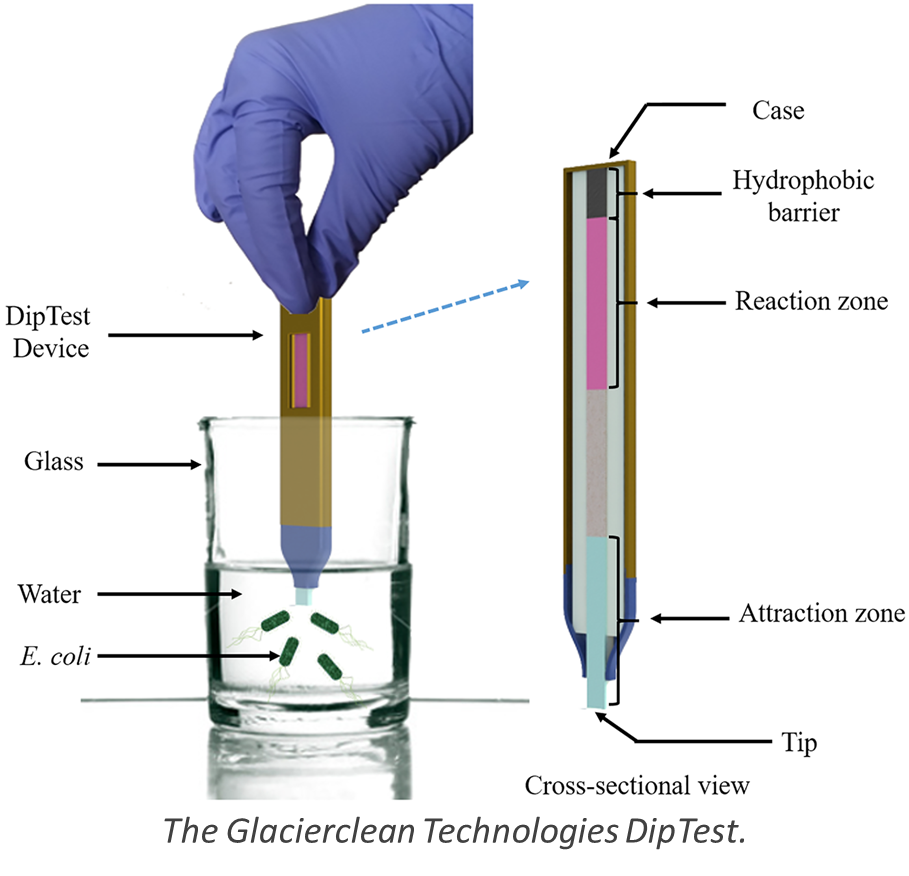 Mitra feels DipTest may have many applications for the public and the community. He says that the product is currently in the packaging and design stage. He is hopeful that by early next Autumn, consumers will be able to buy it in a retail format. Currently, the cost of the testing strips is £0.41 *each. Any company or organisation interested in implementing the testing strips for their own use may contact Glacierclean to obtain materials and further information.
There are alternative E. Coli tests available to farmers. Neogen Food Safety USA offers a similar strip testing kit which takes around 15 minutes to complete the process of testing the sample. Meat from a slaughtered cow or pig is used then there is a waiting time of between 12 and 20 hours for results. 3M, who are also assisting Glacierclean with Dip Test trials, offers a variety of 3M™ Petrifilm™ Count Plate products for microbial testing. 3M tests for E. Coli & Coliform and yields results in 24 to 48 hours.
For pig farmers, preventative dosing of antimicrobials has been a standard protocol and has previously been effective for keeping E. Coli under control. However, antibiotic resistance across strains and species is indicative that generalised use of such preventative and control methods is exhausting their antimicrobial capacity.
Consider E. Coli water tests as an alternative to expensive and time-consuming E. Coli testing. Where hygiene is suspected or new pigs are introduced to the barn, DipTest can act as another tool in the farmer's arsenal against early and dramatic pig mortality, and decreases generalised antibiotic use.
By Yvonne Dick