Pig outlook: full speed ahead for hog market bulls
US pork markets hit new highs and Canada revises its hog inventories.
The pig traders' perspective
Lean hog futures prices continue to surge and hit contract and 6.5-year highs this week. The strong price gains remind that domestic demand for pork has been impressive, but export demand also may be improving, increasing the importance of Thursday's weekly USDA export sales report. The cash hog market has also had a very good start to the week, with prices rising a national average of $3.00 on Monday and up another $0.32 Tuesday.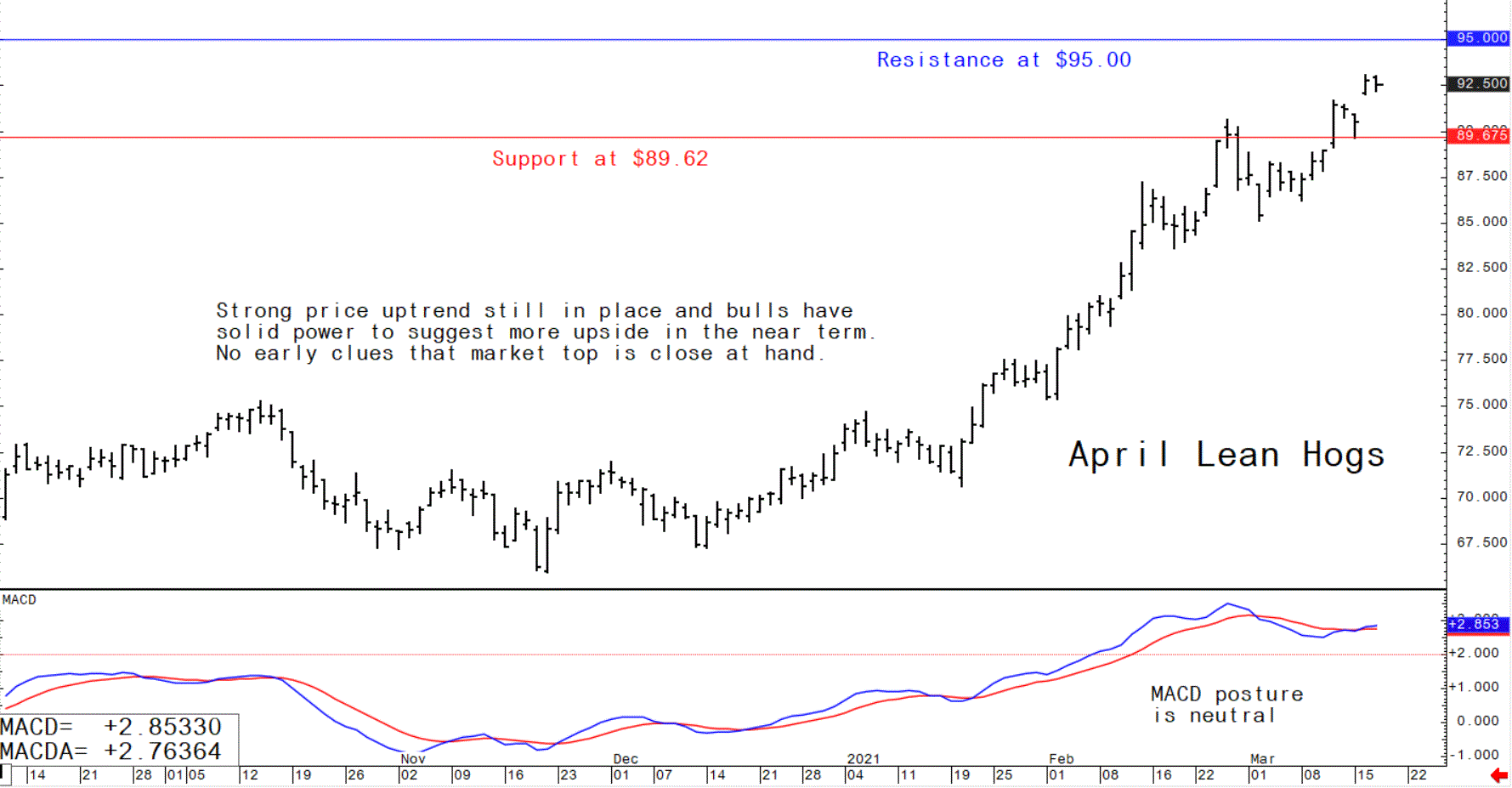 Hog slaughter so far this week is running 20,000 head below a year ago. Slaughter since 1 December is about 1.5% below levels projected by the USDA December Hogs & Pigs Report. USDA releases its 1 March update next week. Fresh COVID-19 stimulus funds issued to Americans in the coming few weeks should continue to support strong demand for pork.
The next week's likely high-low price trading ranges
April lean hog futures-$90.00 to $95.00 and with a sideways-higher bias
May soybean meal futures-$395.80 to $415.00, and with a sideways bias
May corn futures-$5.40 to $5.64 1/4, and a sideways bias
Latest news and analysis from the USDA
USDA's monthly pork and hogs outlook
Sustained robust domestic demand for hams and belly primals drove strong February wholesale pork prices, which in turn supported February hog prices at $53.93 per hundredweight (cwt), almost 33% higher than a year earlier. Hog prices are expected to average $55.75 per cwt in 2021, more than 29% higher than in 2020. January pork exports fell almost 9% below year earlier shipments, largely on reduced China\Hong Kong demand for imported pork.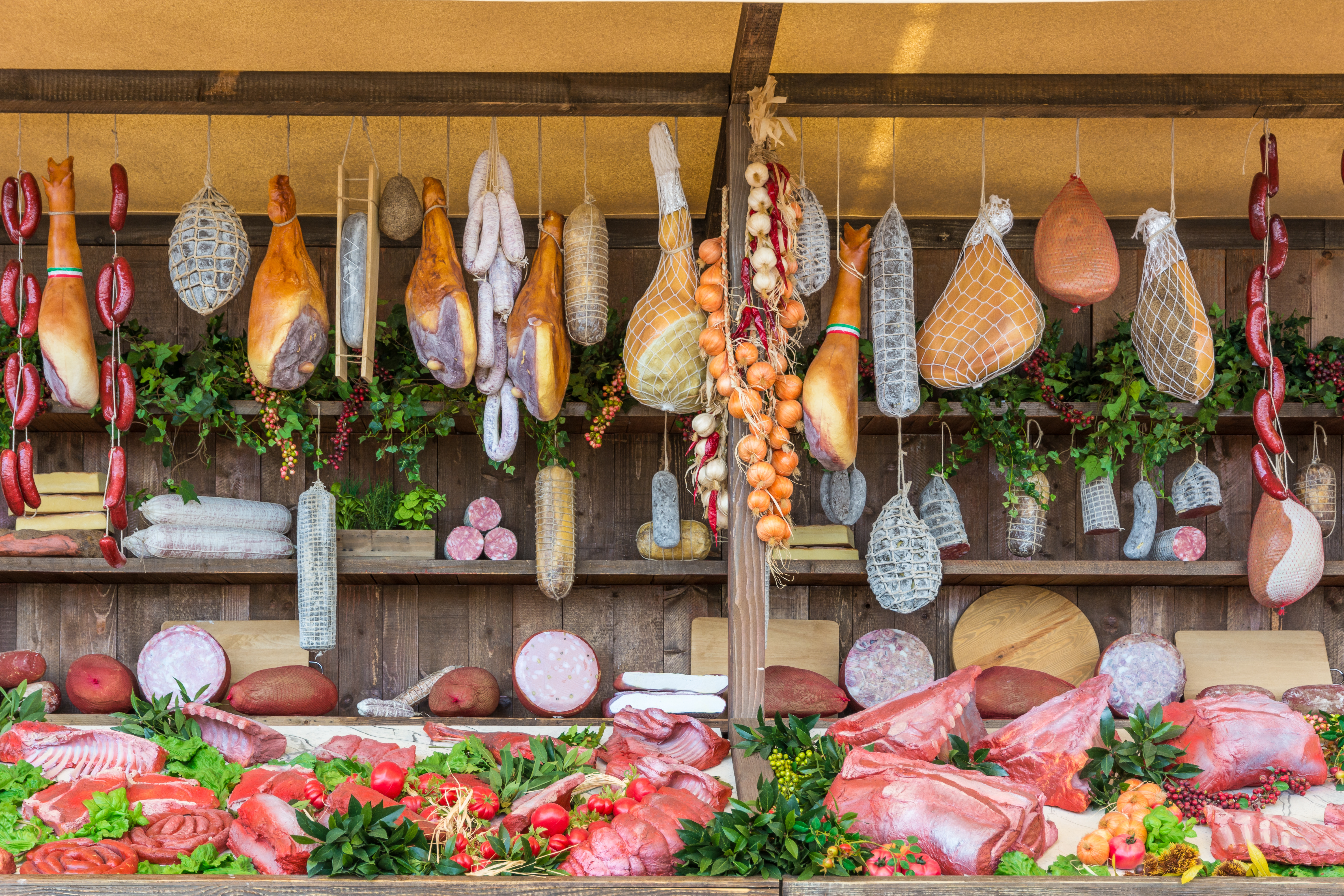 What's the current Canadian livestock outlook?
FAS/Ottawa has revised 2021 pig crop production upward following Statistic Canada revising hog inventories up for the previous years. The increase of 2020 beginning stocks, combined with a large 2020 pig crop, larger import volumes, and market hogs delayed from processing due to plant disruptions, has led to an increase in 2021 beginning inventories compared to the previous forecast. Beginning inventories of sows are one percent higher than 2020. Sow inventories are currently at the level seen at the beginning of 2018 which was the largest inventory since 2009.
Statistics Canada exports of live hogs are revised upward at a 4% growth over 2020. Canada continues to contend with displaced market hogs in both Eastern and Western Canada and this will support exports of weanlings and market hogs as producers look to manage numbers through the first half of 2021. Additionally, more weanlings are expected to move from Canada to the United States through Spring 2021.
Recent estimates of the hog backlog in Eastern Canada suggest that there are still likely over 100,000 market hogs displaced from processing as a result of COVID-19 cases and mechanical issues primarily in Quebec processing plants in Fall 2020. Ontario hogs, displaced from Quebec plants, were being shipped to both the United States and across Canada to Alberta.
Some federal plants in other provinces, as well as provincial plants, will absorb smaller numbers of displaced hogs but producers will look to increase weanling exports in order to provide additional space in finishing barns to hold market ready hogs. Olymel will prioritize clearing the backlog of Alberta hogs as the plant returns to normal production. Depending on worker availability it may take five to seven weeks to process backlogged animals.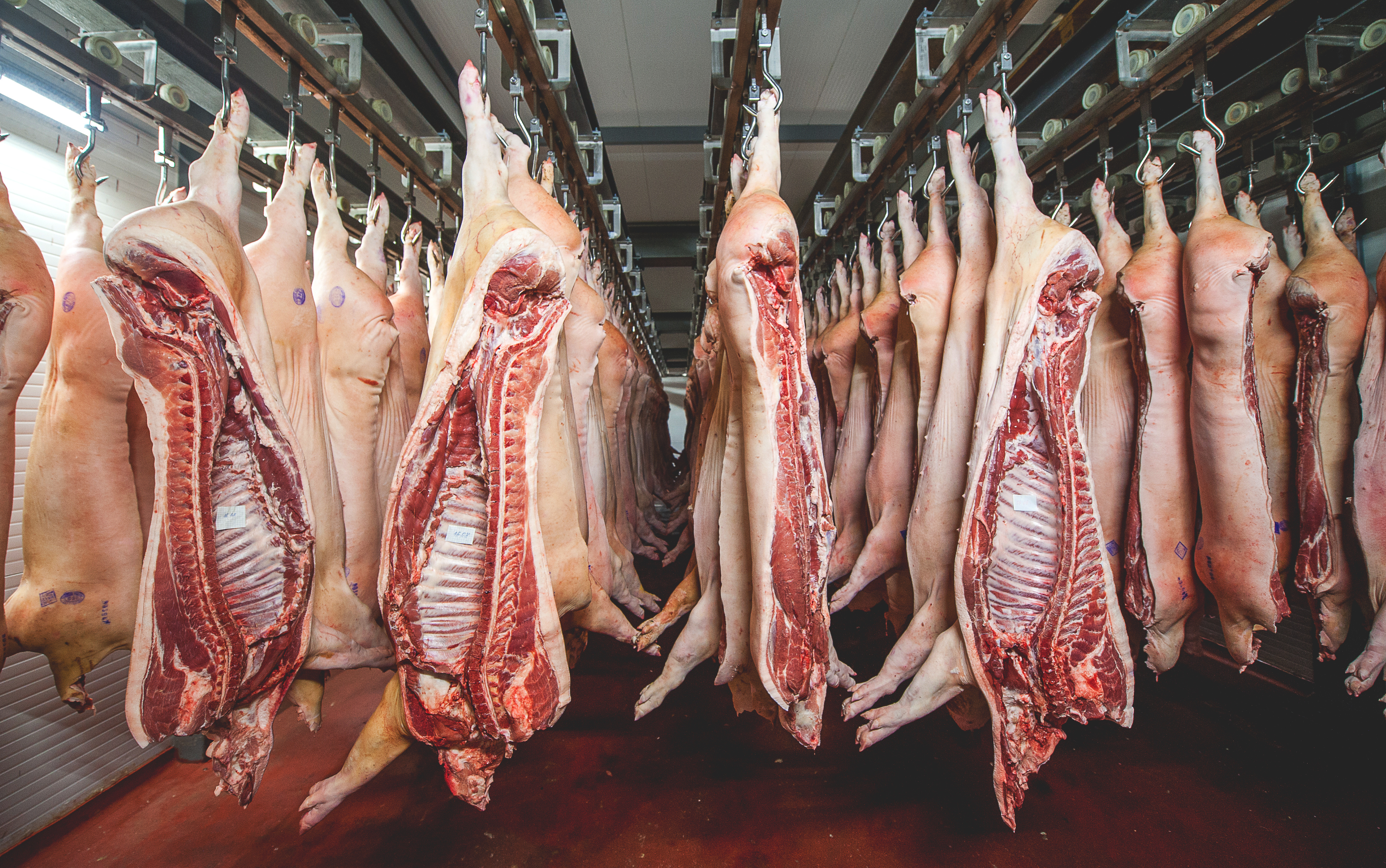 FAS/Ottawa now forecasts that 2021 feeder exports to the United States will grow five percent over 2020. Manitoba will continue as the main supplier of feeder hogs. While the current backlog of market ready hogs will support exports of slaughter-ready animals in early 2021, FAS/Ottawa forecasts a slight decline from 2020 exports as additional processing capacity becomes available in Canada.
FAS/Ottawa is revising 2021 Canada pork production forecast up on increased pig production. However, pork production is still forecast to decline slightly from 2020 despite increased slaughter. This is owing to the fact that carcass weights are forecast to decrease 1% from 2020 without processing disruptions and backlogged hogs.
However, a strengthening Canadian dollar could negatively impact export activity. Exports grew 20% from 2019 to 2020 as Canada more than doubled exports to China. The growth in exports to China resulted in reduced export activity in many other top markets. A challenge for 2021 will be whether Canada can sustain export activity to China. This may be especially difficult as there are currently eight processing plants temporarily suspended from export to China due to COVID-19 cases. This is in addition to the plants that remain temporarily suspended from China since 2019 for non-COVID19 reasons.

It is estimated that around two-thirds of export eligible production is currently impacted by the temporary suspensions. The re-listing of the suspended plants will be important to achieving sustained export volumes to China. Industry is confident Canada will continue to see similar export volumes in 2021 by moving 13 back into markets that saw a decline in 2020. Canada will look to increase exports to Japan as well as CPTPP countries.
Pork industry news from Asia
Chinese pork prices fade
Chinese pork prices fell 3% from March 8 to March 12, according to an average pork price index covering 16 provincial-level regions tracked by the country's ag ministry. Prices now stand at 34.8 yuan ($5.35) per kilogram, which is down 28% from year-ago. The update indicated supply exceeded demand. But the market is increasingly skeptical of Chinese data so far as African swine fever and its pork/hog supplies.