Pig outlook: hog futures in third-strongest rally ever…and prices climbing
US demand for pork and bacon seems likely to continue despite retail prices creeping up.
The pig trader's perspective
The US lean hog futures market remains on fire, with futures prices now seeing the third-strongest rally in the 50 years of hog futures trading in the US—and prices are still rising. Futures prices are following the lead of the US cash hog markets and pork cut-out. Packer demand has been aggressive and the pork cut-out value jumped to the highest level since the pandemic shortages last May.
Bellies continue to lead the pork product market higher. Wholesale belly prices have more than doubled since the end of 2020. The good news is the retail bacon prices have not matched the wholesale belly rally. That's good for sustained consumer demand and means processors are taking a smaller margin to keep the product moving—boosting demand for live animals.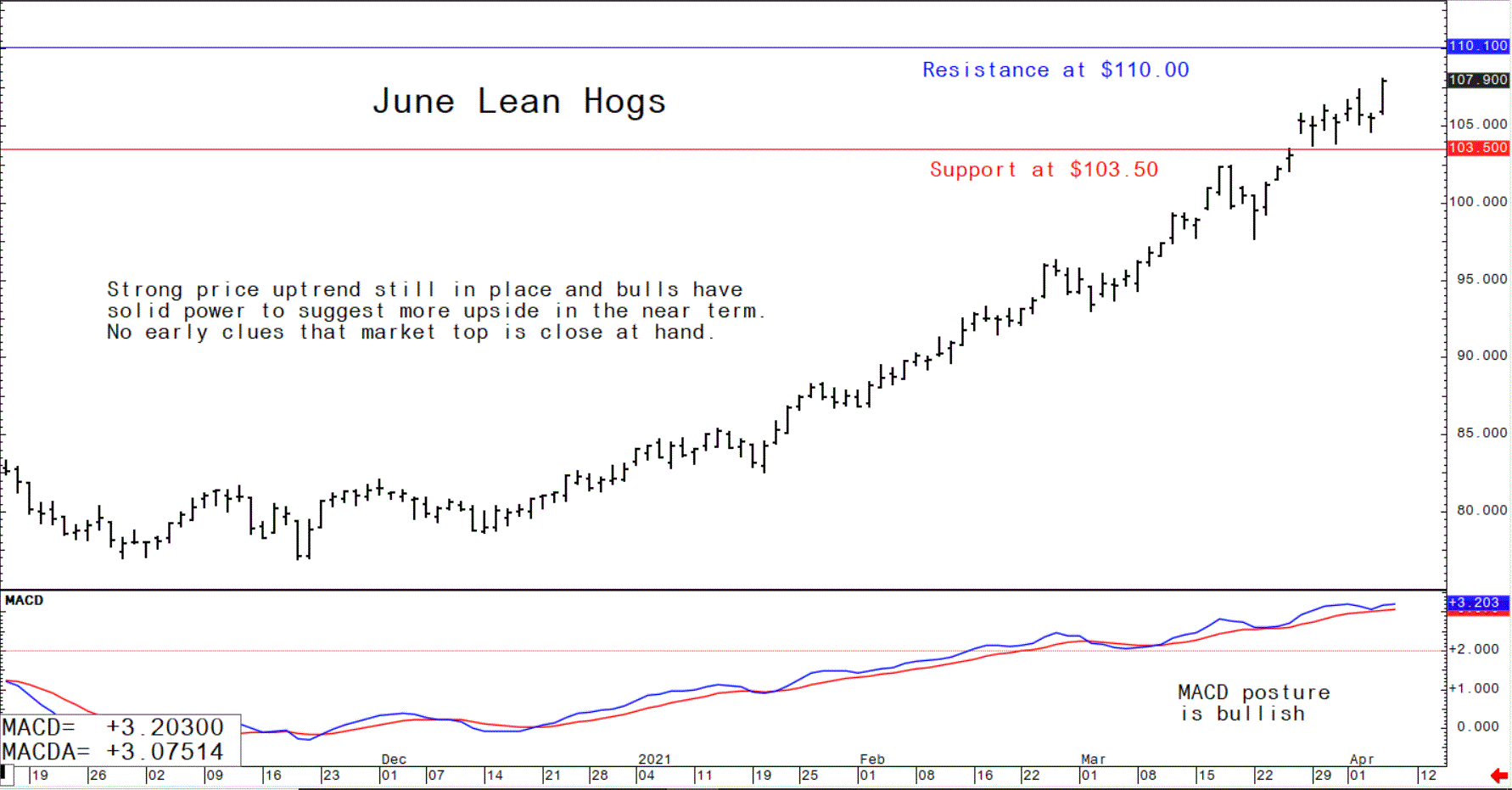 Until there are signs of consumer resistance to historic pork prices, the rally is likely to continue. Underlying support remains on optimism about strong Chinese demand for pork imports amid rising case of African swine fever.
The next week's likely high-low price trading ranges
June lean hog futures--$103.50 to $110.00 and with a sideways-higher bias
May soybean meal futures--$400.00 to $425.00, and with a sideways bias
May corn futures--$5.50 to $5.85, and a sideways-higher bias
Pork industry data from the USDA
US pork sales slip in latest week
USDA Thursday reported US pork net sales of 33,400 metric tonnes (MT) reported for 2021 were down 45% from the previous week and 22% from the prior four-week average.
Increases were primarily for Mexico (23,000 MT, including decreases of 500 MT), Japan (3,400 MT, including decreases of 300 MT), Australia (1,600 MT, including decreases of 100 MT), China (1,200 MT, including decreases of 1,000 MT), and South Korea (1,200 MT, including decreases of 400 MT).
Exports of 38,400 MT were down 5% from the previous week and 3% from the prior four-week average. The destinations were primarily to China (13,400 MT), Mexico (7,800 MT), Japan (5,400 MT), South Korea (3,300 MT), and the Philippines (1,700 MT).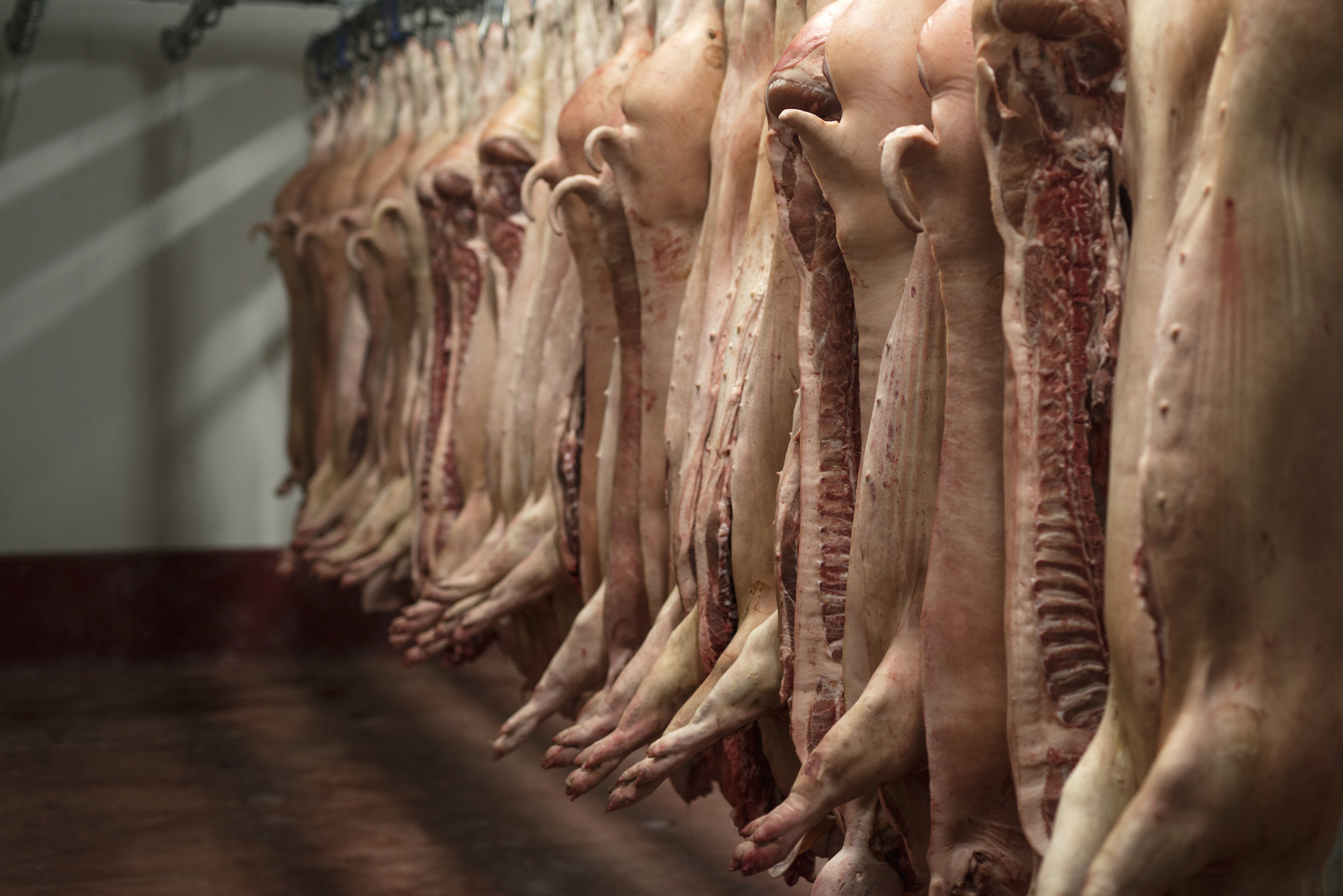 Sector updates from Asia
Chinese pork prices weaken
From 29 March to 2 April, the average pork price in the 16 provincial regions tracked by China's ag ministry dropped 6.4% to 31.13 yuan ($4.80) per kilogram. That's 30.9% under year-ago. Given reports African swine fever is disrupting China's rebuilding efforts, such updates have taken on more importance.
China has remained an aggressive buyer of US pork to ease any domestic supply shortages. Its 30,000 MT in purchases of US pork the week ending 25 March marked a new high for the marketing year.
Reports: at least 20% of northern China's hog herd hit by ASF
A cold winter, high density of pigs amid restocking and new strains of African swine fever fueled new outbreaks of the virus across China's northeast, northern China and Henan province, the country's third-largest hog producing province, according to Reuters.
"At least 20% of the herd was affected, maybe even 25%" in the northern and northeastern Chinese provinces because of outbreaks during the first quarter, said Jan Cortenbach, chief technical officer at feed maker Wellhope-De Heus Animal Nutrition.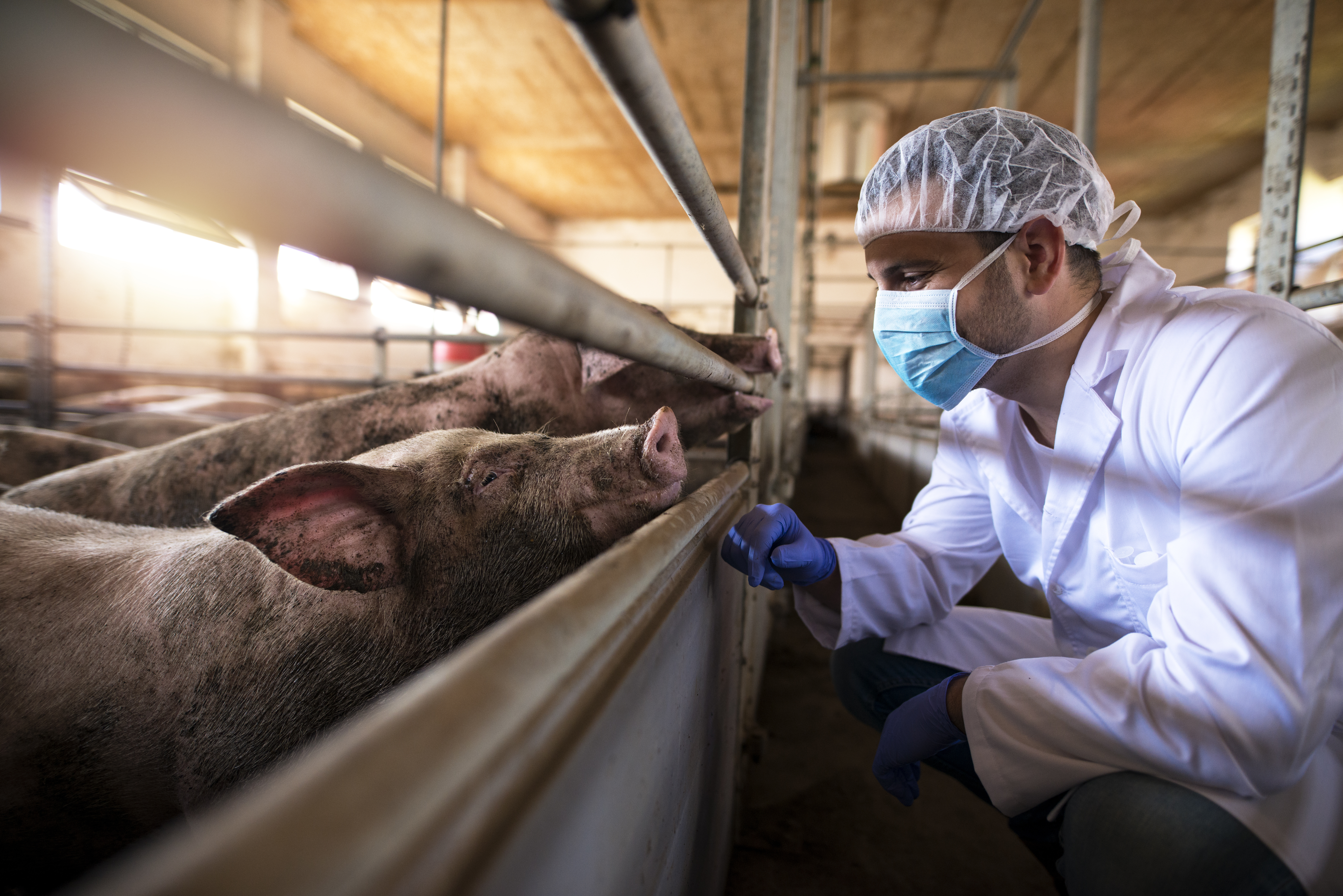 Meanwhile, Beijing Orient Agribusiness Consultant Ltd reported sow stocks in northern China dropped between 25% and 30% in northern China from February to March. Consequently, live hog prices are climbing after dropping between January and March. Average piglet prices now at 1,800 yuan ($273.94) per head, nearly double the average price of 995 yuan in November, according to Changjiang Securities. Southern producers are on edge as rain/floods were blamed for previous ASF outbreaks, and the rainy season is nearing.
Taiwan takes action on African Swine Fever (ASF) after hog washes ashore
Taiwan has launched testing of hog herds and putting movement controls in place in areas near where a dead pig with African Swine Fever (ASF) washed ashore over the weekend, the government said. Tuesday. Council of Agriculture Minister Chen Chi-chung said a dead pig washed ashore in northern Taiwan on Sunday and was on Monday confirmed to have the virus, which he said was a perfect match for the strain circulating in China. Restrictions were put in place on 11 operations within 10 kilometers (6.2 miles) of where the dead pig was found and the hogs on those operations were being tested. Plus, the country is stepping up pre- and post-mortem inspections at slaughter facilities. The government also called on their coast guard to step up patrols to prevent dead pigs from floating across to Taiwan.
Read Jim Wckoff's updates on the global beef and dairy industry on The Cattle Site.