Pig outlook: Lean hog futures post solid rebound this week
Jim Wyckoff gives his weekly update on the global pork industry.
The pig traders' perspective
Lean hog futures this week made an impressive rebound after dropping to a six-week low last Friday. Last week's US hog slaughter was up 1.0 percent from the week prior and down 2.0 percent from year-ago, easing concerns that COVID-19 would again slow processing with cases rocketing higher in the US.
Pork movement was impressive last week on just slightly softer prices, which is an encouraging signal prices are at value levels. USDA's latest update on US cold storage inventories showed frozen pork stocks 26.8 percent below year-ago levels, despite a slight year-over-year rise in slaughter.
Better exports remain the key after recent slower Chinese purchases. Rallying global stock markets that saw several US indexes hit record highs this week, following very positive COVID-19 vaccine news recently, should keep the hog futures market supported amid strong global demand for pork.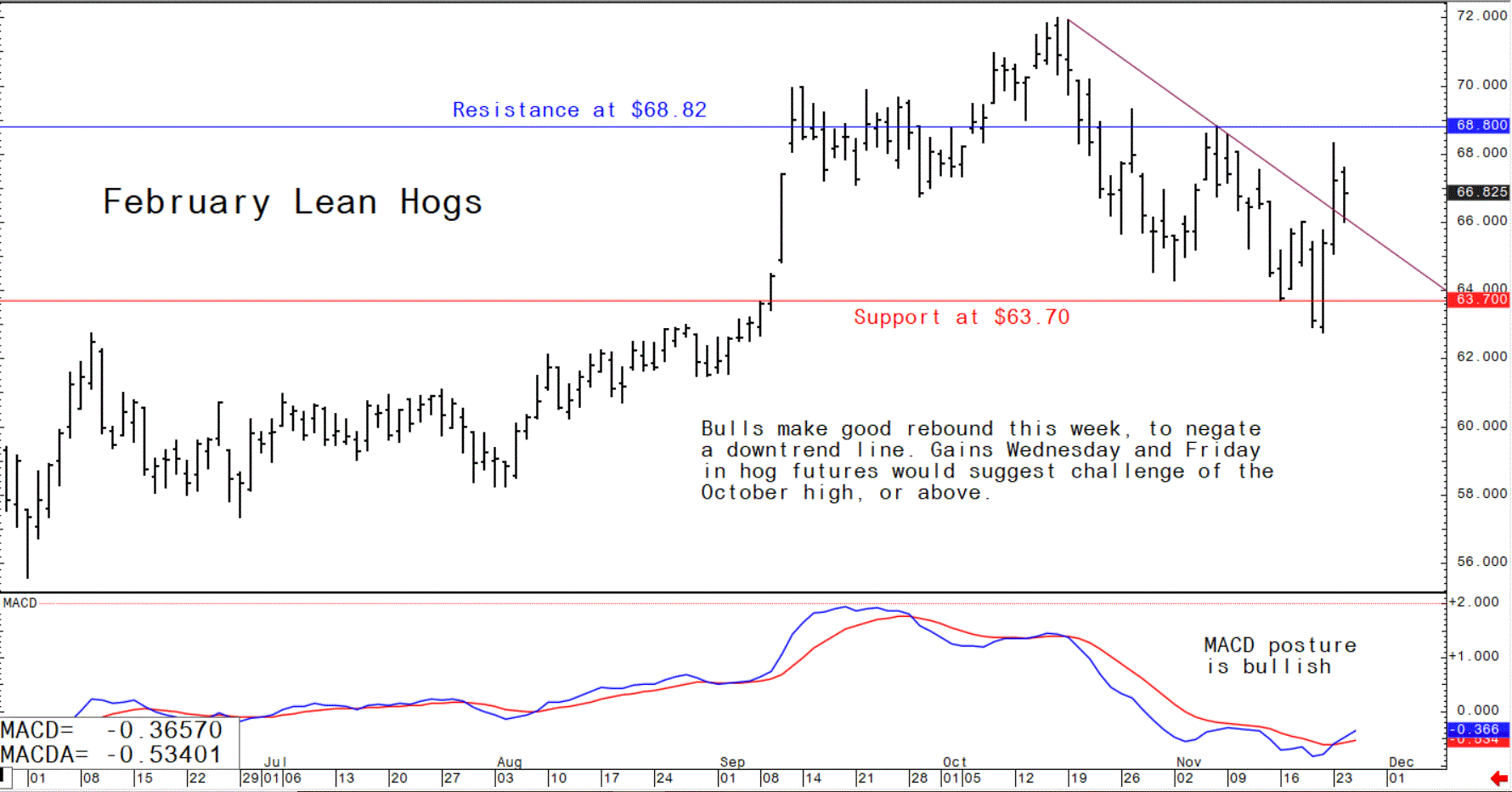 The next week's likely high-low price trading ranges
February lean hog futures--$64.00 to $70.00, and with a sideways-higher bias
March soybean meal futures--$385.00 to $410.00, and with a higher bias
March corn futures--$4.20 to $4.40, and a sideways-higher bias
Latest US Department of Agriculture (USDA) reports
USDA says meat, dairy prices remaining firm
USDA this week said US meat prices have been slow to decline following the highs reached at the onset of COVID-19, though it noted some categories posted price decreases in the second half of 2020 and others moved higher.
US beef and veal prices fell 1.4 percent from August to September and another 0.3 percent from September to October. Meanwhile, prices for other meat categories were more mixed, with pork prices falling 1.4 percent from August to September before increasing 0.9 percent from September to October.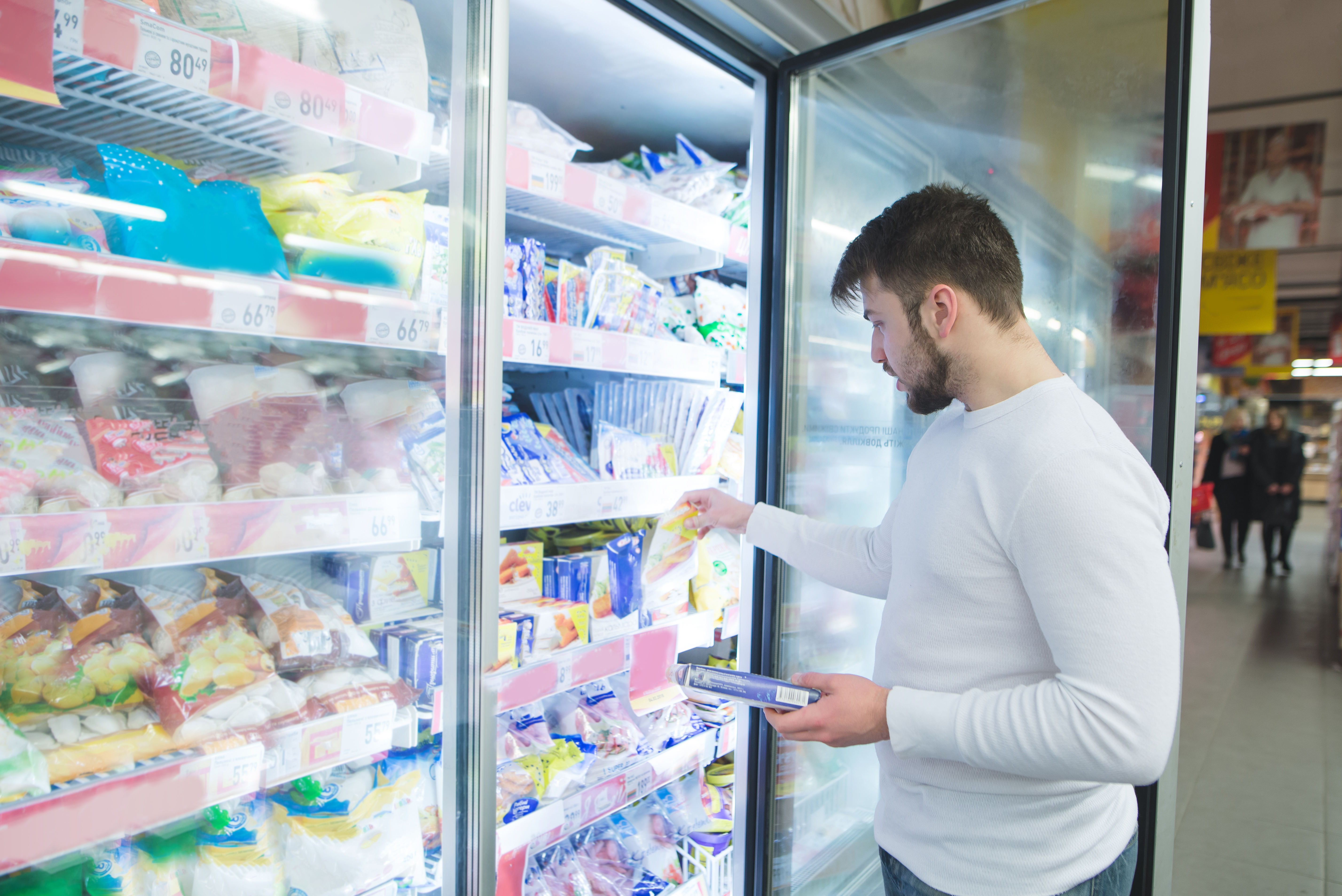 "Prices for poultry, other meats, and the category of beef and veal have been especially slow to decline from the highs reached this spring; thus, forecasts for each of these categories have been revised upward," USDA said. To date, USDA said beef and veal have seen the largest price increase among food categories, up 10 percent compared with 2019.
USDA raised the 2020 inflation forecast for the US meat category to 7 percent to 8 percent in 2020, an increase from the 6.5 percent to 7.5 percent rise seen in its October forecast. US dairy product prices are now forecast to rise 3.5 percent to 4.5 percent for 2020, up from the 3 percent to 4 percent increase USDA forecast in October
Pork industry headlines from around the world
Chinese pork prices narrowing their discount to year-ago levels
Chinese pork prices climbed 0.2 percent between 16 November and 20 November, according to an average pork price index tracked by the country's ag ministry.
But prices are down 13.2 percent from year-ago levels, a 7.1-point narrowing from the previous week. High domestic pork prices due to a shortage of the meat after African swine fever has resulted in China ramping up imports of pork and other proteins as it rebuilds its hog herd.
Chinese pork imports still running well ahead of year-ago
China imported 330,0000 MT of pork during October, an 80.4 percent jump from the year prior but a 50,000 MT (13.2 percent) dip from the month prior.
China has ramped up its imports of pork and other proteins after African swine fever wiped out much of its massive hog herd. The country is now in rebuilding mode.
Ten months into the calendar year, China has imported 3.62 MMT of pork, according to customs data, a 126.2 percent jump from year-ago. The country also imported 170,000 MT of beef last month, a 12.2 percent jump from year-ago. This pushed its calendar-year-shipments to 1.74 MMT.
US pork the subject of protests in Taiwan
Thousands of people from Taiwan took part in the annual "Autumn Struggle" protest march organized by labour groups, with many focusing their anger on the government's decision to ease restrictions on US pork containing ractopamine.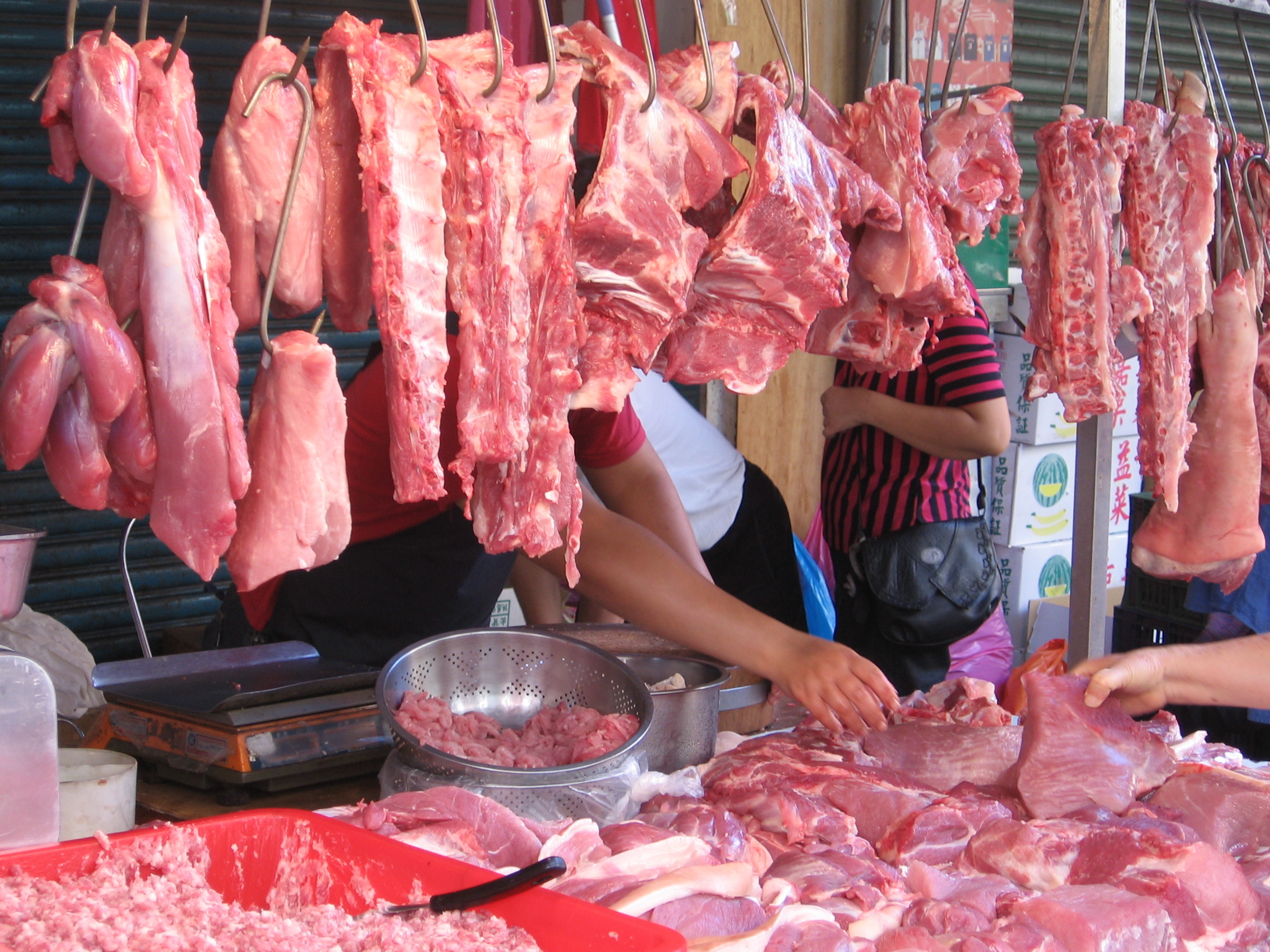 The additive makes meat leaner but is banned in the EU and China as well as in US beef that is more than 30 months old. Taiwan's main opposition party, the Kuomintang (KMT) says the additive threatens food safety and has organized a campaign against the decision.
Taiwan's Democratic Progressive Party, which holds a wide majority in parliament, says the decision to allow US pork imports brings the island into line with international norms, is not a safety threat and will boost Taiwan-US ties.
It urged the KMT "stop its political machinations and return to rational discussions," accusing the party of spreading fake news about US pork to sow public fear. Taiwan lifted long-standing bans on US pork and beef imports as part of its move toward bilateral trade agreement talks with the US.
Czech Republic: African swine fever nears its border
African swine fever, highly pathogenic avian influenza, and COVID-19 in mink outbreaks in Europe are edging closer to the Czech border. The Central Disease Control Commission of the Czech Republic responded by the introduction of new precautionary measures, including an establishment of an intensive hunting zone, a new reward payment for killing wild boar, and an increase of an already existing reward payment for reporting a finding of a dead wild boar. So far, the Czech Republic remains the first country in the EU to be officially declared free from African swine fever.
Read the latest updates on the global poultry industry on The Poultry Site, and see Jim Wyckoff's analysis of the beef and dairy sector on The Cattle Site.