Pros and cons of pork farming in West Bengal
With stable profits and strong potential for quick growth, pig rearing is increasingly the trade of choice for business-minded youngsters in West Bengal – but even small-scale success comes with its challenges.
When Amit Das, a pig farmer based in Bon Hooghly village, leased a small patch of land in the South 24 Parganas district of West Bengal to start his business, his relatives were shocked. They felt rearing pigs was too menial a profession for an educated man like Amit.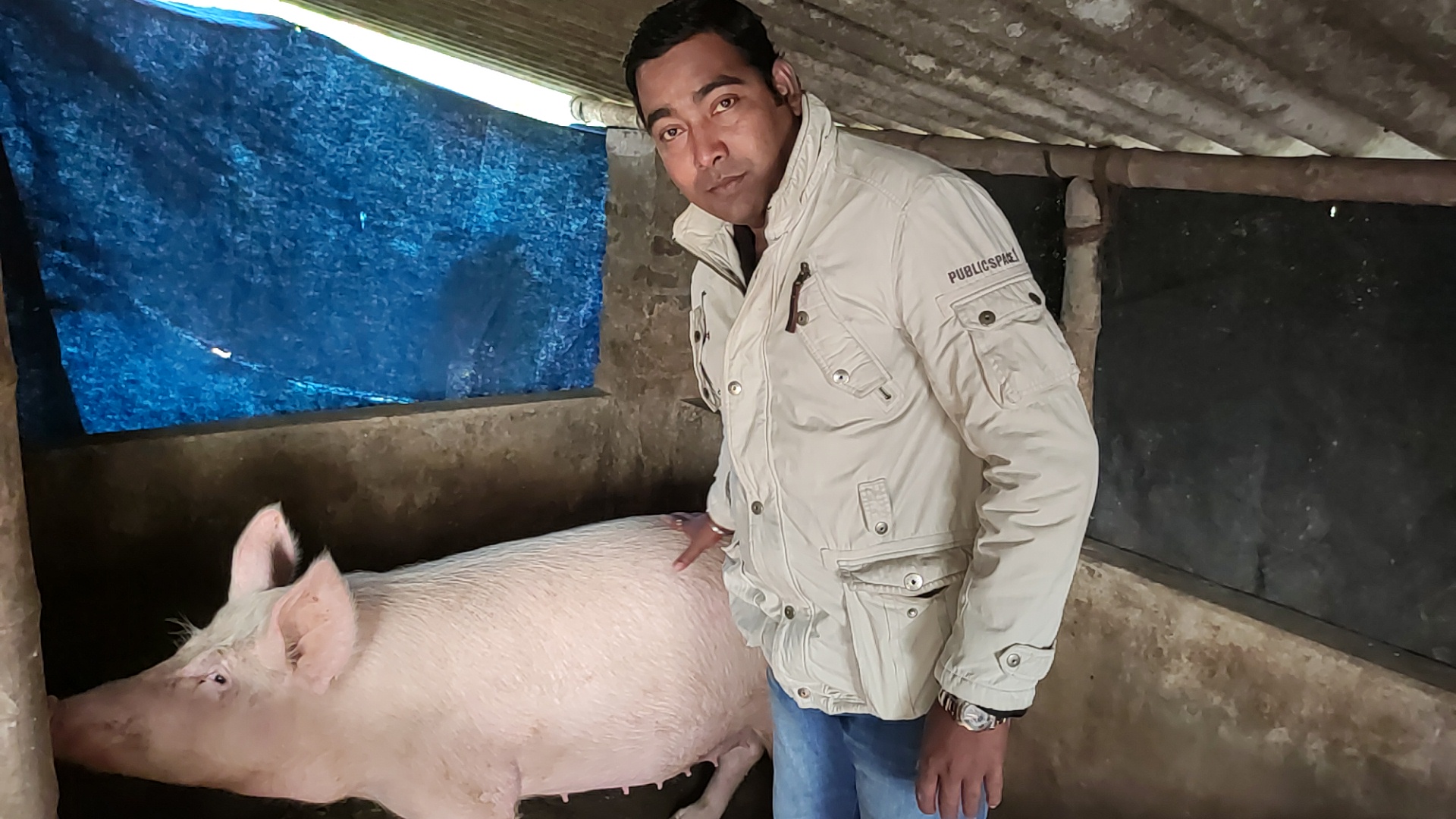 But the 37-year-old refused to change his mind, and in 2017 Amit eventually opened his pig farm. Cut to the present, and he has a herd of 40 pigs – mostly Large White – and earns around Rs 40,000 per month (about US$560). It's a salary a man with his education might find difficult to earn in other lines of work. "Soon after the completion of my studies, I decided to start a business as doing a job was never on my mind," explains Amit. "I read about piggery business on the internet and became interested in it. I realised that it has a huge potential; I decided to go ahead with it and the results are in front of all of us." He beams with pride.
And he's not the only one. Young people in Bengal are increasingly turning to pig farming after taking inspiration from rural entrepreneurs like Amit, who have decided to do something other than go for a conventional job.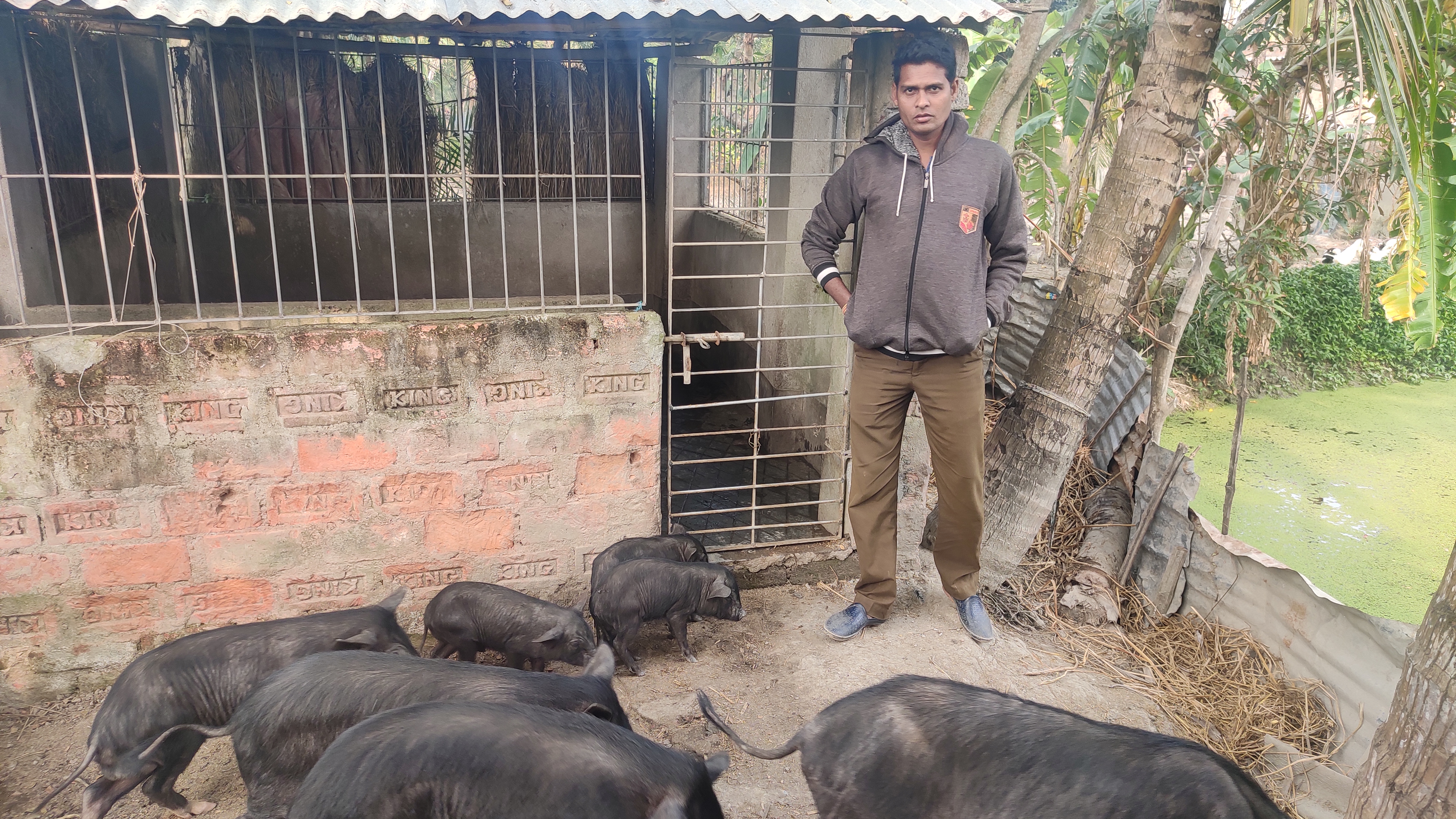 Lalchand Sardar, who lives in the village of Baria Dakshinpara in the same district, has been running a pig farm for the past five years. The 33-year-old lives close to Sundarbans, low-lying islands which are regularly ravaged by extreme weather.
He says that pig farming has reduced his risk of losses: "Agro farming here involves high risks because the islands remain at [prone to] cyclones or other natural disasters throughout the year, resulting in crop devastation. But pig farming is less risky as during cyclones the roof sheds blow away but the animals remain safe."
Lalchand has around 10 Ghungroo pigs, an indigenous breed known for producing high-quality pork when fed on agricultural by-products and kitchen waste.
In Bengal, where job starvation has been a major issue for several decades, pig farming has been churning out rural entrepreneurs for some time. And they tend to agree that the business gives huge returns if undertaken diligently and with care. "We do pig fattening and sell them when they become over 100kg," says Mohan Mondal, 40, who has 25 pigs and lives in South 24 Parganas. "It helps us to get more returns as the pork is in huge demand in Bengal and neighbouring states."
The farm owners say that the pigs are normally sold to local butchers, or even wholesalers who then sell them to retailers or other outlets.
On the financial side, Mohan says that he sells a fattened pig for around Rs 7,000-8,000 ($100-$112) of which around Rs 3,000 ($42) is spent on feed six to seven months, and the rest is his income. "The chance of facing a loss is very minimal if done carefully," he says. "The income depends on the number of pigs."
Focus on Ghungroo breed
According to the experts, young people in West Bengal are increasingly attracted to pig rearing because of the potential for rapid growth; pigs can breed frequently and give birth to around eight to ten piglets during each cycle. "The gestation period is around 114 days and the pigs can breed twice a year," says Dr Sarbaswarup Ghosh, an animal scientist at Sasya Shyamala Krishi Vigyan Kendra (a centre of agricultural science for the district). "We have been encouraging people to join pig rearing by explaining the profitability of the business. We have been focusing mainly on rearing Ghungroo because it is a local breed and also has a lower risk of being affected by diseases than the Yorkshire breed. It also consumes less food."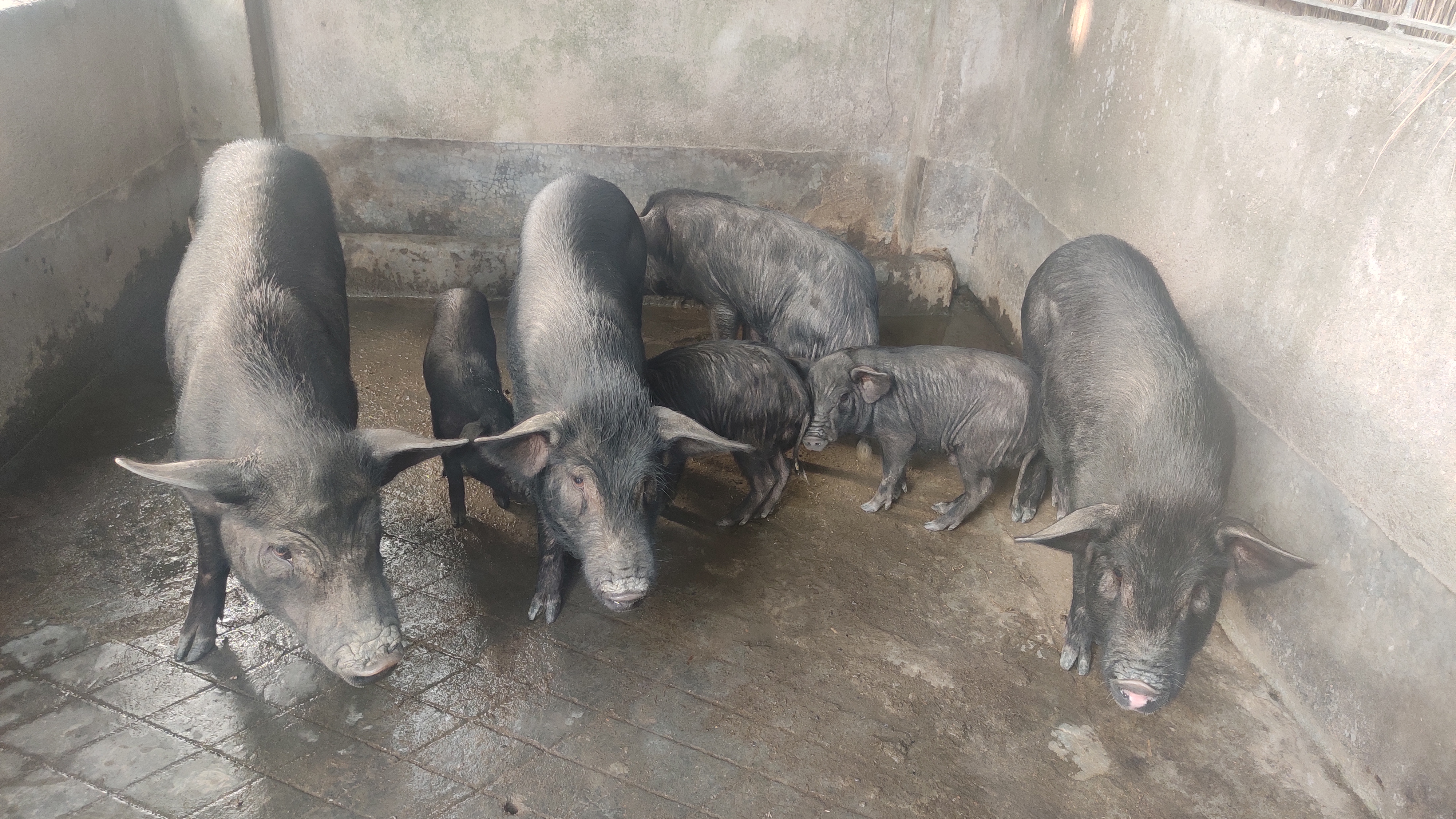 The business is not without its challenges, though; some pig farmers also point to the problems involved in it. "We face a major issue in feeding of the pigs as they need proper food to grow but it is a major challenge to arrange," says Sattik, who works in a farm in South 24 Parganas. "Normally, we depend on restaurants and hotels for the supply of waste food, as it has a combination of vegetarian and non-vegetarian items that helps in the pigs' growth. But stiff competition among farm owners to acquire food often results in its shortage." Police checks can also create trouble while transporting the waste food to the farms, he adds, while the red tape involved in making enquiries with suppliers and obtaining the correct documentation can also take up much of a farmer's time.
Hurdles in getting government permission
Many farm owners also point to the complexities involved in obtaining the trade licences from the state government when setting up their businesses. Since the sector is highly unorganised, "It is really tough to get licences from the state government as it involves lot of administrative tangles and hard work," says pig farmer Ram Sardar, 42. "As a result, most of the young entrepreneurs fail to start the farm despite having the finances and interest to do so. The sector should be well-organised as it would then attract more people.
"The government should minimise administrative hassles and must focus on single-window system so that it becomes easy for budding entrepreneurs to begin operations," he adds.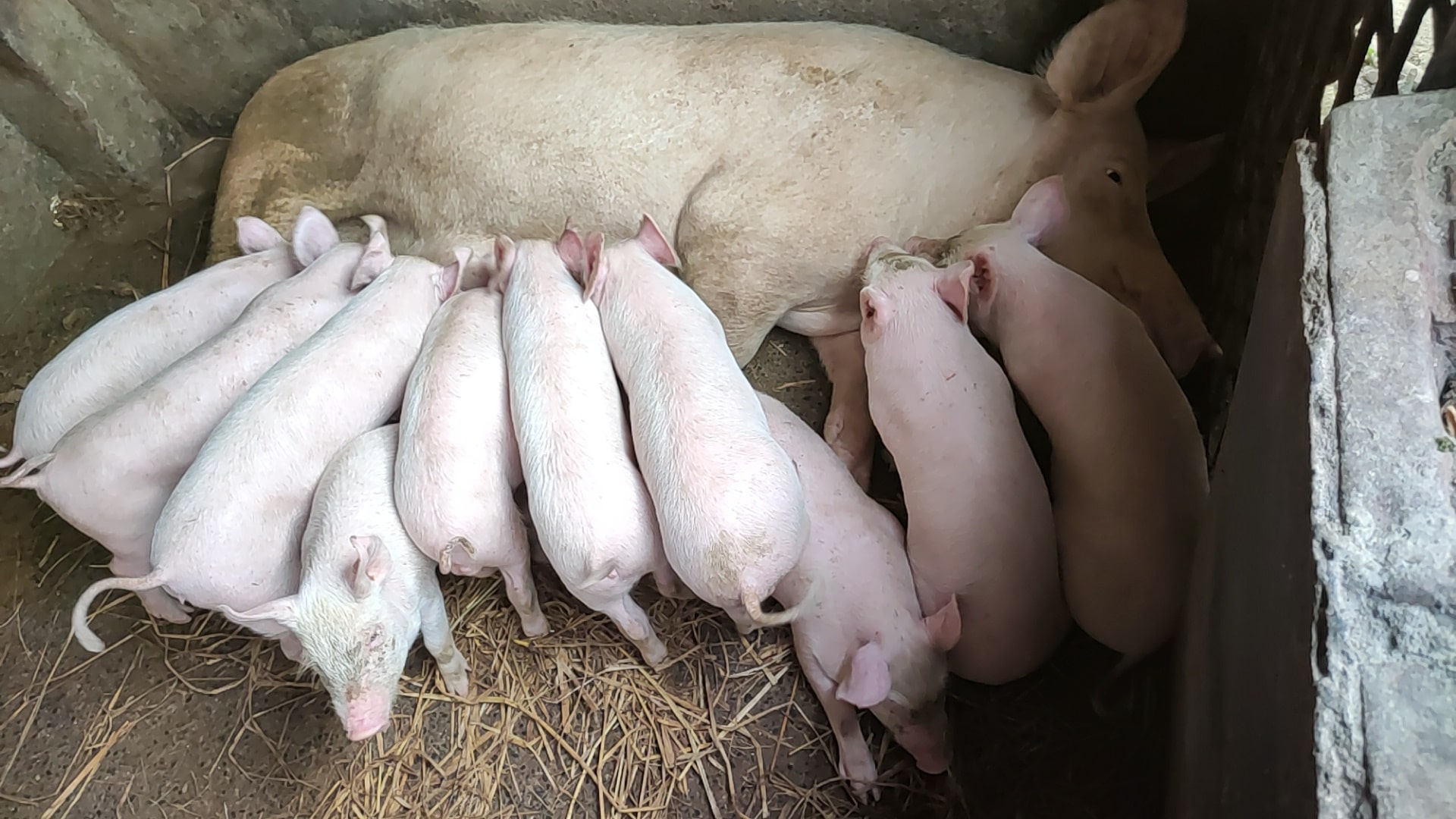 Dr Ghosh says that certain misconceptions regarding pig rearing is also a hurdle in the way of expanding the sector. "There are wrong beliefs that pigs lead to the spread of contagious diseases and often people are reluctant to allow pig rearing in their locality. Many people believe that swine fever among pigs is also a threat to humans, which is completely baseless."
The officials say that these issues are being looked into. "The government is keen to promote the pig industry as it has a huge potential for young entrepreneurs. Their issues are being looked into and will be sorted out," assured Dr Sudip Sahoo, marketing head of the West Bengal Livestock Development Corporation Limited.
Food enthusiasts, meanwhile, say that there has been a growing demand for pork in Bengal. "Pork, as a meat has never been really popular in Bengali food culture," says Indrajit Lahiri, a food blogger and YouTuber based in Kolkata. "Except for a few Tibetan and old-school Chinese food joints, the supply of good pork dishes has always been rare. But thanks to more awareness and opening up to various cuisines there's now a good demand for pork. Whether as good steaks or interesting Oriental cuisine, finally pork is getting its due respect."