Turning the corner on antibiotic misuse in West Africa's pork
With resistance to a number of key antimicrobials showing up across the region, researchers and a growing number of informed farmers are hot on the trail of effective alternatives.
Over the years, pig farmers in Ghana, and many African countries, have turned to antibiotics as a convenient way to combat low productivity and high mortality caused by disease. However, their widespread use as a feed additive has come at a high price for the industry: in recent years researchers have found very high levels of antibiotic resistant strains in samples of pathogens taken from many pig farms. As awareness of the problem has grown, a new breed of pig farmers have been switching from antibiotics as a routine addition to pigs' diets, mainly to probiotics.
At the national level, Ghana has committed itself to the international drive to deal with antibiotic resistance, as evidenced by the government's publication of the Policy on Antimicrobial Use and Resistance in June 2017. Aside from this policy declaration, though, little practical effort has gone into dealing with the problem of antibiotic resistance in pig farming and other African livestock industries.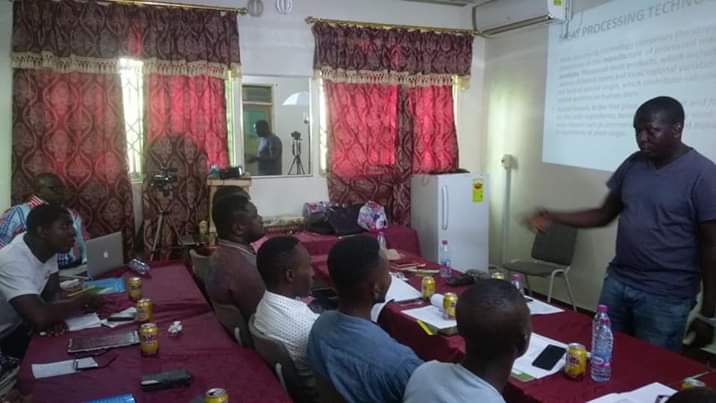 At the national level, Ghana has committed itself to the international drive to deal with antibiotic resistance
Over the last two decades, pig farming in Africa has diversified from a focus on rearing the African Black pig to including a range of European breeds. All over the continent, popular breeds include Large White, Duroc, Landrace, Yorkshire and Berkshire. Naturally, these breeds' genetic traits, their tolerance of the tropical environment and their feed requirements have presented challenges to farmers. Diseases and high mortality levels have characterised pig-farm operations where the animals have struggled to adapt, and these issues have been compounded by the farmers' lack of adequate technical and managerial skills.
While the numbers of pigs lost to disease are beginning to improve, the antibiotics are used by most pig farmers as a means of dealing with these challenges are a cause for concern. A small amount of work has gone into enhancing the African pig and crossing it with foreign breeds, with a view to achieving stable breeds which are more tolerant of the tropical environment – but few practical successes have so far been achieved.
The Ghanaian government's policy document bemoans the fact that a 2016 survey of the three major livestock-producing regions of Ghana "points to the decline or total loss in the efficacy of the monovalent preparations in treating the same infections for which they were very successfully used in the past". That is, some antibiotics that used work are no longer proving effective. The document also laments the fact that "in the past, antimicrobial resistance has not been a priority for the veterinary services in Ghana. There are no acceptable national standards for antibiotic residue in veterinary and aquaculture produce; no testing for antibiotic residue is done, and no minimum allowable weaning period before slaughter and processing."
A 2015 study of 110 farms in the Ashanti region by John Osei Sekyere of the University of Pretoria found that the practices known to heighten antibiotic resistance were common. These include the overuse of injectable tetracycline, sulphadimidine and other drugs in the management of rashes, diarrhoea and coughs. The study also highlighted unsafe storage and disposal practices, misdiagnosis and unsafe handling of antibiotics by farm personnel. In Kenya, a 2007 study by GM Kikuvi and others found high levels of antibiotic and multi-drug resistance, and recommended improvements in slaughterhouse hygiene in order to "minimise contamination of pig carcasses". And in Nigeria, a 2015 study by IO Okunlola and AA Ayandele, which looked at selected farms in Oyo State, south-west Nigeria, found high levels of Methicillin-resistant Staphylococcus aureus, and called for "urgent intervention because pigs can serve as reservoirs through which this multi-drug-resistant organism can spread to other animals, humans and community at large".
Despite the prevalence of resistance, there are signs of hope across the continent – and the foundation for breaking pig farmers' misuse of antibiotics may have already been laid, back in 2011. A project initiated by the Animal Research Department of Ghana's Kwame Nkrumah University of Science and Technology in collaboration with the Canada-based Basic Environmental Systems and Technology Inc, distributors of the R3 "performance enhancer". With funding from the Council for Vocational Education and Training, the programme saw the delivery of a total training package to two pig farming cooperatives in the Ashanti region, the Ejisu-Juaben and Afigya Kwabere pig farmers' associations. Before the programme, the farmers faced a host of challenges – high piglet mortalities, long maturity periods, high feed costs and, naturally, hardly any profits. The programme comprised instruction in entrepreneurial skills and the establishment of a demonstration pig farm to teach good farm- and animal-management practices. Crucially, the programme introduced the farmers to R3 as a viable alternative to antibiotics , and follow up farm visitations and other interactions were held. Thanks to the success of the programme, these two associations now account for a sizeable portion of Ghana's current national pork output.
In recent times, a number of training courses for pig farmers have been held in African countries, and more pig farmers are acquiring the skills and information they need to apply good farm-management practices and find alternatives to antibiotics. Quite a number of recently established pig farms are using R3, and some farmers are using other alternatives to antibiotics. But the majority of pig farmers do not have access to this information, and antibiotic resistance still poses a major threat to the health of customers. Yemi Adesina, a prominent pig farmer in Nigeria whose company runs training courses across West Africa, urges African veterinary agencies to "establish antibiotic guidelines for the pig industry. South Africa's Guidelines for the Use of Antimicrobials in the South African Pig Industry provides a good example," he advises. He also suggests the institution of a reporting system which will ensure pig farmers comply with sound health and biosecurity guidelines.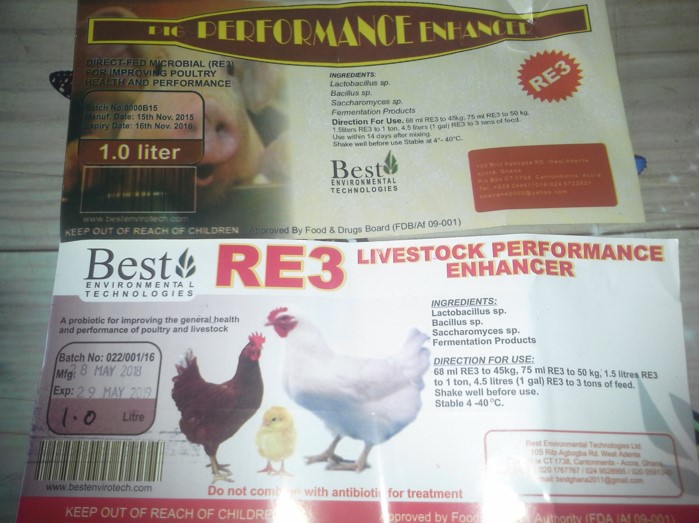 The R3 "performance enhancer", distributed by Canada-based Basic Environmental Systems and Technology Inc
In spite of the prevalent problem of antibiotic misuse, demand for pork has risen considerably all over Africa in recent years, and most farmers are making some profit. Thanks to the filtering down of research results on alternative feed sources, pig farmers are using cassava, wheat bran, palm kernel cake and rice bran. Rice bran has become very popular among pig farmers due to the abundance of locally produced rice. But farmers are producing their feed on-farm, which do not often meet the sanitation and biosecurity standards required for feed production – with obvious consequences.
Some experts believe that the farmers would be better off buying commercial pig feed, and concentrating on the sound health and management of their pigs. Kofi Adjei, a pig farmer in Takoradi, Ghana, believes that farmers who want to make bigger profits should not spare any effort to ensure that their products reach high quality standards. "My main market targets are the supermarkets and hotels," says Adjei. "Before they bought my pork, they came to the farm and took samples to confirm that my pork is healthy and I do not use antibiotics. I urge colleague farmers to practice high levels of biosecurity, and avoid antibiotics. If we want to compete with the imported pork which is flooding Ghana, then we should be up and doing."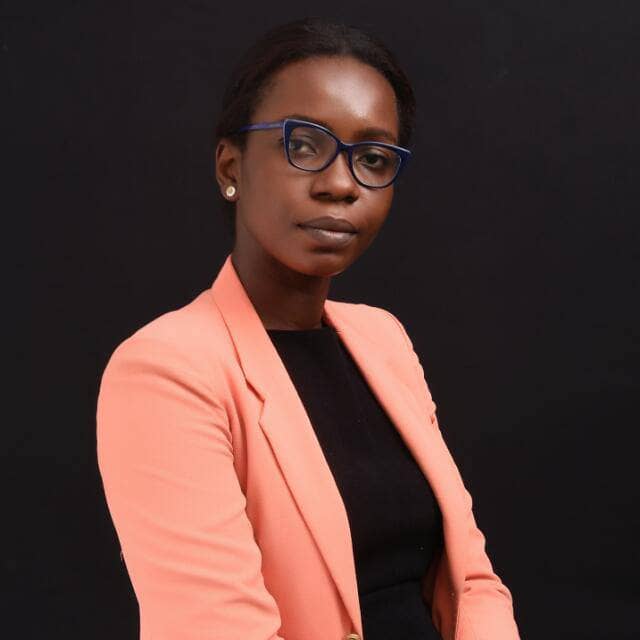 by Efua Okai
Efua Okai is a Ghana-based economics graduate and a commentator on pig production in West Africa. She has a degree in Economics and an MBA in finance.