Partnership to Assist Producers with Group Housing Options
CANADA - The potential challenge to the ban of sow gestation stalls in Canada and the US is arguably one of the most talked about topics among producers. Those involved in the industry worry that the issue is not a matter of "if" but rather a matter of "when". Now, it seems some producers have an idea of just when that will be, writes Glenn Kuhn, Swine Technical Manager at Genesus Inc.
It was announced during a recent series of producer marketing meetings held across Manitoba, that proposed changes to the federal Recommended Code of Practice for the Care and Handling of Farm Animals (Pigs) will include wording that describes a phase out of the use of gestation stalls by the year 2025.
While this may have been the first time that a tangible timeline has been attached to the sow stall ban in Canada, researchers at the University of Manitoba's National Centre for Livestock and the Environment (NCLE) (Genesus Genetics) have long known the changes were inevitable and have already given producers who are contemplating renovations or conversions a head start.
In partnership with the Manitoba Pork Council (MPC), the Manitoba Rural Adaptation Council (MRAC), and the U of M's Departments of Animal Science and Engineering, the NCLE has already completed the first phase of a research project looking at the variety of options available to producers.
"Pigs are naturally social animals, so being with other pigs is considered important," said Dr Laurie Connor, head of the U of M Department of Animal Science. "In group or loose housing they can... choose the most comfortable environment at any point in time."
But implementing a group housing system for sows is not a simple decision and choosing the wrong configuration for your farm could lead to serious welfare and production issues.
"Group housing, per se, does not improve sow welfare. If we don't get the right combination there can be major welfare problems for group housed sows," said Dr Connor.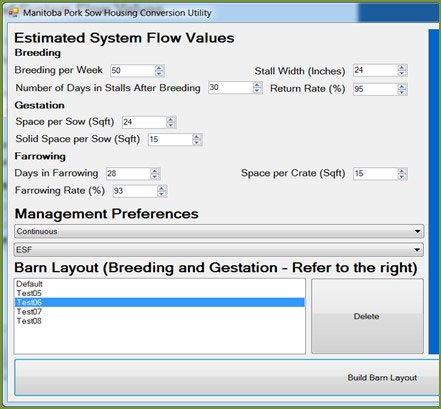 As such, the goal of the first phase of the NCLE research was to conduct a comprehensive review of all current literature covering four major modern group housing and feeding configurations as well as floor feeding.
The second phase of the research project was introduced recently at the same series of producer meetings by Mark Fynn, Manitoba Pork Council Animal Care Specialist and will feature an interactive computer program which will allow producers to input their own barn dimensions, sow production data, floor type and their preferred feed system type.
The goal of the computer program is to provide producers with an interactive tool that can allow them to apply a range of different options for group housing and feeding to the actual design of their farm in order to make informed decisions that take into account the costs of the retrofit as well as maximizing the productive space available.
The final reference summary as well as the final version of the computer program will be made available in spring 2013 and will be supported through a series of workshops held across Manitoba.
With files from The Manitoban, University of Manitoba, and the National Centre for Livestock and the Environment.
Electronic Sow Feeding (ESF)
Housing is becoming increasingly important for the swine industry. Two ESF equipment companies have videos showing Genesus Genetics with their ESF systems. Nedap Equipment showing Eagle Creek and Osborne Equipment showing Brentwood.
Both Companies have Chosen Genesus Customers to demonstrate their equipment. Genesus temperament, feet & legs and production capacity make the performance of Genesus on ESF's second to none.