Market Observations Post-USDA Return
US - USDA is back up and running but, as can be seen from today's North American Pork Industry and Competing Meats tables, it will be another week before we have the normal complement of supply and price data. Further, we may not get data for the two missing weeks at all. USDA has not been too clear on those items yet but should provide more details this week, writes Steve Meyer in his "Market Preview" published in National Hog Farmer magazine.
While the down-time was frustrating, USDA's resumption of reporting was pretty impressive. After Congress finally reached an agreement on Wednesday night, USDA's Agricultural Marketing Service published mandatory price reports for Thursday afternoon and then released the full complement of reports on Friday. And that was true for cattle and beef as well as hogs and pork. Supply data for last week were available per normal.
But there are a slew of delayed reports and a few that will not be published at all. See Figure 1. Most of those were monthly reports from the National Agricultural Statistics Service. Note from the table that we will get caught up on broiler egg sets and chick placements this Wednesday (23 October) but will have to wait until 31 October for a number of key meat supply reports such as Cold Storage, Cattle on Feed and Livestock Slaughter. The monthly Chicken and Eggs report, which includes estimates of the broiler flock and breeder pullet placements, will also be delayed until 31 October.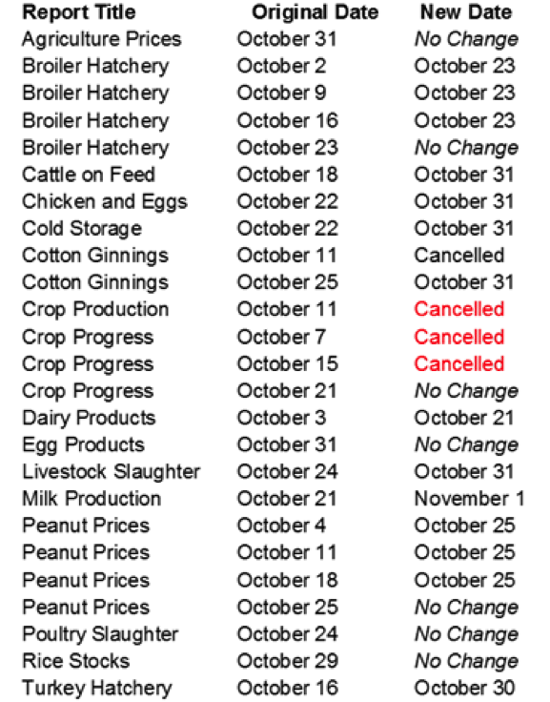 One key report that was cancelled for October was Crop Production from the National Agricultural Statistics Service (NASS) and the closely-related World Supply and Demand Estimates Report (WASDE), which technically come from the Office of the Chief Economist at USDA. The November editions of those reports will be published on 8 November. They will be watched closely since the first actual estimate of harvested acres that is normally included in the October report will be included then.
So what is going on with hog markets? That's not an easy call with one data point but here would be a few observations:
My oft-repeated mantra that decision makers tend to do nothing when faced with risk or uncertainty or, especially, an unknown situation appears to have held again. Cash hog prices on Thursday were changed very little from just before the shutdown. Our read of the market during the two-week lull was that no one wanted to move very far in either direction.


There were two primary drivers of this "non-movement" in hog markets. First, producers were very happy to stay at late-September prices through the first two weeks of October when prices are usually falling. Second, I think packers were very hesitant to push prices lower – even by a "normal" amount -- because they did not want to raise the ire of producers or politicians for "taking advantage" of the situation.


Hog price movements since Thursday pretty well support point number two. The margin implied by Friday's cutout value and hog prices was TIGHT. Friday afternoon's cutout value was $94.30 FOB plant and that figure would be, based on data from last winter and spring, about $3/cwt. higher than the old voluntary cutout value that we used to compute gross packer margins for many years. The average net price of the hogs slaughtered on Friday was $90.28/cwt. leaving a "meat" margin of only about $1/cwt. if adjusted to the historical cutout value. Packers still had the by-product value (which we don't know for the moment) to work with but a meat contribution of $2/head is not much. And what does this morning's report say? Down $2.32 on the national negotiated base price. I believe markets will get back to "normal" relationships quickly.


CME Group's use of the last two days' prices for the October Lean Hogs futures contract to settle open positions at expiration last week worked out okay. The method was fraught with risk since anyone could have tried to push prices in one direction and would have had no cash market to limit the move of the futures price. CME Group stated up front that surveillance would be keen but I was concerned about the level of CFTC staffing. My worries were not unfounded but were gladly unwarranted in this case. The exchange had no good alternative to this method.


It is looking like USDA's September Hogs and Pigs Report over-estimated pig numbers. Some private estimates had put weekly FI hog slaughter at just over 2.2 million head for the week ended 4 October, and 2.275 million head for the week ended 11 October. Those numbers would be 6.7 per cent and 4.7 per cent lower than one year ago. Last week's total was 3.6 per cent lower than in 2012 and all of these come at a time when the Hogs and Pigs Report suggested slaughter should be UP 1.5 per cent vs. last year.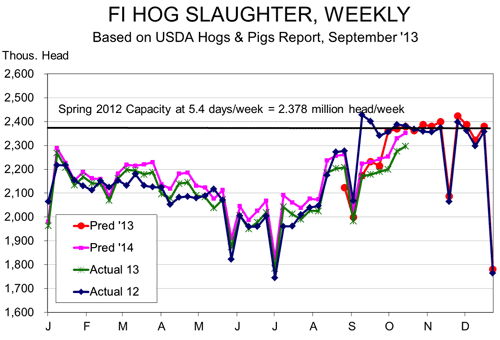 I had speculated that the hog number shortfalls of August were related to hot weather and lousy-quality, year-end corn and that the end of both would see sharp increases in hog numbers. It simply hasn't happened to the degree I expected and I have to conclude that USDA overshot at least the 120-179-lb. inventory on Sept. 1. And this raises some serious concerns about the lighter-weight inventories, which were larger than expected in spite of significant porcine epidemic diarrhea (PED) virus losses in some parts of the country.
But at least we now have data. Even if it just identifies where we have been wrong!