UK Pig Producers Return to 'Making a Margin'
UK - The Chairman of the British Pig Executive was cautiously upbeat about the state of the national pig industry at an event in London yesterday, 6 November. Senior editor, Jackie Linden, reports.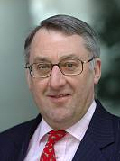 Stewart Houston
While falling shy of mentioning the word "profit", BPEX Chairman, Stewart Houston, said that the UK pig industry is again "making a margin" - a statement he has been unable to make for many years, he said.
At the occasion of the David Black Award presentation in London on 6 November, Mr Houston gave an overview of the sector, saying that pig prices are at their highest level ever as the result of lower production in the EU overall and the aftermath of the "horsegate" scandal in the region earlier this year, while feed prices are down from their earlier peak.
Adding his congratulations to Pete Bown for the David Black Award, Mr Houston welcomed the new farming minister, George Eustice, to his first pig event, adding that the pig industry has a good track record in working well with government, while addressing many of its challenges itself. Mr Eustice is Parliamentary Under Secretary of State for farming, food and marine environment
Mr Houston called on the country's retailers to support the meat processors. BPEX has been urging closer links in the pig meat supply chain for the last year, he said, and while there has been little progress so far, Mr Houston pledged to keep on trying.
He highlighted good progress on partnership with government over exports, citing increasing volumes of pig meat destined for China. On the other hand, he expressed disappointment that BPEX's offer to fund a pig meat ambassador for China has so far not led to an appointment.
Whilst supporting the principle of reducing food waste, Mr Houston made clear his opposition to a return to feeding waste food to pigs in the EU. He said the disease risks were too high.
Finally, reiterating his belief in the importance of training to attract and retain professional staff for the pig sector, Mr Houston added that the Agriculture and Horticulture Development Board (AHDB) was due to hold its Skills Summit later in the day.
"Youngsters are key to the sustainability of the sector," he added.
Further Reading
Go to our previous news item on this story by clicking here.