EU Pig Prices: Quotations on Upward Trend
EU - Almost all over Europe, the slaughter pig market appears to be friendly or steady this week. This may be attributed to the quantities on offer, which are expected to decrease and are facing high demand from slaughter companies.
After German producers urgently demanded a subsequent increase in prices, improvements were seen in the pig market. Last Friday, 17 January, the German quotation rose by 3 cents.
Encouraged by Germany's price increase, quotations in Belgium, Austria, France and the Netherlands went up as well. The word about fresh meat business has spread in Austria particularly. In France, the quantities on offer as well as slaughter weights dropped.
The downward trend in Spain has come to a halt, with the quotation maintaining the price level achieved. Spanish exporters currently have to cope with bad news from Russia. According to Mercolleida, Russian authorities provided information on the decision that the Spanish market will remain barred from exporting pork to Russia. Another on-site visit is scheduled for April.
The markets in Denmark and Great Britain appear to be a little weaker.
Trend for the German market: This week, slaughter pigs are not available in quantities large enough to cover the slaughter companies' demand from marketers. The current price level is therefore being accepted on the part of the buyers. It remains to be seen whether or not the prices are likely to go further up, given the numbers of registration and the developing of slaughter weights over the course of the week.
Prices in Euros (€)
| Week | D | NL | DK | B | F | PL | CZ | IT | ESP | AUT | GB | IR |
| --- | --- | --- | --- | --- | --- | --- | --- | --- | --- | --- | --- | --- |
| Week 49 | 1.666 | 1.614 | 1.697 | 1.606 | 1.565 | 1.660 | 1.654 | 1.886 | 1.708 | 1.632 | 2.056 | 1.574 |
| Week 50 | 1.606 | 1.557 | 1.670 | 1.538 | 1.580 | | 1.693 | 1.886 | 1.712 | 1.591 | 2.026 | 1.574 |
| Week 51 | 1.546 | 1.500 | 1.643 | 1.470 | 1.582 | 1.588 | 1.663 | 1.886 | 1.708 | 1.520 | 2.973 | 1.574 |
| Week 52 | 1.466 | 1.424 | 1.589 | 1.408 | 1.535 | 1.559 | 1.644 | 1.886 | 1.661 | 1.468 | 2.959 | 1.574 |
| Week 1 | 1.466 | 1.424 | 1.599 | 1.408 | 1.499 | 1.549 | 1.592 | 1.886 | 1.661 | 1.468 | 2.932 | 1.536 |
| Week 2 | 1.466 | 1.424 | 1.599 | 1.408 | 1.495 | 1.527 | 1.565 | 1.886 | 1.623 | 1.437 | 2.946 | 1.536 |
| Week 3 | 1.466 | 1.434 | 1.599 | 1.421 | 1.518 | | 1.562 | 1.918 | 1.608 | 1.437 | 1.917 | 1.497 |
| Week 4 | 1.496 | 1.453 | 1.572 | 1.458 | 1.543 | | | 1.918 | 1.608 | 1.468 | 1.886 | 1.497 |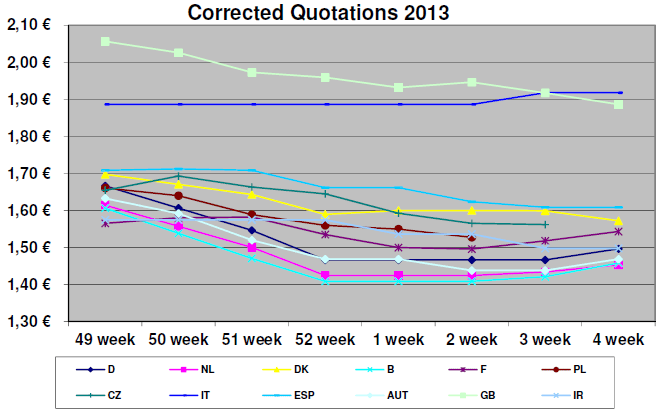 Explanation
1corrected quotation: The official Quotations of the different countries are corrected, so that each quotation has the same base (conditions).
base: 56 per cent lean meat; farm-gate-price; 79 per cent killing out percentage, without value-added-tax (VAT)