EU Pig Prices Reflect Positive Trend
EU - At the beginning of this week, the European slaughter pig market appears to be increasingly positive.
Last week, the atmosphere had turned positive among the market participants, with the quotations going up in some countries at the same time. Generally, small quantities of pigs mature for slaughter meets acceptable demand.
Russia remains closed as an export destination, but sales towards Asia are going very well. Moderate price increases are recorded in Germany, Belgium and the Netherlands. In Great Britain, the quotation went up by as much as a corrected 5.3 cents.
Quotations in Spain, Denmark, Austria and Ireland remain unchanged. France has reported a slight price decrease. Great hope is placed by the Spanish in a meeting of representatives of the Spanish Department of Agriculture and of the Russian veterinary service which is to be held on 14 March.
According to the AgE, resumption of pork trade between the EU and Russia can, for the time-being, only be considered for those countries furthest from the latest cases of African swine fever such as Belgium, the Netherlands, Spain, Italy and Denmark. From Russia's point of view, Germany is counted among those countries subject to higher risks.
Extensive relief has been reported from Poland. In the region demarcated as the Polish buffer zone to prevent the African swine fever from spreading, 400,000 pigs have been held which, in practice, have been hard to sell over the past three weeks. State aid such as buy-out activities and private storage of which half the costs are to be borne by the EU and Poland each are in the pipeline.
Trend for the German market: The positive atmosphere which started up last week continues. Only small quantities of live pigs are on offer in the domestic market. Producers are in no hurry to market their pigs for slaughter because of the recent price level. Furthermore, cultivation of fields for the spring season is due. From the latest point of view, prices are expected to go further up.
Prices in Euros (€)
| Week | D | NL | DK | B | F | PL | CZ | IT | ESP | AUT | GB | IR |
| --- | --- | --- | --- | --- | --- | --- | --- | --- | --- | --- | --- | --- |
| Week 4 | 1.496 | 1.453 | 1.572 | 1.458 | 1.543 | 1.545 | 1.530 | 1.918 | 1.608 | 1.468 | 1.886 | 1.497 |
| Week 5 | 1.536 | 1.491 | 1.572 | 1.495 | 1.550 | 1.564 | 1.548 | 1.918 | 1.613 | 1.509 | 1.833 | 1.497 |
| Week 6 | 1.536 | 1.443 | 1.572 | 1.458 | 1.548 | 1.524 | 1.550 | 1.892 | 1.628 | 1.509 | 1.874 | 1.497 |
| Week 7 | 1.466 | 1.405 | 1.572 | 1.421 | 1.496 | 1.445 | 1.535 | 1.823 | 1.627 | 1.437 | 1.817 | 1.497 |
| Week 8 | 1.446 | 1.377 | 1.531 | 1.408 | 1.446 | 1.397 | 1.522 | 1.823 | 1.594 | 1.437 | 1.841 | 1.497 |
| Week 9 | 1.446 | 1.377 | 1.504 | 1.371 | 1.458 | 1.301 | 1.525 | 1.772 | 1.592 | 1.437 | 1.814 | 1.440 |
| Week 10 | 1.396 | 1.329 | 1.477 | 1.347 | 1.471 | | 1.517 | 1.772 | 1.594 | 1.437 | 1.840 | 1.440 |
| Week 11 | 1.416 | 1.339 | 1.477 | 1.371 | 1.461 | | | 1.747 | 1.594 | 1.437 | 1.893 | 1.440 |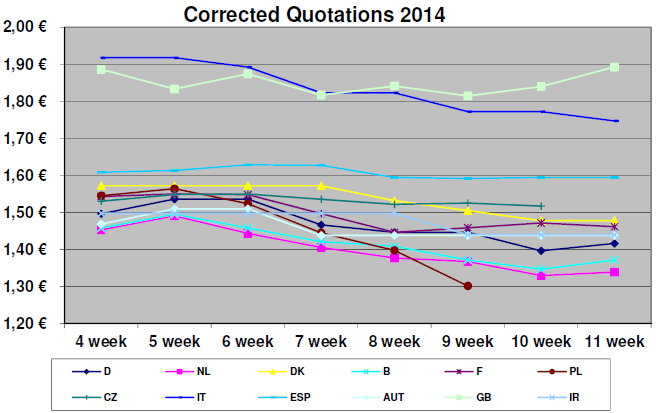 Explanation
1corrected quotation: The official Quotations of the different countries are corrected, so that each quotation has the same base (conditions).
base: 56 per cent lean meat; farm-gate-price; 79 per cent killing out percentage, without value-added-tax (VAT)