Pork Commentary: USA - 1 March Hog and Pigs Report
US - The USDA released the 1 March "Hogs and Pigs" report last Friday, writes Jim Long.
Our Observations
Hogs and Pigs Inventory lowest since 2007
Litter size lowest since 2009
Quarterly Pig Crop lowest since 2007
No question PED has hit the industry
2.2 million fewer market hogs – or about 100,000 fewer per week
We expect the market will be slightly lower than USDA data would indicate. We believe PED will cut marketings about 6 million market hogs this calendar year or about 120,000 per week compared to 2013.
We calculate that about 4 – 4.5 million sows will have had and will get PED with an average loss of 2,000 pigs per 1,000 sows, we calculate this is 8 – 9 million pigs. We expect productivity increases will add about 2 million head per year. 8 -9 million dead plus 2 million head productivity increase. Net 6 -7 million fewer market hogs in 2014 or about 120,000 fewer market hogs per week on average compared to 2013. We cannot comprehend any significant upside to current lean hog future prices.
The 1 March US breeding herd showed an increase of almost 100,000 since 1 December. That's an increase of almost 8,000 a week. Where did it come from?

We are having a hard time believing the US breeding herd grew this much in 13 weeks. Most production systems have been in crisis made due to PED. Who expands in a crisis? 40,000 in Iowa? Time will tell but it doesn't make sense to us, especially as we observe the breeding stock sales and buying pattern of producers.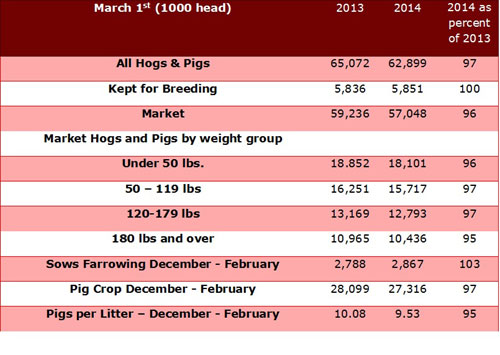 Summary
Hogs and Pigs report shows the lowest market inventory in seven years. PED is the reason there will be significantly fewer pigs. Rabobank has predicted PED losses of 12.5 - 15 million pigs in the US industry in 2014. We think the production is too high. Enjoy the lean hog prices over $120, pay down bills and set aside cash. We expect when PED is over and we do anticipate it will be next to over by this fall, we will have a major upswing in market hog numbers and hog prices will drop.