Maternal Line Purebred Sows in Hermitage Genetics Breeding Pyramid
A recent analysis of Hermitage Genetics PigBLUP Exchange database demonstrated the exceptional reproductive performance being achieved using Hermitage purebred maternal lines.
The top 100 purebred Landrace females are averaging 17.01 born alive and the top 100 purebred Large White females are averaging 17.44 born alive.
The Hermitage Maternal Line Index focuses specifically on the Maternal Line trats including: numbers of piglets born alive greater than 1Kg; feed conversion rate, overall litter birthweight, growth rate, per cent lean and litters per sow per year.
Litter weight at weaning is a new trait being incorporated into the maternal line index as a means of selecting for high milk yield in all Hermitage maternal lines.
The Hermitage PigBLUP Exchange has been established to coordinate all breeding programme administration for Hermitage Genetics worldwide and maintains the BLUP database for all Hermitage maternal and terminal line animals in addition to calculating the breeding values for Hermitage nucleus, multiplier and customer herds around the world.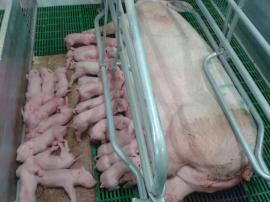 Pictured: Hermitage purebred Landrace sow which recently farrowed 27 live born piglets in Spain.