EU Pig Prices: Only Little Market Movement
EU - Even this week, the pig slaughter prices are making no headway. Reports are coming in from almost every European country on well-balanced markets closing ranks with the unchanged German price.
Yet, the German slaughter companies are still complaining about the unsatisfactory meat business, the quantities of pigs for slaughter, however, are sold continuously. So, no reason is given for the prices to change. Accordingly, the Austrian, Dutch, Danish and Belgian markets recorded unchanged prices as well.
France announces a slightly positive trend. There, the average price went up by one cent during the latest Plerin auction. Altogether, the French report on substandard quantities on offer. At the same time, it must be noted that consumer demand has been weakening for weeks now.
The Spanish price also had to be corrected downward by one cent (converted) this week. Spanish slaughter companies have been complaining for weeks about the price gap continuing to be large towards the other European countries.
Trend for the German Market:
Unfortunately, there is no suggestion that the meat markets will be stimulated clearly at the end of the current week of slaughter. Supply and demand should thus be balanced on the live-animals' market next week. As a consequence, the prices are expected to remain unchanged.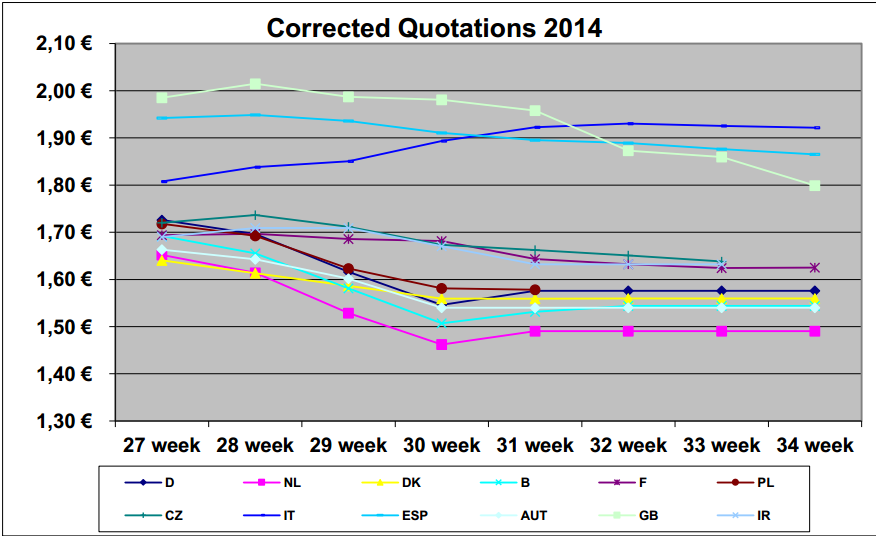 | Week | DE | NL | DK | BE | FR | PL | CZ | IT | ES | AT | GB | IR |
| --- | --- | --- | --- | --- | --- | --- | --- | --- | --- | --- | --- | --- |
| Week 27 | 1.726 | 1.652 | 1.640 | 1.692 | 1.694 | 1.718 | 1.720 | 1.808 | 1.942 | 1.663 | 1.985 | 1.632 |
| Week 28 | 1.696 | 1.614 | 1.613 | 1.655 | 1.697 | 1.693 | 1.737 | 1.838 | 1.949 | 1.643 | 2.015 | 1.651 |
| Week 29 | 1.616 | 1.528 | 1.586 | 1.581 | 1.686 | 1.623 | 1.712 | 1.851 | 1.936 | 1.602 | 1.987 | 1.651 |
| Week 30 | 1.546 | 1.462 | 1.559 | 1.507 | 1.682 | 1.581 | 1.673 | 1.894 | 1.911 | 1.540 | 1.981 | 1.613 |
| Week 31 | 1.575 | 1.491 | 1.559 | 1.532 | 1.643 | 1.578 | 1.662 | 1.923 | 1.895 | 1.540 | 1.958 | 1.632 |
| Week 32 | 1.575 | 1.491 | 1.560 | 1.544 | 1.632 | | 1.651 | 1.930 | 1.889 | 1.540 | 1.873 | 1.632 |
| Week 33 | 1.576 | 1.491 | 1.560 | 1.544 | 1.624 | | 1.638 | 1.923 | 1.876 | 1.540 | 1.860 | 1.632 |
| Week 34 | 1.576 | 1.491 | 1.560 | 1.544 | 1.623 | | | 1.922 | 1.865 | 1.540 | 1.799 | |