EU Pig Prices: Situation Well Balanced and a Positive Mood
EU - Apart from a slight weakening in some countries, the European pigs slaughter market appears well balanced this week. Still in the lead is the German quotation with its unchanged price which provides strong guidance.
It has been for the fifth time in a row now that the corrected German level was reported to be 1.576 euros per kg slaughter weight. The Austrian and Danish quotations are also moving sideward. France as well remains on an almost unchanged level.
Yet, the French had to accept a marginal price decrease as a result of increased competitive pressure caused by the Northern European countries on the export markets. Demand for concrete action to be taken by the government in order to improve the French competitiveness on the export markets most probably takes a backseat again in view of the latest government crisis.
Complaints are also heard from Spain about lacking competitiveness. As a result, the quotation went down once again there. The price gap opening between Germany and Spain currently amounts to 27.1 cents. The Netherlands and Belgium both had to record slight price decreases, too, as a result of the sales situation. In Ireland, the prices went down to a larger extent.
Trend For The German Market:
Altogether, the mood is positive on the German pigs slaughter market towards the end of the current week. Demand is brisk for pigs for slaughter, and sales are running swiftly.
At the same time, the end of the summer holidays in North Rhine-Westphalia results in first positive stimulus. Tomorrow's result of the Internet Pig Auction will show whether or not leeway is yet left.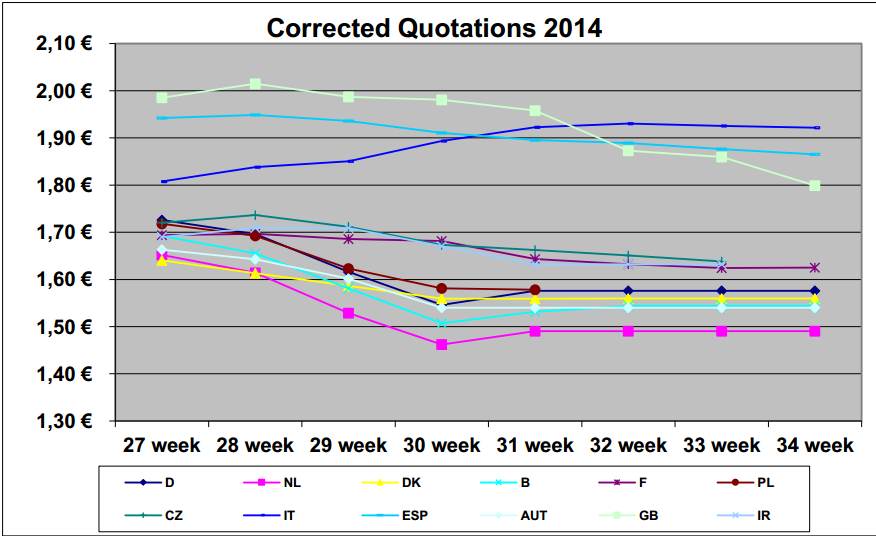 | Week | DE | NL | DK | BE | FR | PL | CZ | IT | ES | AT | GB | IR |
| --- | --- | --- | --- | --- | --- | --- | --- | --- | --- | --- | --- | --- |
| Week 28 | 1.696 | 1.614 | 1.613 | 1.655 | 1.697 | 1.693 | 1.737 | 1.838 | 1.949 | 1.643 | 2.015 | 1.651 |
| Week 29 | 1.616 | 1.528 | 1.586 | 1.581 | 1.686 | 1.623 | 1.712 | 1.851 | 1.936 | 1.602 | 1.987 | 1.651 |
| Week 30 | 1.546 | 1.462 | 1.559 | 1.507 | 1.682 | 1.581 | 1.673 | 1.894 | 1.911 | 1.540 | 1.981 | 1.613 |
| Week 31 | 1.575 | 1.491 | 1.559 | 1.532 | 1.643 | 1.578 | 1.662 | 1.923 | 1.895 | 1.540 | 1.958 | 1.632 |
| Week 32 | 1.575 | 1.491 | 1.560 | 1.544 | 1.632 | 1.587 | 1.651 | 1.930 | 1.889 | 1.540 | 1.873 | 1.632 |
| Week 33 | 1.576 | 1.491 | 1.560 | 1.544 | 1.624 | 1.580 | 1.638 | 1.925 | 1.876 | 1.540 | 1.860 | 1.632 |
| Week 34 | 1.576 | 1.491 | 1.560 | 1.544 | 1.625 | | 1.619 | 1.922 | 1.865 | 1.540 | 1.799 | 1.594 |
| Week 35 | 1.576 | 1.481 | 1.560 | 1.532 | 1.622 | | | 1.829 | 1.847 | 1.540 | 1.803 | 1.555 |