CME: USDA's Estimated Cutout Value
US - Remember that CME Globex trading hours change on Monday, 27 October, write Steve Meyer and Len Steiner.
The announcement from CME Group includes phone numbers and email addresses for a number of key CME Group staff members who would be glad to respond to any questions you may have.
The remarkable counter seasonal move of pork prices finally slowed last week as USDA's estimated cutout value gained ONLY $1.43/cwt. to reach $123.56, its highest level since the week that ended 8 August. The cutout value has gained nearly $22/cwt.
In the five weeks since it bottomed out at $101.67 the week of 29 August. What is more remarkable is that the six weeks from late August to mid October is normally a period in which the cutout value slides on seasonally larger slaughter. As can be seen, in the middle chart, this rally is truly historic. The average change over the period is $3.16 per cwt where this year's change is +$21.89/cwt.
Hog slaughter has indeed grown since early August but a) started that increase at a very low PEDv induced level and b) has increased less than normal (11.8 per cent vs. 13.3 per cent) over than time period.
Perhaps more important this year, though, is the fact that average slaughter weights have not increase nearly as quickly as they normally do and certainly not as quickly as they did last fall as feed costs fell. We do not believe PEDv played a part in higher hog weights until December 2013 when Seaboard Foods began taking hogs much heavier to backfill the weaned pig losses they suffered in the Panhandle region in early summer.
Over the period 2009 - 2013, the average dressed weight for all hogs increased from 200.4 lbs. the first week of August to 205.0 the second week of October. This year, that weight has declined one pound (213 to 212). Producer sold barrows and gilts normally go from 200.7 to 204.4 pounds during that period. This year 214.0 to 213.5.
Weights had made up for 5 per cent plus of the PEDv slaughter reductions since May. They made up for only 2.4 per cent of the 6.3 per cent year on year slaughter reduction last week. And while supply is one driver of the rally, we must remember that last week's cutout ($123.56) was 22 per cent higher than the last pre shutdown value we had for last year.
A price increase of that magnitude on four per cent less product, year on year, reflects a continued surge for wholesale pork demand.
Virtually every pork cut has played some part in this rally but none to the degree of hams, whose primal composite value has surged by 45 per cent since the end of August and gained another $5+ last week. Just as with the cutout value, we are normally on the back side of seasonal strength for hams at this point.
And loins have played an unusually large, and also counter?seasonal, role in this surge. The loin primal composite was lower last week after posting its second?highest value of the year ($138.06) the prior week.
That value was $27.70 larger than just five weeks earlier! Pork bellies actually led the price surge last week, gaining $7.16 to hit $124.79. Could those huge stocks be getting substantially smaller It's certainly possible with yr/yr output now declining.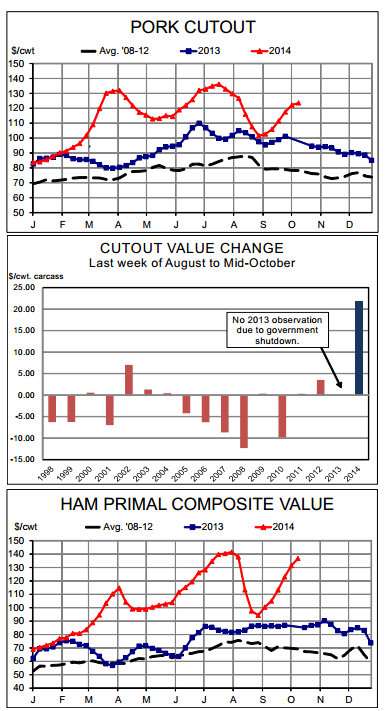 Further Reading
The details of the amended rules and the current and future
trading hours appears once more as page 2 You can view the full report by clicking here.