Stunning 3D Chalk Art Captures Changing Perceptions of Diagnostics
US - During the recent American Association of Veterinary Laboratory Diagnosticians/U.S. Animal Health Association meetings in Kansas City, Missouri, Thermo Fisher Scientific brought to life a new way to look at diagnostics.
The company commissioned eye-catching chalk art featuring realistic renderings of livestock and some of its Life Technologies brand diagnostics.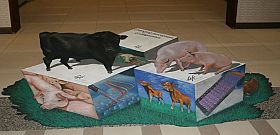 A time-lapse video showcases how Tracy Lee Stum artist Sharyn Namnath created the 3D-looking piece during the meetings.

Upon completion, scores of visitors posed for photos within the artwork while learning more about how Thermo Fisher Scientific is helping laboratories and veterinarians use innovative diagnostic solutions to improve animal health.
Further Reading
You can view the video by clicking here.
For more information about swine diagnostics, click here or connect to the Thermo Fisher Scientific Swine Resource Center.