UK Pork Retail Sales Continue to Disappoint
UK - Despite a 4 per cent drop in the average retail price, the amount of pork purchased was down by a similar amount in the 12 weeks to 19 July, resulting in expenditure being down 8 per cent year-on-year, according to Kantar Worldpanel.
Switching away from pork to chicken and chilled ready meals again impacted performance. Fresh chicken prices fell by a slightly greater amount over the last year and, as a result, the price differential has widened.
Fresh chicken is now, on average, just over 50p/kg cheaper than fresh pork. The amount of chops/steaks bought fell, despite a 5 per cent drop in average prices which further impacted on spending.
A 6 per cent decrease in the proportion of households buying them, to 35 per cent of households, was the key driver.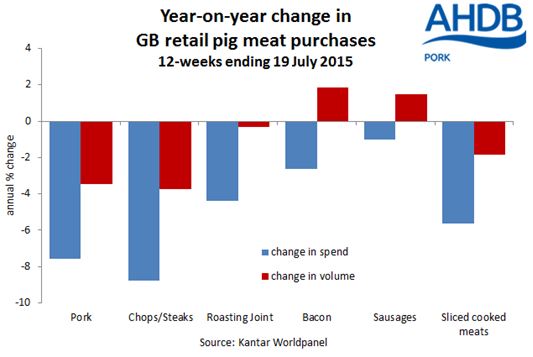 Pork roasting joint sales were also down more in value than volume overall, as the result of lower average prices.
Pork shoulder was the only roasting joint to register any volume growth and was up 12 per cent year on year.
Its performance this period will once again have been boosted by the pulled pork promotional campaign which ran until the beginning of June and featured, amongst other things, a 4-week TV ad campaign.
Leg roasting joints experienced the biggest volume decline of 14 per cent year on year, as the amount sold on deals fell from 63 per cent a year ago to 49 per cent this year.
Bacon and sausages did experience growth in the quantities sold, although lower prices meant that spending on them was still down.
Sales volume growth for sausages was driven by a 17 per cent increase for premium products. Despite a 5 per cent fall in price, total expenditure on premium sausages increased by more than 6 per cent in the latest period.
According to Kantar, the introduction of free school meals is impacting the performance of the cooked meats market.
Ham is the leading product in this category, constituting some 55 per cent of expenditure (£1.2 billion) in the year to July and volume sales were lower as a result.