EU Pig Prices: Prices Spiral Downward; Stabilisation Recognisable
EU - The price spiral continues to turn downward on the European slaughter pig market. All quotations have gone noticeably down. Markets are well supplied across the borders.
Pigs for slaughter are available in suitable quantities, while the meat market is weakening and exports are stagnating. Hence, only few may be opposed to demands made by slaughter companies.
The price decreases range from a corrected 2.4 cents quoted in Great Britain to 5.9 cents observed in Spain.
Despite clear price corrections and at a corrected price level of €1.71 per kg slaughter weight, Spain still maintains its top rank within the price structure of the five EU member countries most significant in pig keeping.
In Germany as well, the most recent price decrease must be attributed to further increased quantities of live pigs on offer with slaughter weights increasing at the same time.
Similar reports have been made by market participants from other countries. They all share the hope of European pork exporters getting back to being competitive again on a global level after the latest price decreases.
Trend for the German market:
The quantities on offer on the local live-animals markets are still extensive, and the slaughter belts are running at full capacity. At the start of this week, the mood continues to point toward stabilisation on the slaughter pig markets.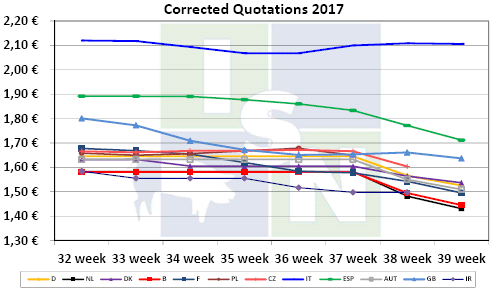 (Source: ISN - Interessengemeinschaft der Schweinehalter Deutschlands)
Explanation
1) corrected quotation: The official Quotations of the different countries are corrected, so that each quotation has the same base (conditions).
2) These quotations are based on the correction formulas applied since 01.08.2010.
base: 57 per cent lean-meat-percentage; farm-gate-price; 79 per cent killing-out-percentage, without value-added-tax