Jim Long Pork Commentary: Russia Road Trip
Last week we were in Russia, where we met customers, prospects and industry leaders. We also attended Golden Autumn. An event held annually in Moscow and a Russia celebration of agriculture and the harvest just completed.
Was held at a large complex in downtown Moscow; the site was begun to be built in the 1930's. A large number of buildings allows for many exhibitors from all facets of agriculture. One of the highlights of Golden Autumn is the different large exhibits put on by each of the Russian states which highlighted their agricultural expertise. Former Russia President and now Prime Minister Medvedev, toured the exhibits.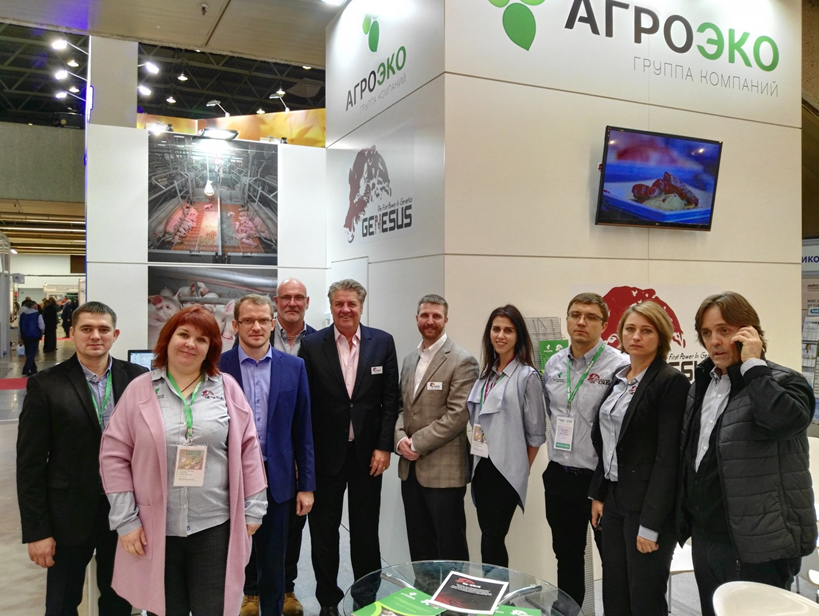 Agro Eco and Genesus Team at the Golden Autumn event in Moscow
It is a good time by most accounts to be hog producer in Russia. Market Hogs are 105 rubles per Kilogram or $1.81 US. Per Kilogram liveweight (82c US/lb liveweight). Many say profits per head are in the $70 US. Range. (in discussions we had to point out US-Canada producers losing $15-30 per head)
We met with executives, with the Russia Pig Breeders Association. They said cash costs are 65 rubles per Kilogram, which is 50c US/lb liveweight. These are cash operating costs. Some producers have break evens much higher due to a debt loads that are quite large
Russia is unique in that there have been profitable hog prices for over four years running. Economic sanctions between Russia, European Union and North America has led to no pork being imported to Russia other then a small amount from Brazil. The protected market in Russia has led to strong returns for producers. These good returns are encouraging new swine barn construction to fill the void left by a market mostly devoid of imports. The official Russia government position on sanctions is they will continue to the end of 2018, at which time who knows what might happen.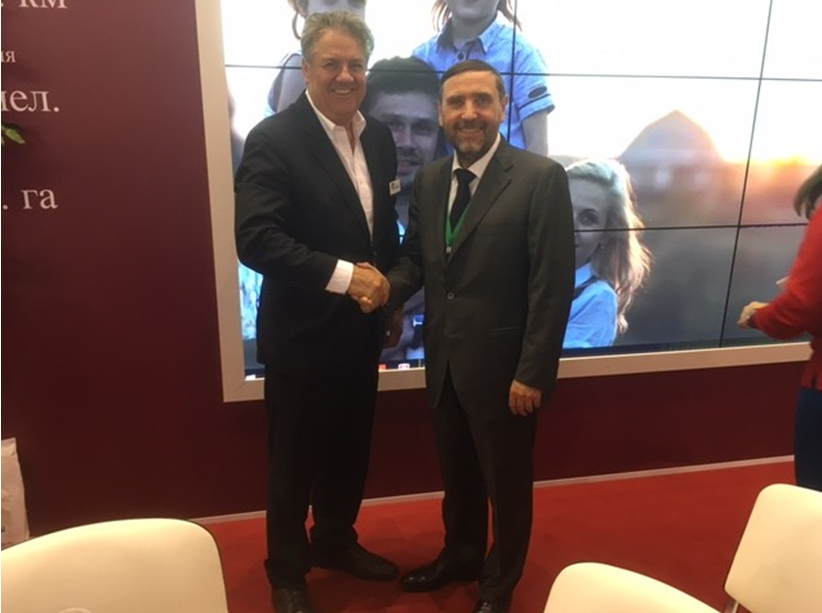 With Victor Biryukov, Owner and President Talina Group which recently imported over 1,000 Registered Purebreds from Genesus
In Russia there are no contracting in pig production. All producers own their buildings, swine inventory; grow much of their feed and many have packing plants. 20 entities produce in excess of 50% of Russia production. With no contracting, each company has tremendous demand for capital, as they must own all aspects. All costs of an integrated system are approaching $15,000 US per sow investment. Takes big money and capital, has been expensive, with pay back terms circling 8 years.
As far as the future of Russia pig industry, you get many opinions. Some believe the market will crash and inefficient debt loaded producers will go bankrupt. Others see continually good profits and strong export opportunities in Asia. Pick your scenario.
One thing is for sure, Russia has the grain, land and internal market to be a major global player.
African swine fever (ASF) is a factor that hangs over the industry. A break at a farm means all pigs are destroyed. There is government compensation and insurance but it seems that for some it isn't suffice when ASF breaks happen. Any investor is very aware of this risk and it appears to be limiting expansion.
The major players in Russia are Miratorg, Cherkizovo, Rus Agro, and Agro Belgoria. Miratorg is number one with 130,000 sows and is a Global Mega Producer. The other three are just below 100,000 sows with plans for expansions. All integrated, all with Packing plants.

click here for more information
Genesus exhibited at Golden Autumn with our Russia genetic distributor, Agro Eco. Agro Eco previously imported 2200 registered purebreds from Genesus and now operates both Nucleus and Multiplication. The Genetic program is linked and operated in conjunction with Genesus Canada – global network. Agro Eco has 36,000 sows in operation with further expansion underway. Agro Eco used exclusively Dan-Avi (Danbred) genetics prior to Genesus. With the high costs of air transportation from North America to Russia it is imperative for competitiveness to have top genetics raised in volume in Russia
Summary
Genesus has been doing business in Russia for ten years, we have seen the evolution of the industry. Now more mature, more knowledgeable and more competitive. In the ten years Genesus has flown more pigs to Russia then any other genetic company. Our experience has been good. All contracts have been honoured. We have developed good friends and relationships. Russians think big and act big.
It's a big world. We have been fortunate to meet and see for ourselves.
SPACE exhibition 2017 in France
Genesus participated at this year SPACE exhibition located in Brittany, western part of France – 70% of the pig production in France is located in western France, 60% right in Brittany.
SPACE is the largest exhibition for animal production in France, a well organized, professional show. For its 31st edition, SPACE gathered; 1,441 exhibitors of which 499 international from 41 countries – 114,653 visitors of which 14,029 international from 128 countries.
France has around 1 million sows. Most of the farms being small family owned farrow-to-finish operations, averaging 200 sows, a few larger independent producers and 2 Global Mega Producers, both cooperatives – Cooperl and Aveltis.
France is known for being a dominant Pietrain market, but at Space we heard more and more talk about meat quality and interest in Genesus Duroc. Today the French producers are not paid for meat quality, yet the past year we have seen an increase in Duroc semen sale, taking market share from Pietrain. We were told reason is growth rate and low mortality, which are being recognized as important economic drivers.
At SPACE we experienced a great deal of interest in our genetics and had many positive responses to the results we have seen so far – some French Genesus customers have seen an increase of their post-weaning daily gain with more than 50 grams.
With many smaller farms, management is quite intense and we are certain we will see high performance with Genesus genetics in France. Producers recognize Genesus genetics to be a product for future French market.