Genesus Global Market Report: Spain December
It has been 14 weeks in a row with pork price decreasing. Finally, this week the live-weight price had stopped to fall. These strong decreases in the price have been due to the greater supply of hogs in the market.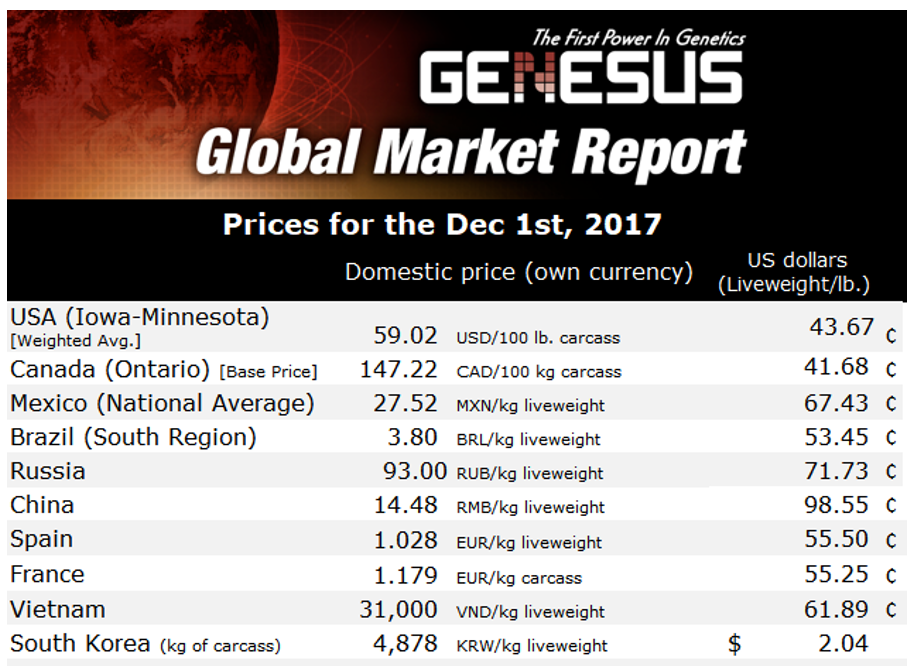 There are more animals to kill because of cooler weather. Younger and heavier pigs are showing up at the packing plants in Spain at this point. This bigger flow of hogs is causing a higher activity in the packing plants, working now at the maximum of their capacity.
November is putting a new record on number of hogs processed for the books. Last year in November Spain processed around 900,000 hogs compared with 1 million heads this year. There are also some differences in live-weight from 115.32 kg (Nov 2017) average and 111.27 kg (Nov 2016). Carcass weight: 87.91 Kg (Nov 2017) and 85.40 kg (Nov 2016). There are several packing plants working 6 days a week.
Current hog price is 1.028 € / kg live-weight. It is getting closer to the psychological barrier of € 1.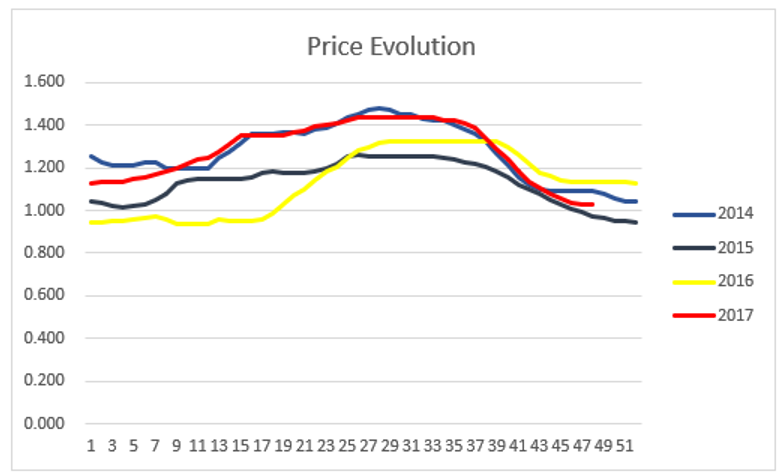 Having said that, people in the industry are starting to talk, for first time this year, about to put pork in cold storage.
The most efficient producers could be making their breakeven now. However, there is a group of producers showing their first red numbers on their books.
On the other hand, this year, in general, has been a good year for both producers and packers in Spain. Producers have made about $25.8 USD/head so far, while there are not exact figures from the packers.
This week we had the opportunity to be in the "IV International Forum of the Swine Industry" in Madrid organized by Interporc. It was a very well attended event with invited speakers from China, France and Spain. Topics like how China has started to recognize the "Made in Spain" branding for the Spanish pork; the revolutionary and growing e-commerce business of pork products and other topics related to perishable food delivered, were part of the meeting. There were also interesting conferences about Spain's growing economy and the pork industry impact on domestic GDP.
The two most discussed topics, that were part of almost everyone's conversation, were about creating awareness of the current dependency on the Chinese market for selling Spanish pork, and its associated risk; and secondly, the importance and impact on producing a higher quality pork.
As everyone in the industry knows, there is currently a shortage of Iberian ham (Jamon Iberico) on the market. China has tasted it, and china wants it. There are just some 300,000 Iberian sows producing this type of ham, which is already scarce for the domestic market. Now China is putting orders to buy this already expensive product, resulting in even higher prices. For this reason, some of the largest swine producers in Spain are looking to use modern and super specialized pig breeds in order to supply the higher demand of meat quality at reasonable cost of production, which works well for both domestic and international markets.
Genesus Purebred Registered Duroc is the only modern breed in the market able to fulfill this requirement, with excellent conformation, rapid growth and unbeatable meat quality capable to crossbreeding both Iberian sows and "white" F1 sows.
Genesus Spain and Genesus Canada so far have had great success on trials and commercial productions to the most advanced and professional Spain's pig producers. They have recognized and proofed after visiting and touring Genesus facilities in Canada (the world's largest Duroc nucleus) with excellence in production and quality of the Genesus Duroc.
The recognition received from our customers mirrors all the efforts Genesus is making for over 20 years, on scientifically improving production and meat quality traits through continuous investment in Research & Development. We are proud to have succeeded a world class product that competes successfully on todays market, and is part of the day to day discussions among people of the industry.
We, at Genesus feel proud and we are glad that this is happening because as we always said: "The producers and packers' success is our success". The final consumer, on the other hand, is responding by demanding a meat with more colour, more marbling and good tasting that create a great eating experience.