Jim Long Pork Commentary: Asia Road Trip Week 1
This week Jim Long reflects on his visit to Philippines and China.
Philippines

Last week we visited the Philippines. It was the first time we have ever been there.
Our observations:
107 million people spread out over many islands, with over 50 percent on one island called Luzon.
Luzon sits at the northern end of the Philippines, and is the country's largest and most populous island.
A high percentage of people are English speaking, a legacy of a large American influence over the last 100 years.
We understand that the Philippines has about 1.3 million sows.
Pork is served in many restaurants with many dishes unique to the Philippines.
Pork is served on the countries airlines. Maybe US – Canada airlines could start supporting pork producers.
Profits for market hogs in the Philippines currently in the $30 per head range. Cost of production about $200 US per head.
Corn is grown but it is also imported. Soybeans are imported.
Hot and humid climate. The Philippines are not far from the equator. Continually hot weather is not the best environment for swine production.
When we were in the Philippines Genesus signed agreement with the company Golden Harvesta to stock a new 2600 Nucleus. The new farm will be the largest Registered Purebred Production Unit in the Country. Golden Harvesta has become Genesus producer and marketer in the Philippines. It is exciting to have the opportunity to become a major genetic player in the Philippines.
China
After the Philippines we flew to Hong Kong then to Chengdu the capital of southwestern China's Sichuan province.
Our observations:
ASF has hit China hard. Production is declining.
Producers we have spoken to, expect hog prices will accelerate after mid-summer as the effects of the huge liquidation in sow inventory (7 million sows) comes into play.
Speculation is that the China record price of 23 rmb. (1.50 US lb liveweight) will be surpassed. Indeed all we speak to expect this scenario.
One of the reasons the speculation is that China's hog prices will accelerate in August is the government mandate that stored pork will be tested for ASF after July. This is encouraging all cold storage pork to be sold prior to that date. In July all pork including live hogs will be tested for ASF at slaughter plants by government officials. Any positive pork or hogs will be burned.
Chinese agriculture people are very conscious of the tense political and economic issues between China- USA- Canada ie Soybean, Pork imports, Canola, tariffs are all subjects that we have been I discussions about. Like us they are spectators as the politicians play out the future.
In Sichuan we visited Genesus producer TLQS. TQLS is one of the major egg, swine and feed producers in China.
TQLS took us to a 20,000 sow site stocked with Genesus sows. This site is part of the TQLS production system. The site; 20,000 sow farm called Maple Leaf Pasture, had a unique showcase to with marble hallways, floor to ceiling glass areas.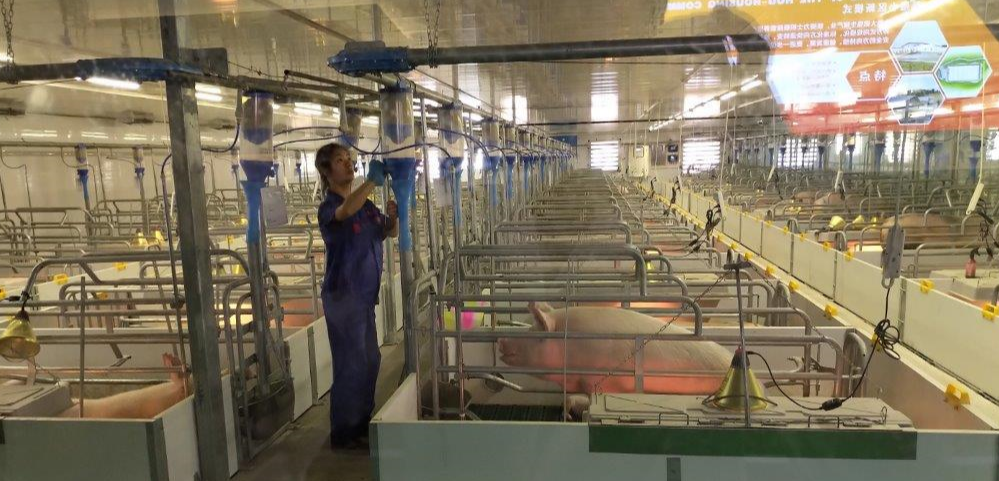 Have to say, never seen anything like it. TQLS has extraordinary ability to showcase and market as they work to enhance their brand.
This coming week we will be travelling further in China. On Friday speaking at Global Swine Genetic Conference. We will continue to report our observations.
Genesus Inc. and Golden Harvesta Agreement
Genesus Inc, the world's largest producer of high health registered purebred swine is proud to announce it has entered into an agreement with Golden Harvesta - a joint venture between Southeast Feeds of the Philippines and Well Hope Feeds of China, to be the leading swine genetic breeder and producer in the Philippines.
This will start with the importation of 2,600 GGP gilts and boars as the foundation stock for the 2,500 sow high health status Nucleus unit situated in the Mountains of Mayantac, Tarlac.
The agreement was signed by Jim Long, President of Genesus and Mr Meng, General Manager of Golden Harvesta. We were pleased to have Mr Jin Wei Dong President of Well Hope and Golden Harvesta; Angel Cachuela and Fe C Asuncion from the embassy of Canada taking an active part in the signing ceremony.
"Genesus has found a strong partner in Golden Harvesta which will further enlarge our International Nucleus population of Yorkshire, Landrace and Duroc; provide superior genetics to the Philippine hog farmers and further strengthen the Genesus business globally" said Paul Anderson, Genesus General Manager for SE Asia.
The high appetite of the Genesus hog pays dividends in the hot and humid climate in SE Asia and provides higher productivity, faster growth and better efficiency. Genesus pigs are strong, fast-growing with exceptional carcass eating experience.
The Genesus genetic improvement program is based on sound theory, disciplined and well-executed selection and mating programs all supported by extensive data collection and testing on live animals and carcasses. Commitment to research and development continues to enhance the existing programs and ensure that Genesus pigs will remain competitive on the future marketplace.
"We are very excited to work hand in hand with Golden Harvesta. Golden Harvesta possesses the same core values, work ethics and professionalism that we at Genesus always adhere and follow." said Jim Long, President of Genesus.
Mr Meng, General Manager of Golden Harvesta, selected Genesus to be the future supplier and partner in the new nucleus venture following a visit to Manitoba the home of Genesus. He was impressed by the Genesus persistence on the registered pure breed system, how Genesus chose the genomic selection, the focus of producing the best pig in the world and the strong relationship between the Genesus owners and all the staff.
Genesus Philippines will be a mirror image of the Genesus Canadian Genetics ran on the same genetic management, using the Genesus research and development, genetic and technical support. Genesus Philippines is totally committed to provide to their client partners the best breeding stock and technical support for the Philippine hog market.
With the strong relationship between Golden Harvesta and Genesus we feel confident that this partnership will deliver increased performance and reduced cost of production to the hog farmers of the Philippines.