Genesus Global Market Report: France hog market some delays in pig harvesting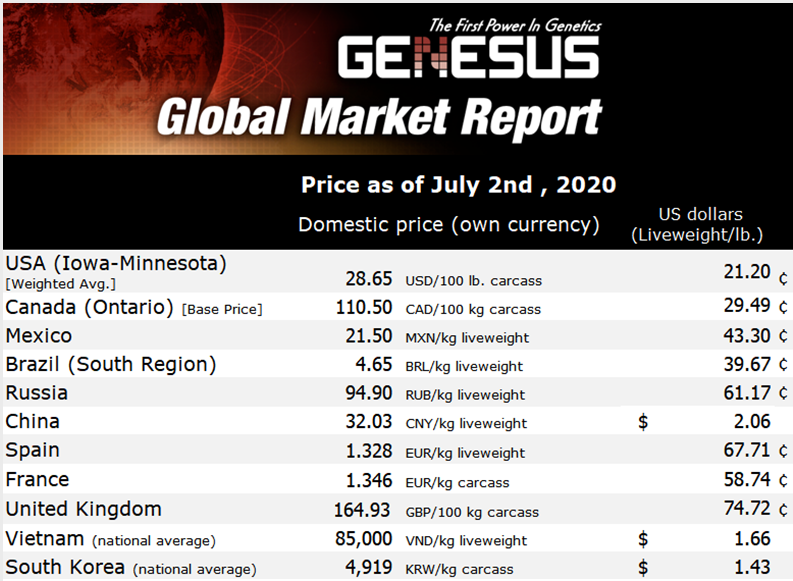 Due to three holidays in France, but also due to closure of two slaughterhouses (Covid-19 cases) and especially to the closure of the Kerméné packing plant in Brittany, pig harvests have not been good in May. Kerméné is one of the main packing plants in Brittany with 2500 employees and about 40,000 pigs slaughtered each week.
During this period the carcass weights increased to over 97 kg (214 lbs), due to the lack of removal on the farms.
Since the beginning of June the situation seems to have returned to normal, especially at the Kerméné packing plant. However, the hog price is the same for the last 5 weeks, at 1.346 € per kg carcass.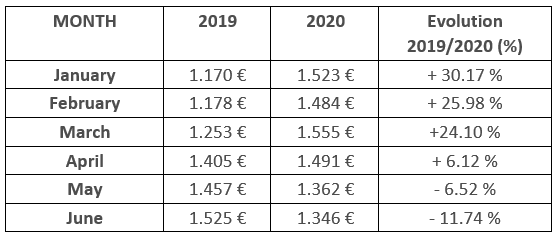 Over the first 6 months of 2020, the market price average is slightly higher than last year despite an unprecedented health situation (Covid-19) that has had a strong impact on the consumption habits of the consumers.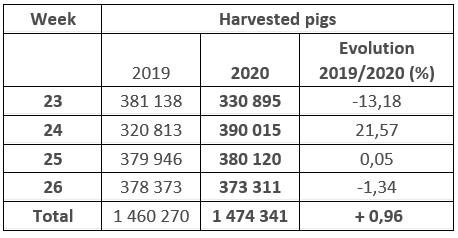 In June (week 23 to 26) the number of pigs slaughtered was slightly higher than in June 2019, with an average carcass weight of 1.28 kg/ 2.82 lb higher.
Since the lockdown is complete in France and with restaurants reopening, the situation should gradually return to normal and we can expect a pork price increase for summer. Nevertheless, there is concern about the temporary closure of one of the largest German and European packing plant, Tonnies slaughterhouse in Rheda (140 000 pigs slaughtered per week). This closure will certainly have a negative impact on pigs harvesting on the German and European markets.
Labour shortage
One of the main problems facing pig farmers in France today is the shortage of labour. Whether you talk to a farmer in Brittany (the main pork producing region) or in the North, or in other areas in France, they have the same recurrent problem.
Of course, it is easier for a pig producer located in Brittany to hire farm workers, especially if he offers attractive conditions (functional and modern pig farm, good salary) than a producer from a French region with a lower pig density.
To overcome this labour shortage, different means exist.
Some French producers have chosen to use foreign workers (from Eastern Europe or from Portugal, etc.). This can work very well, even if sometimes the language problem limits the transmission of information on daily work.
Other pig producers have chosen to mechanize their barn as much as possible by investing in technology such as washing robots, sow lift farrowing crates, etc. These are obviously interesting solutions, but they nevertheless require a significant investment.
Finally, there are producers that chose of a more autonomous and robust genetics that does not require precision management, nor expensive assistance to be efficient. One of our French Genesus customers manages alone 130 sows at farrowing with an average of 13 weaned piglets per litter.
What is the recipe for such success?. A robust sow will need less assistance during the farrowing process and lactation which saves time and energy. In addition, the heavy and uniform piglets at birth have enough vigor to ingest the proper amount of colostrum, which greatly reduces the pre-wean mortality rate.
Moreover, the Genesus healthy sow recognized for its high feed intake during lactation leads to increased milk production. There is no more need for extra nursing sows, or to buy expensive creep feed with added milk protein. All these tasks otherwise are time-consuming and increase cost per pig produced.
Genesus sow is one of the existent solutions for managing the lack of labour in pig farms.