CME hog futures fall as China's hog herd rebounds
CME livestock futures dipped lower Wednesday on news that China's hog herd is quickly rebuilding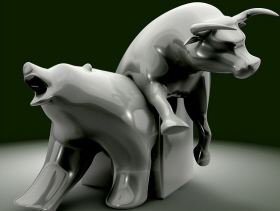 Hog futures soared last week after Germany reported its first case of African swine fever (ASF) and China and South Korea banned its pork imports. On Wednesday, five more ASF cases were confirmed in wild boars in the eastern German state of Brandenburg, according to Reuters.

"Livestock futures ran into technically overbought territory last week, and now they're still backpedaling," said Karl Setzer, commodity risk analyst for AgriVisor. Market hopes also are waning about China gobbling up US pork supplies any time soon, Setzer said.
China's pig herd increased 31.3% in August compared with a year ago, while the sow herd was up 37%, Chinese government officials said this week. Part of that boom comes from 2,030 new large-scale pig farms that began production in August, with more than 11,000 large-scale farms completed since the start of the year.
Chicago Mercantile Exchange (CME) October lean hog futures settled down 0.475 cents at 65.225 cents per pound. Most actively traded CME December hogs ended down 1.075 cents at 61.975 cents a pound.
On the cattle side, the market is still waiting to see whether cash prices in the cattle market will firm this week, as about 19,000 fewer head of cattle are being offered for sale, traders said.
Boxed beef prices were under pressure on Wednesday morning, with choice cuts declining by $1.01 to $215.08 per cwt, according to US Department of Agriculture data.
CME October live cattle futures settled down 0.375 cent at 106.725 cents per pound, while most actively traded December live cattle futures rose 0.375 cent to 111.950 cents per pound. October feeder cattle ended down 1.275 cents at 142.425 cents per pound.