Purdue consumer insight report reveals steady food behaviours despite economic change
Most people are slow to start spending differently
Data trends that emerged in 2022 help demonstrate that most people are slow to start spending differently when it comes to their favourite foods, despite an economic environment much different than when the year began. But there are some notable exceptions to this stickiness in food behaviours and preferences, according to the newly released Consumer Food Insights Report.
The survey-based report out of Purdue University's Center for Food Demand Analysis and Sustainability assesses food spending, consumer satisfaction and values, support of agricultural and food policies and trust in information sources.
"Broadly speaking, consumers faced some budget constraints this holiday season," said Jayson Lusk, the head and Distinguished Professor of Agricultural Economics at Purdue, who leads the center. "About a third said they were worried about being able to afford gifts, but this was far from the majority. When we compare responses to inflation in December to this past summer, most of these behaviors have not increased in frequency."
Lusk drew attention, however, to the increase in people switching to cheaper brands — unwelcome news for brand names that have worked hard to build a consumer base.
Purdue experts conducted and evaluated the survey, which included 1,200 consumers across the US Additional key results were:
Consumers are shopping at discount stores more and spending less on discretionary expenses.
36% of consumers were worried about being able to afford holiday gifts this year.
14% of consumers are finding certain items out of stock compared to 25% in January.
Sugar was the most common item that consumers limited in their 2022 diets.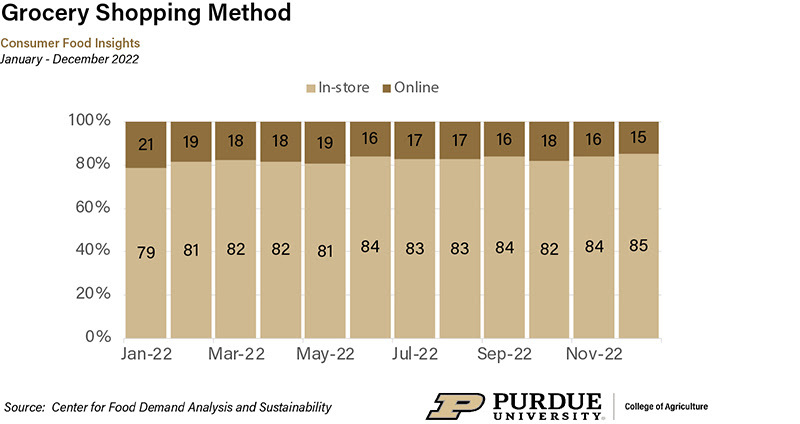 "The 15% increase in food spending this year is obviously a significant change and has drawn much interest in its cause and its effects," Lusk said. "But it is worth pointing out that our indicators like food security and food satisfaction have not similarly moved in any one direction, which is a good sign that well-being has likely not decreased on average."
The survey results also show that where people spend these dollars has not shifted. Lusk noted that the popularity of online grocery shopping appears to be declining. This raises questions about the lower limits of online food shopping and whether it was largely buoyed by the COVID pandemic.
As for food behaviours, easing supply chain problems has seemingly meant that consumers have more readily found all the food products they want.
"This year, chicken was the most reported item that people were unable to find at the grocery store," said Sam Polzin, a food and agriculture survey scientist for the center and co-author of the report. "Given that we are in the middle of the deadliest bird flu outbreak, this is unsurprising."
People also reported buying fewer sugar and related products.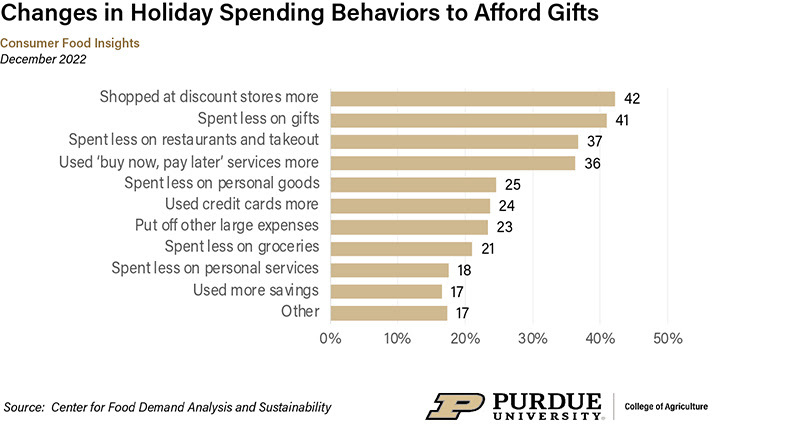 "Given how bad added sugars are for our health, this is a good change," Polzin said. "But we also don't know whether people are actually acting on this reported desire to reduce their sugar intake."
Polzin drew attention to the December report's food policy section because debate over the new farm bill will be in full swing this year.
"We observed small increases in the popularity of every surveyed policy, which might indicate that people are open to a range of new food policies given that they are communicated clearly," Polzin said.
The survey data further show that consumer understanding of potential threats to US agriculture is fairly similar to that of the experts. There is, however, a mismatch regarding possible improvements.
"Improvements from farm diversification are understated by consumers compared to the experts, since consumers believe local and organic food production will deliver similar or greater benefits," Polzin said.
Further, consumer beliefs that more restrictive standards on the use of genetically modified organisms will improve American well-being is completely out of line with the experts. This mismatch shows how some science has yet to penetrate the general public or is even being skewed to advance misinformed beliefs, he said.
Lusk further discusses the report in his blog. The Center for Food Demand Analysis and Sustainability is part of Purdue's Next Moves in agriculture and food systems and uses innovative data analysis shared through user-friendly platforms to improve the food system. In addition to the Consumer Food Insights Report, the center offers a portfolio of online dashboards.