Coping with compassion fatigue in the swine industry
Those who work with livestock regularly have to perform pain-inducing procedures on their animals and make end-of-life decisions, but what are the impacts of this on their mental health?
Compassion fatigue and the caring-killing paradox
Compassion fatigue is not a topic we talk often about, but is an area that is in desperate need of attention in the swine industry.
Compassion fatigue was first coined a term in the nursing field to describe the emotional distress and burnout experienced by those taking care of patients (Joinson, 1992). This term has since been adopted by many fields and working industries including veterinary medicine. Arluke (1994) later defined the psychological ramification of euthanasia-related work with animals as the 'caring-killing paradox.' This paradox describes how animal caregivers must euthanise animals for which they have previously provided care.
Both compassion fatigue and the caring-killing paradox deal with the emotional burnout associated with long-term involvement with and high frequency of natural death or euthanasia. While working, caretakers must often make end-of-life decisions for the individuals they care for, and this decision over time can lead to a general unwillingness or inability to perform euthanasia when necessary.
Euthanasia on the farm
Within the veterinary field, compassion fatigue and the caring-killing paradox has been most predominately discussed amongst veterinarians working in biomedical research and animal shelters (Scotney et al., 2015). In studies assessing euthanasia stress in animal shelters and research laboratories, surveyed employees indicated that stress associated with the euthanasia process is due to the emotional attachment developed with the animals through their daily interactions (Reeve et al., 2005). Those employees, who developed those bonds, must now be the one responsible for euthanising that animal.
As eloquently described by a swine producer during a focus group on euthanasia, "Your job is to keep pigs alive and care for them well. The end-of-life decision is not one that really flows well with that mentality. You're asking people to essentially say, 'I failed'".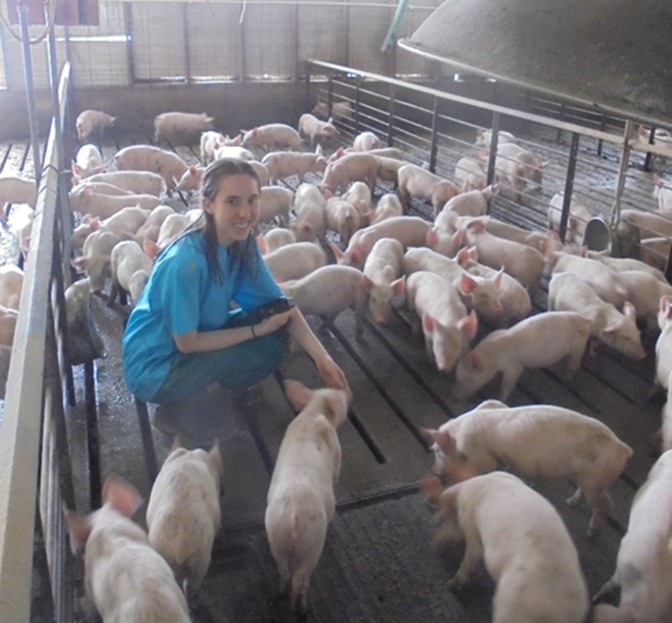 Decision-making guilt
In addition to stress associated with the decision-making process, those responsible can also experience significant guilt once the decision is made as caretakers may believe that extra or prolonged treatment may allow the animal to recover (Blackwell, 2004).
As a pork processor recalled, "I know that I've encountered some people with the mentality of 'I can save them all', and they may have the best of intentions. They just continue trying to treat and improve the condition of the animal".
Considering this, much effort needs to be made to address not only the mental conflict for swine caretakers tasked with performing euthanasia on-farm but how we as an industry can provide better support and resources for caretakers to more effectively cope with this issue.
Mass depopulation
In addition to daily euthanasia decisions conducted on-farm, mass depopulation of animals in response to disease outbreaks can magnify the psychological impacts of euthanasia as many animals are euthanised over a very short period. This topic hits home for US producers who dealt with the nationwide outbreak of PEDV in 2013 which led to significant losses across the swine industry due to high morbidity and mortality rates (80-100%) in the pre-weaning stage (USDA, 2013).
Although the number of sows farrowing from September 2013 through August 2014 only decreased 0.25%, the US pig crop decreased by 3.7 million piglets (3.21%) compared with the previous 12-month period, and commercial slaughter during 2014 decreased by 4.6% compared to 2013 (Schulz & Tonsor, 2015). These numbers alone are evidence that euthanasia was heavily implemented in a short time-period and the full psychological impact of this outbreak on swine producers, caretakers, and others engaged in the swine industry has yet to be investigated.
This tragic event raises concerns on the long-term impacts that this experience has on a caretakers' willingness to regularly euthanise compromised animals. As described by a swine producer, "they [caretakers] just cannot emotionally wrap themselves around euthanising one more animal".
The farm culture
Euthanasia is not an easy topic to discuss nor is it an easy decision to make. Timely euthanasia is of paramount concern in ensuring good pig welfare, and it will continue to grow as an increasingly important consideration for the swine industry. Swine caretakers face unique challenges in being responsible for making decisions on euthanasia, and this task can have significant psychological impacts on the individual. Providing a farm culture where caretakers can feel supported and can express their emotions regarding euthanasia should be a priority for any producer to minimise the psychological impact of euthanasia on those that care for our pigs.
If any of the issues discussed in this article are affecting you, click one of the links below:
FCN - The Farming Community Network
The Farm Safety Foundation
The Worshipful Company of Farmers
Farming help
YANA - You are not alone
References
References
Arluke A.
(1994)
Managing emotions in an animal shelter. In Manning A, Serpell J, eds. Animals and Human Society: Changing Perspectives. New York, NY: Routledge, 1994:145-165.
Blackwell TE.
(2004)
Production practices and well-being: swine. In Benson GJ, Rollin BE, eds. The Well-Being of Farm Animals. Oxford, UK: Blackwell Publishing, 2004:241-269.
Joinson C.
(1992)
Coping with compassion fatigue: burned out and burned up – has caring for others made you too tired to care for yourself? Nursing 22(4):116-121, 1992.
Reeve CL, Spitzmuller C, Rogelberg SG, Walker A, Schultz L, Clark O.
(2004)
Employee reactions and adjustment to euthanasia-related work: identifying turning-point events through retrospective narrative. J Appl Anim Welf Sci 7(1):1-25, 2004.
Schulz LL, Tonsor GT.
(2015)
Assessment of the economic impacts of porcine epidemic diarrhea virus in the United States. J Anim Sci 93:5111-5118, 2015.
Scotney RL, McLaughlin D, Keates HL.
(2015)
A systematic review of the effects of euthanasia and occupational stress in personnel working with animals in animal shelters, veterinary clinics, and biomedical research facilities. J Am Vet Med Assoc 247(10):1121-1130, 2015.
USDA
(2013)
USDA. Technical Note: Porcine Epidemic Diarrhea (PED). Accessed 11/05/18. United States Department of Agriculture, Animal and Plant Health Inspection Service, Fort Collins, CO, 2013.