Off the beaten path farms: France's Perfect Pig Company
Though France is growing as a commercial pork-producing nation, there are those that maintain small-scale, rare breed herds and love what they do.
Somewhat surprisingly, there are those who don't travel the path of intensive farming or blindly mirror the mainstream flow. Amidst the playing field of the regimented pork industry, there are both large and small niche family-based operations dotting the French countryside that fit the definition, "outside the norm".
Representative of this is The Perfect Pig Company, run at the farm Le Logis in Cours, Deux Sevres by David and Lorraine Jones. Transplanted in 2009 from a corporate life in their native England, the husband and wife team settled in the southwest corner of France to rear endangered and rare pigs - mainly black, white socked Berkshires.
"We were in our early fifties, had travelled the world without jobs and then went back to the UK for ten years. Not that we couldn't hack it, but we got itchy feet and one day we looked on the internet, saw a house and thought, let's go buy it and we did. We'll be here 11 years next year," said Lorraine.
It's one thing to move to a different country but it's quite another to decide to raise rare pigs. "We'd known people that had pigs in England, and we are fourth generation farmers ourselves." She spoke with passion as we discussed animals in general. "We're very much into rare breeds. We came across the pigs that were in danger, and that was it. After a lot of research, we decided on the Berkshires, which became our favourite pigs and they still are."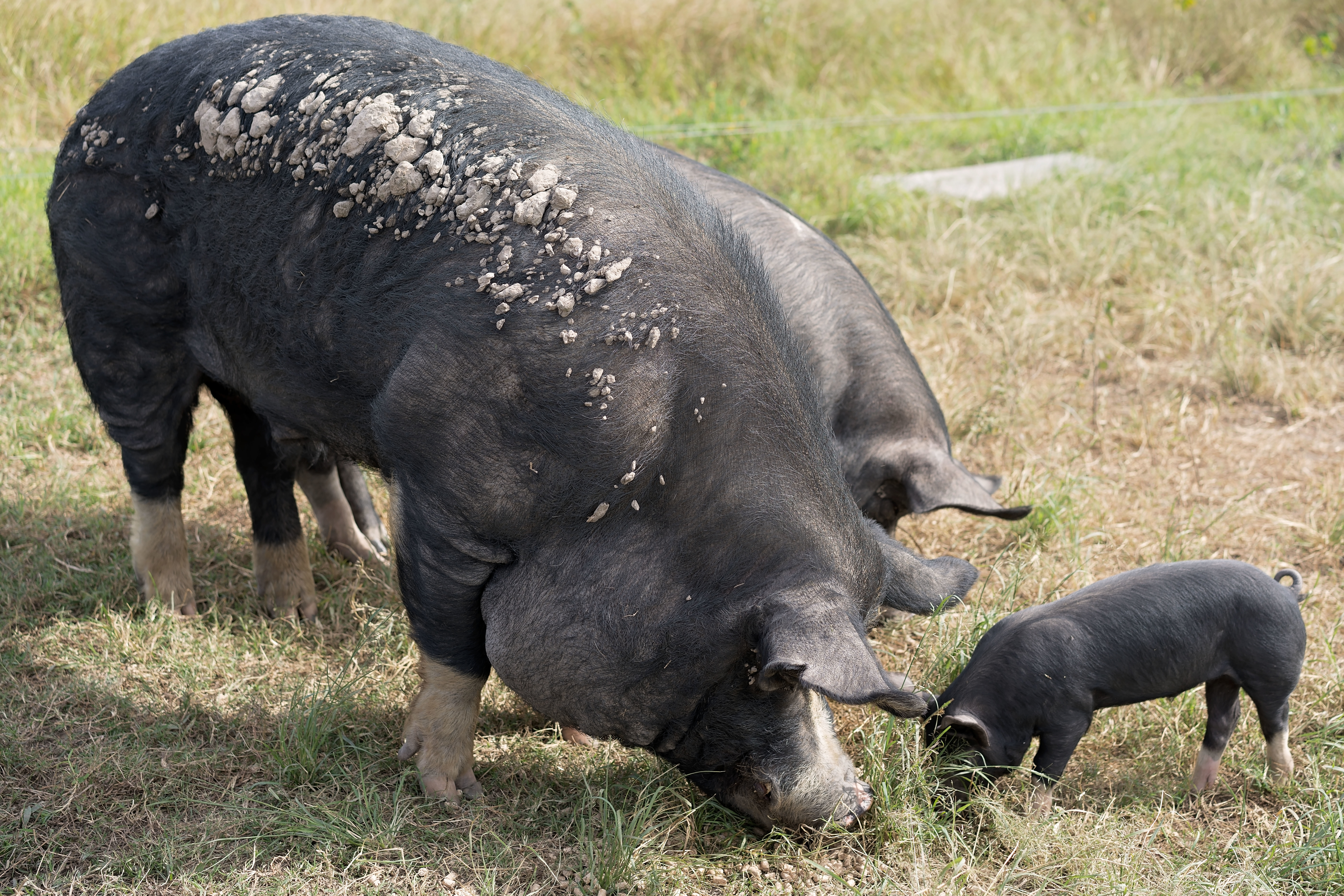 For David and Lorraine, it's more than just owning the rare pigs and letting them run free in nature. "We know all our lines and what's important to us. We don't interbreed. Our Berkshire pigs and some of our other pigs are affiliated with the British Pig Association. We're farm to fork. We know exactly where our pigs come from, moms and dads and grandparents: full traceability. We're very much into that," said Lorraine.
"We never buy in because we know what it takes to get a good carcass. You can buy in from someone and you don't know what you're going to get. The Perfect Pig Company is based on raising them, having them outside, with them being born in the field."
The couple have accumulated a wide variety of rare and endangered pigs among the roughly one hundred animals that frolic about their pastures. The colourful display includes Berkshires, Oxford Sandy and Blacks, Middle Whites, Tamworth, Gloucester Old Spots and the recently added and odd looking Mangalitsa. Most of the pigs are purebred and pedigreed with the British Pig Association.
While they are very organised and exacting with what happens on their rare pig farm, they try to raise the animals as close to nature as possible. "They are all outside, all year round. Born outside. We ran an experiment this year where we opened the field for five Tamworths and they all farrowed together. Everyone survived and we've got quite a few piglets out there."
The Jones family no longer castrate, remove teeth or dock tails, plus they follow a non-antibiotic protocol. "We don't use any drugs, unless there is something wrong. We find our pigs are very hardy. We don't have many problems. In eleven years, we've only lost two sows. That's pretty good," said Lorraine.
All the pigs they raise are grass fed with access to cereals. Since they are located in the southwest of France, there are numerous apple orchards nearby, so when autumn arrives, the pigs eat lots of apples. "We do have a fixed feed for them too that we take out because they need the minerals. We make sure they get the right bits and pieces."
The Perfect Pig Company harvests the farm's animals not only for their great tasting meat but for each rare breed's longevity. This fits into the couple's philosophy of saving the endangered and rare pigs. "If you don't eat them, you don't save them," said Lorraine. She explained that through the conscientious and hard work of collecting, owning and caring for the rare animals, they are creating a quality product that people desire. "Just like most people, we like to know where our food comes from." She stated that when the public seeks out quality food with a verified background, it's only natural that the animal numbers will rise.
Lorraine explained that they work together with a nearby agricultural college when it is time to butcher the pigs. David assists the students and butchers working at the school's abattoir with processing the meat. Once ready, it comes back to the farm where it is either sold on site, goes to local markets, or is offered for sale online.
Lorraine is enthusiastic when discussing how tasty their pork products are. "If you taste the French intensive pork, you'll soon notice the difference," she said with a laugh. "The Perfect Pig Company pork is sweet, tender, rich and juicy with a nice thin coating of fat. Our rare breed pork has a full flavour and it just tastes better."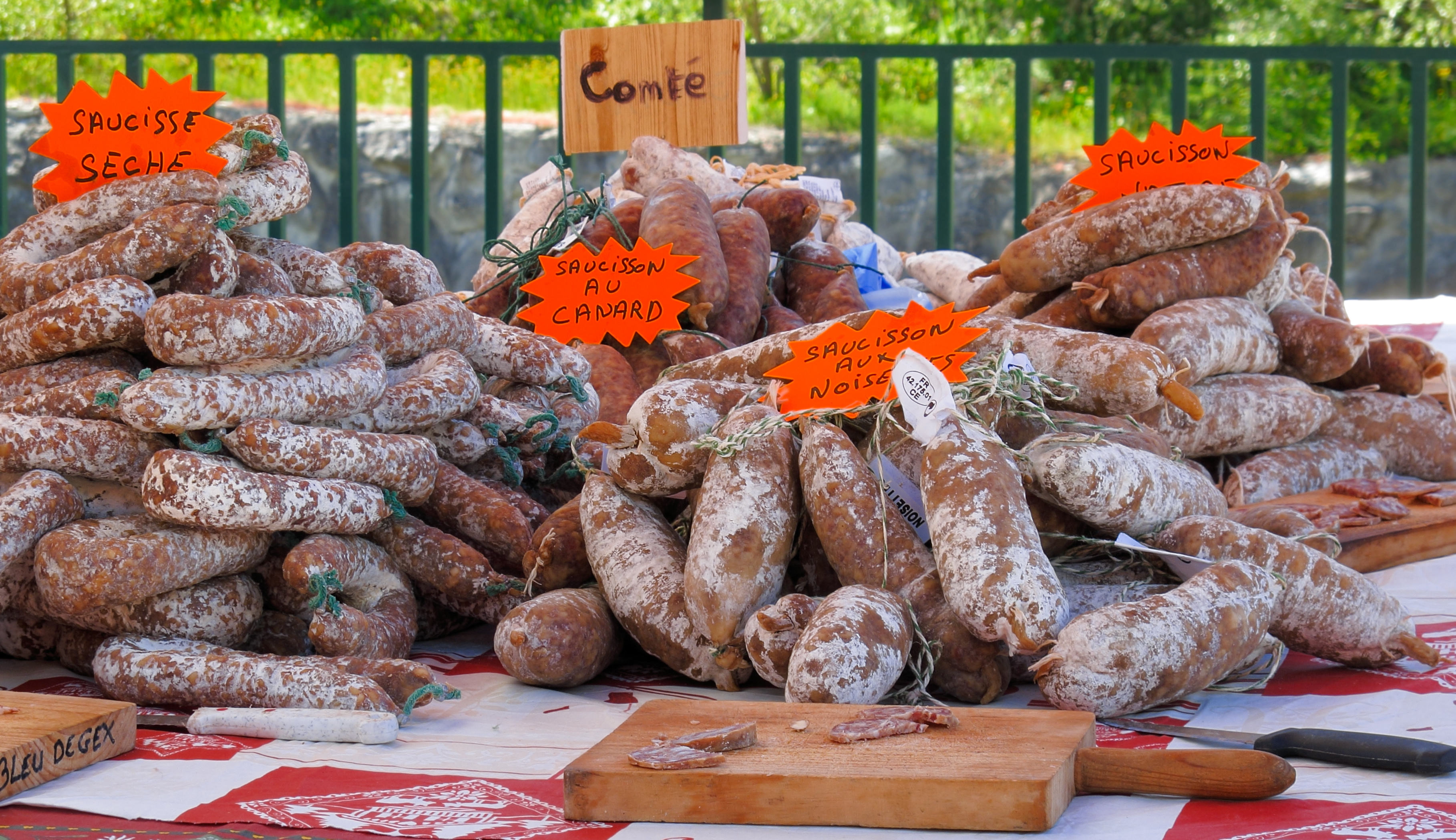 Ninety percent of what they produce is purchased by the French. "They absolutely adore it. They love the filets, the chops and the loin joints. The local English communities buy most of the sausage and everyone enjoys the charcuterie."
Though business is going well, the couple share a grave concern with their agricultural neighbours over the looming threat of African swine fever. "It would completely change the way we do things here. It would be huge for the small producers, whether we can provide the things that France wants to instigate to protect their massive charcuterie business." The farm is already diligent with biosecurity using disinfectants plus washing anything that comes back from the abattoir.
"We're very careful of people. Everything gets washed down. All sorts of things like that." Lorraine fears that contaminated foods and products could reach their area. "That would be massive. God forbid, but that is our concern at the moment."
David and Lorraine Jones and The Perfect Pig Company are living proof that even though France is moving ahead as a European leader in intensive pork production on a large scale, a small operation in the clean wide-open spaces with both happy productive pigs and farmers is still possible. Such an operation can be successful while displaying a highly desirable lifestyle and end product.
"We've got a lovely place here, we enjoy what we do, we love the rare breeds, and other than that, we're not always perfect but we're going to push along," said Lorraine with pride. I have no doubt this conscientious and determined couple will do just that.