Pig outlook: lean hog futures continue to languish
Read the latest weekly analysis of the global hog market from Jim Wyckoff
The pig traders' perspective
Lean hog futures continue to trade sideways at lower price levels. For the bulls, they are hopeful that the choppy price action is "basing" that history shows puts in market bottoms. Also, the rally in the grains and some other commodity markets recently hints of price inflation that tends to lift most commodity markets.
Strong US packer demand amid aggressive slaughter runs are also positives. This week's US slaughter pace is running 3,000 head ahead of last year and 48,000 head ahead of last week at this point. Bearish for hogs remains burdensome supplies. Concerns are rising about the sustainability of any futures rebound given still-large backlogs of market-ready hogs.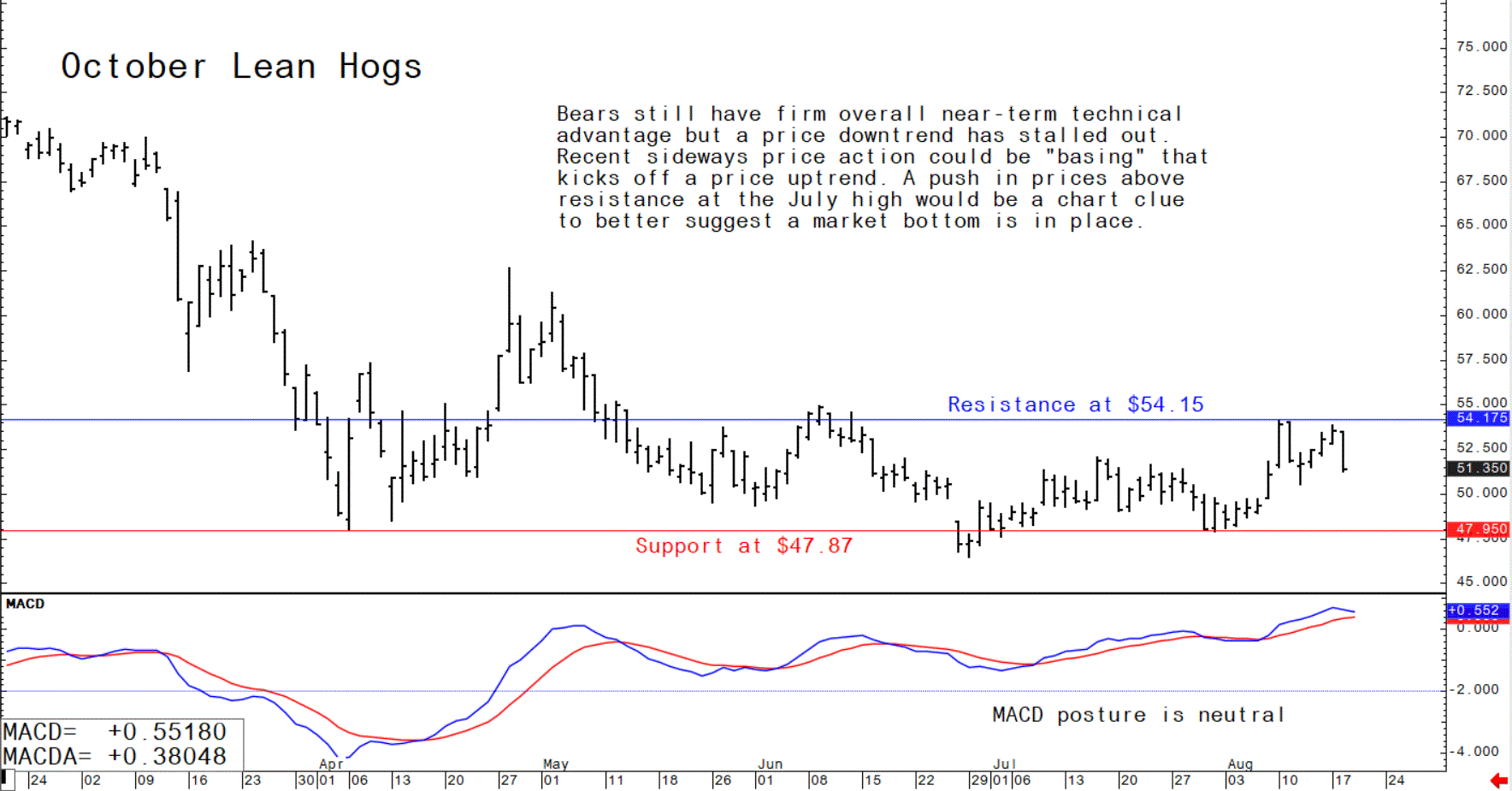 The next week's likely high-low price trading ranges
October lean hog futures--$47.87 to $55.00, and with a sideways-higher bias
December soybean meal futures--$295.00 to $310.00, and with a sideways-higher bias
December corn futures--$3.35 to $3.50, and a sideways-higher bias
Latest US Department of Agriculture (USDA) reports, and other news
China to auction more pork from reserves, trying to rebuild pig herd
China is set to this week auction another 10,000 metric tons (MT) of frozen pork from its state reserves. The country has already sold 500,000 MT of pork from its reserves to ease tight domestic pork supplies due to the African swine fever outbreak.
Meantime, China's hog herd climbed 13.1 percent from year-ago in July, the first year-over-year increase since April 2018, according to the country's agriculture ministry. The country's sow herd was up 20.4 percent from year-ago in July. Still, domestic pork supplies remain tight. A pork price index tracked by China's agriculture ministry shows pork prices climbed 13 percent from June through July.
Read Jim's analysis of the broiler market on The Poultry Site and his beef outlook on The Cattle Site.