Pig outlook: Lean hog futures market showing resilience as prices still trending up
Read the latest technical trading insights from Jim Wyckoff.
The pig traders' perspective
Volatility has heated up in the lean hog futures market recently, but the bulls are keeping alive a price uptrend on the December futures daily chart. That suggests the path of least resistance for prices will remain sideways to higher in the near term. Hog traders were awaiting Thursday afternoon's USDA Quarterly hogs & pigs report, which will provide a better idea how much of an impact processing backlogs and culling had on the market hog supplies. The key will be size of producers' farrowing intentions cuts the next two quarters. Meanwhile, national average cash hog bids rose another $1.00 Wednesday, with the CME lean hog index expected to continue climbing.
The next week's likely high-low price trading ranges
December lean hog futures--$61.25 to $67.10, and with a sideways-higher bias
December soybean meal futures--$335.00 to $350.00, and with a sideways-higher bias
December corn futures--$3.60 to $3.75, and a sideways bias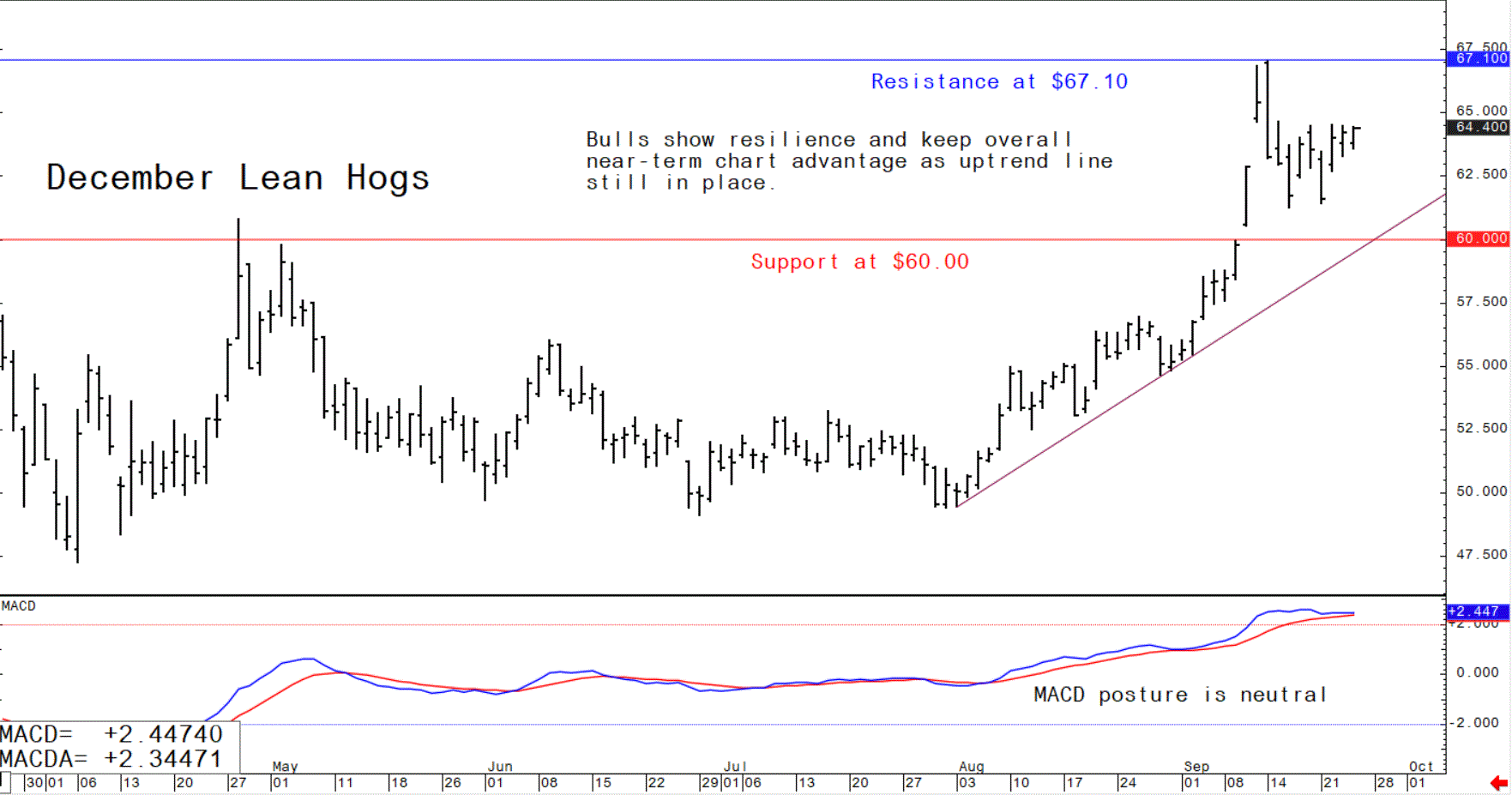 Latest US Department of Agriculture (USDA) reports, and other news
US pork exports dip in latest reporting week
On Thursday 24 September, the USDA reported US pork net export sales of 37,800 metric tons (MT) for 2020 were down 25 percent from the previous week and 13 percent from the prior 4-week average.
Increases were primarily for Mexico (15,000 MT, including decreases of 800 MT), China (8,200 MT, including decreases of 1,600 MT), Japan (4,100 MT, including decreases of 200 MT), South Korea (3,300 MT, including decreases of 500 MT), and Canada (2,300 MT, including decreases of 400 MT). For 2021, total net sales of 300 MT were for Australia.
Exports of 35,800 MT were up 25 percent from the previous week and 12 percent from the prior 4-week average. The destinations were primarily to China (10,900 MT), Mexico (9,900 MT), Japan (5,100 MT), Canada (2,700 MT), and South Korea (1,600 MT).
ASF stays out of German pig farms, but spreading within its wild boar population
Germany's ag ministry said that three cases of African swine fever (ASF) have been confirmed in wild boars in the eastern German state of Brandenburg, bringing total cases in wild boars to 32. No pig farms have been affected by ASF, officials said.
China reports mixed data on hog, pork prices
Live pig prices in China declined 4.1 percent in mid-September compared with the prior 10 days, according to data from the National Bureau of Statistics (NBS). This comes as Reuters reported that prices for pork rib dishes have climbed in the wake of the cut-off of imports of pork from Germany due to the confirmation of African swine fever (ASF) in the country.
Germany shipped some 20,000 MT of spare ribs to China in May, according to the consulting firm Meat International Group, which also said that spare rib prices rose to 44 yuan per kilo (about $2.92 per pound) from 38 yuan per kilo last week. Reports indicated domestic back ribs were priced at 52 yuan per kilo.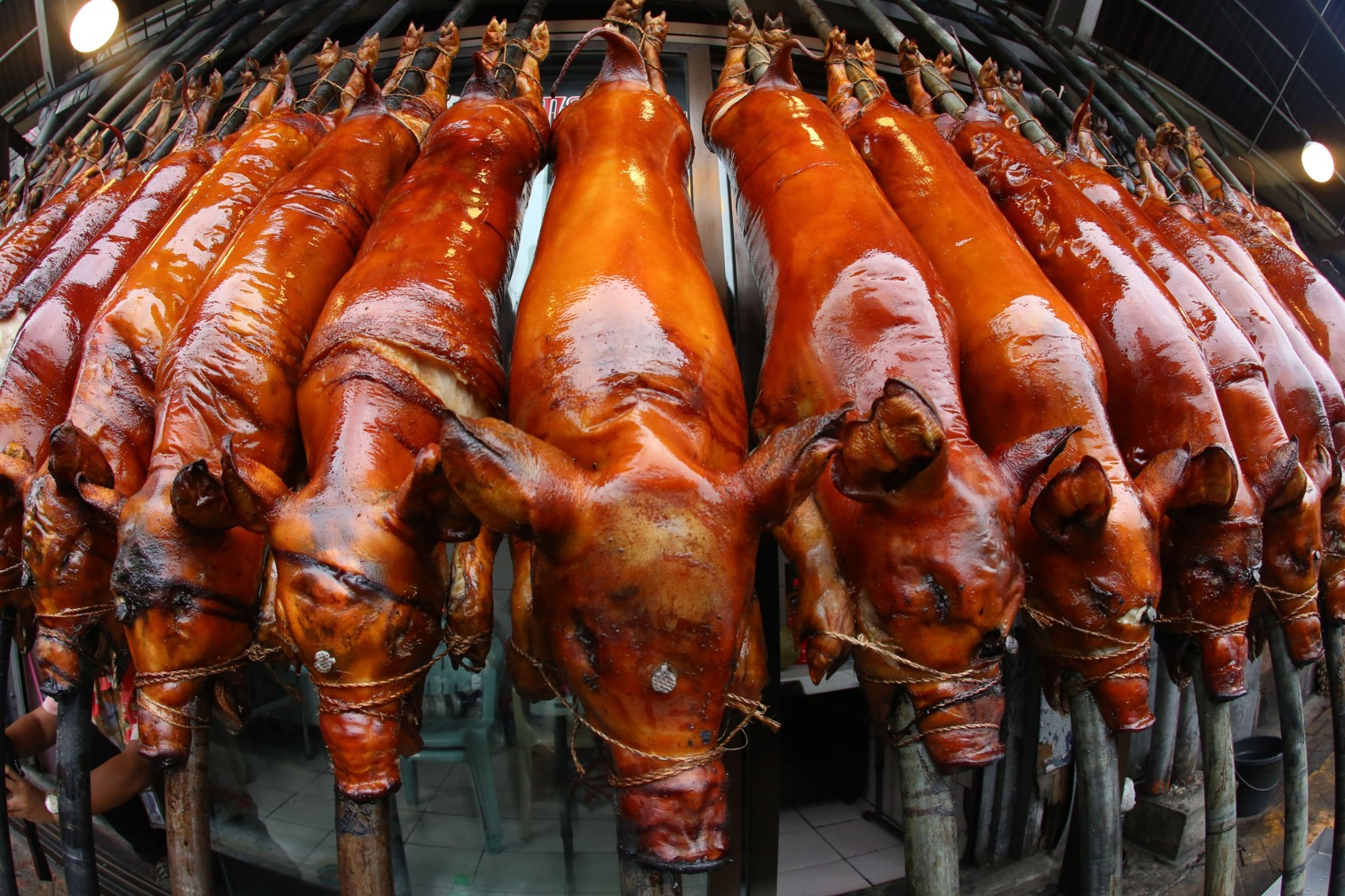 USDA quarterly hogs and pigs report in focus late this week
USDA Thursday afternoon will release its much-anticipated Quarterly hogs & pigs report which provide the market a better idea how much of an impact processing backlogs and culling had on producers and their intentions going forward. There's a lot of uncertainty heading into the release, with analysts on average expecting a 1 September all hogs and pigs number near in line with year-ago levels. Meanwhile, national average cash hog bids rose another $1.00 yesterday, with the CME lean hog index expected to continue climbing. The pork cut-out value also edged 31 cents higher at midweek, but movement was notably light at 290.66 loads. Meanwhile, the market will also get another update on weekly pork export sales today.
China data shows hefty pork imports in August, but pace is slowing as efforts to boost pork output continue
China imported 350,000 tonnes of pork in August, twice the level from August 2019, according to Chinese customs data. Imports were down from the July record of 430,000 tonnes. For January-August, Chinese pork imports have hit 2.91 million tonnes, 133.7 percent higher than year ago.
Meanwhile, the state-run Xinhua New Agency reported that while Chinese pork prices rose by 52.6 percent from year ago in August, the increase was at a slower pace than July.
The report noted China has pushed through policies to boost supply and has released large amounts of state-owned pork into the market to stabilize supplies. The country has also deployed efforts to boost production, with Kong Liang, deputy director of the Animal Husbandry and Veterinary Bureau in the Ministry of Agriculture and Rural Affairs, stating that more than 9,000 new pig farms have come into production and over 11,200 large-scale farms have re-opened.
USDA: A turbulent year but not a crisis year for EU pork sector
Chinese demand is supporting the EU sector. With carcass prices soaring to their highest levels in twenty years, and the expectation of record export demand, the EU swine sector was ready to produce a record pig crop in 2020. Unlike beef, the overall demand for EU pork rose as shipments to China continued. However, due to the COVID-19 crisis, the slaughter rate was distorted due to outbreaks among the workers in the plants. As enterprises went offline, the slaughter system became clogged which led to a decline in piglet prices (from March to May 2020) of roughly 40 percent.
Declining demand for piglets led to elevated slaughter of the breeding herd (to move swine off the farm to reduce costs), which is expected to result in a smaller piglet crop than previously forecast in the Semi-Annual.
As most of the hogs which will be slaughtered in 2020 were born before the COVID-19 crisis, and as no major culling has been reported, these animals inevitably will begin to enter the slaughter line in the third quarter of this year.
Due to a further increase in carcass weights, partly caused by the delay in slaughter, the EU is forecast to produce 24.0 million metric tonnes (MMT) carcass weight equivalent (CWE) of pork, slightly more than in 2019 and slightly less than in 2018.
In the first half of 2020, exports to China doubled to 1.34 MMT CWE, but fell 25 percent to other foreign markets. Anticipating reduced demand, EU exports to China are forecast to fall back to nearly 1.0 MMT CWE during the second half of 2020. Due to the recent African swine fever (ASF) finding in Germany, German exports to China and other important Asian markets are banned. However, with decelerating Chinese demand for imports, alternative EU suppliers.
Read Jim Wyckoff's poultry outlook on The Poultry Site and his analysis of the global cattle industry on The Cattle Site.