Pig outlook: Lean hog futures starting to trend down
China rebuilds its pig herd and US meat processors cope with COVID-19 outbreaks.
The pig traders' perspective
News of falling pork prices in China rattled the lean hog futures market this week and raised concern about how much longer China's aggressive US pork purchases will continue.
Also, USDA this week cut its 2020 US pork export forecast and raised its pork production outlook, which lowered its average cash hog price projection for the year. The market will have to wait until Friday for USDA's weekly export sales update due to observance of the Veterans Day holiday Wednesday 11 November.
December futures are more than $5 under the CME lean hog index that is projected at $71.25 for the two days ending 9 November. The index has moved sideways this month after drifting lower in October and appears to be bottoming with the cut-out value.
Average hog weights in the key Iowa/southern Minnesota market climbed another 0.4 lbs. the week ending 7 November to 287.7 lbs, but weights are back under year-ago levels of 287.9 pounds.

The next week's likely high-low price trading ranges
December lean hog futures--$64.27 to $68.82, and with a sideways bias
December soybean meal futures--$401.10 to $415.00, and with a higher bias
December corn futures--$4.05 to $4.28, and a sideways-higher bias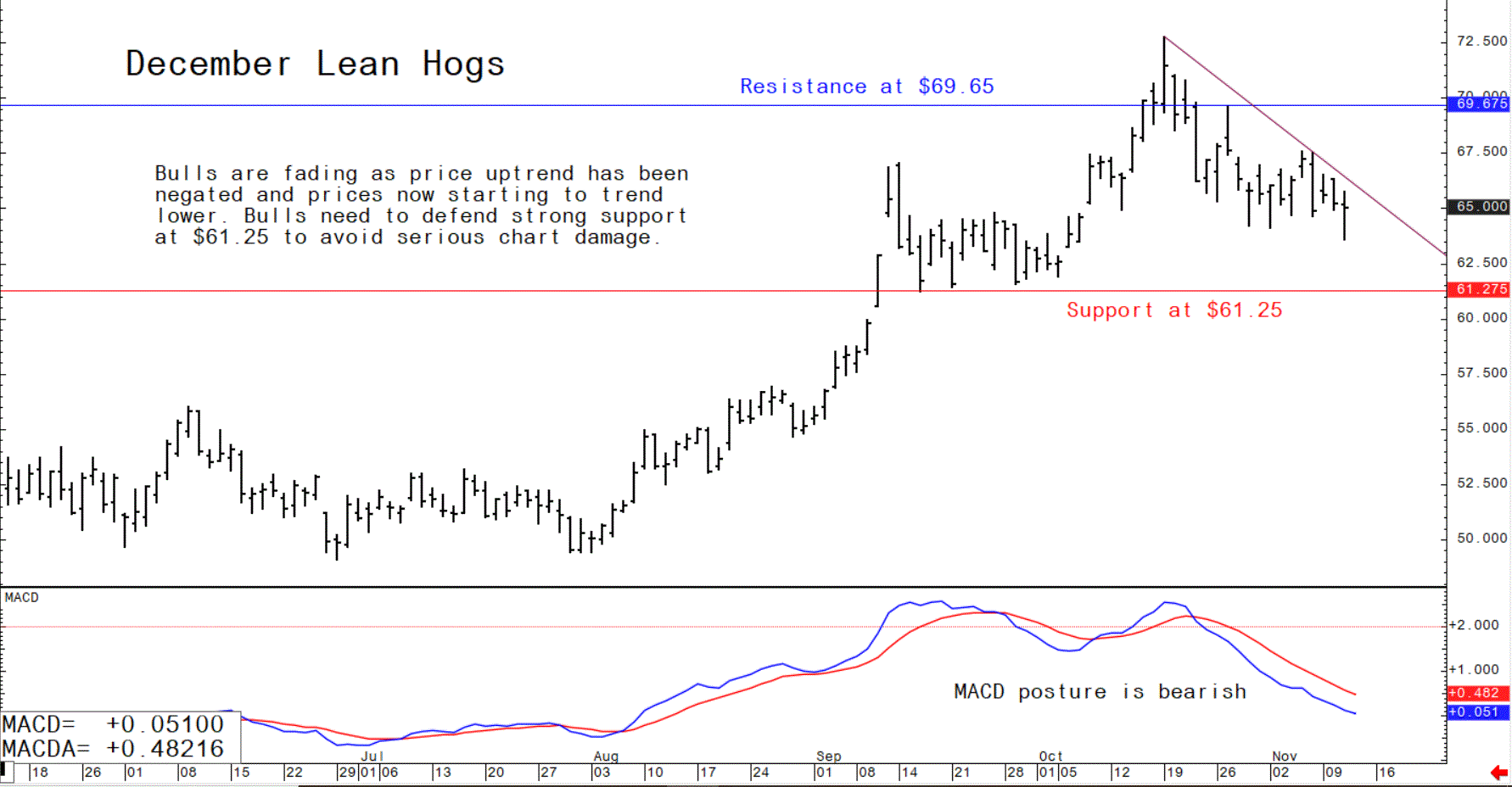 Latest US Department of Agriculture (USDA) reports, and other news
Meat processor sues New Mexico over its order to close
Stampede Meat is suing the state of New Mexico, arguing that its plant in Sunland Park should be able to remain open under an executive order from President Trump issued last April. The order allowed meat plants to stay open to protect the US food supply.
Last week, New Mexico's Department of Health ordered Stampede Meat to close for 14 days after the state identified at least six COVID-19 cases at the plant during a five-day period in late October.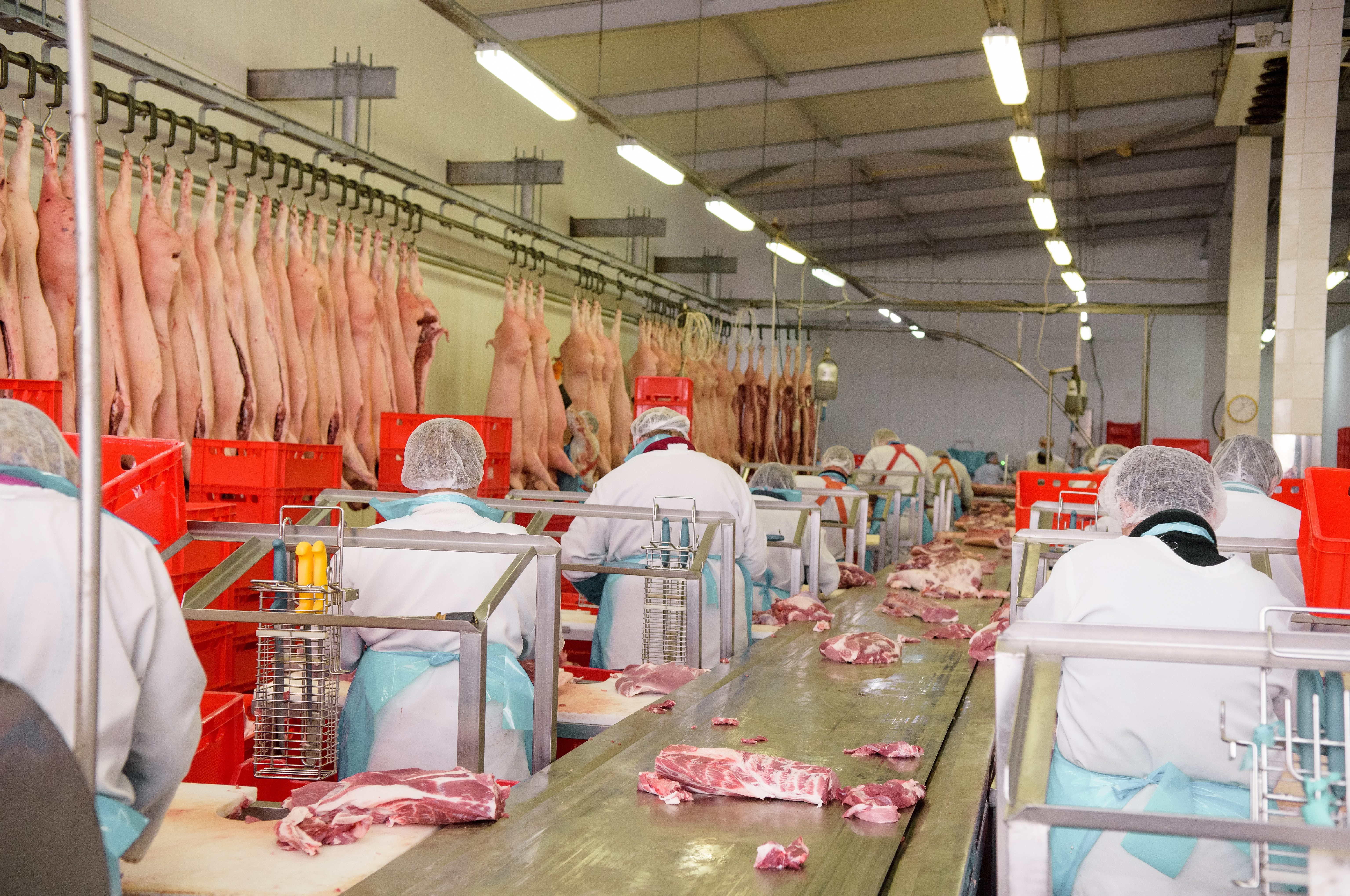 Stampede Meat argues the order is unconstitutional and would force it to destroy millions of pounds of meat that go to grocers like Walmart and Costco or restaurant chains like Denny's and Applebee's. "Allowing the Department of Health to ignore the president's Executive Order and close Stampede Meat and other meat and poultry processing companies will lead to similar food shortages and rationing," the lawsuit says.
Stampede contacted USDA for help testing employees; USDA says it has offered to help the plant manage the pandemic and ensure food supplies.
China imports 2,000 breeding sows
A shipment of 2,000 breeding sows from Europe have arrived in China's southwest Yunnan Province, customs official reported this week. The pigs will be quarantined for 45 days before they are used to help restore production after African swine fever wiped out around half of China's massive hog herd. Yunnan province has imported 4,520 breeding sows so far this year, according to customs officials.
Weekly US retail pork report
Feature activity was higher compared to the previous week and sharply lower compared to the previous year. Processed items yielded advertisement space to all other cut areas. Individual item prices were steady compared to the previous week and steady to firm compared to the previous year. Wholesale item prices were sharply lower across all primal values.