Six Research Insights for Pig Production from ESPHM 2021+1
Trouw Nutrition offers 6 takeaways from their swine research presented at 12th European Symposium of Porcine Health Management
A presentation by Dr. Pieter Langendijk, senior research scientist at Trouw Nutrition, focused on the sow/piglet connection and opportunities to reduce piglet stillbirths. Several additional poster presentations focused on Trouw Nutrition's research to address intestinal disturbances during the peri-weaning period, manage Salmonella in commercial swine herds and deliver alternative solutions for high levels of zinc oxide in piglet diets. Following are six takeaways from Trouw Nutrition research presented during the 14-16 April virtual event.

Research Takeaway #1: Interventions for sows and piglets can reduce asphyxia and stillbirth.
While hyperprolific sows are producing larger litters, the percentage of stillbirths remains relatively high. Dr. Pieter Langendijk presented data comparing blood samples of sows that had stillborn piglets following long farrowing processes to sows with shorter farrowing times and no stillbirths. Extensive monitoring revealed that declining levels of calcium in sows' blood are a risk factor for stillbirths.
Looking at stillborn risk factors for piglets, oxygen deprivation, diminished oxygen (asphyxia) has been shown to threaten piglets' lifetime performance. Studying the link between lactate concentrations in the blood and asphyxia, Trouw Nutrition researchers evaluated umbilical cord blood. While interventions previously focused on reducing the duration of time between piglet births, research shows that the total duration of farrowing is a more significant indicator of asphyxia than the interval between piglet births (Image 1). The longer the farrowing duration, the more oxygenation is disrupted to piglets, and asphyxia risk increases. Poor performance indicators linked to asphyxia range from less colostrum intake in the first 24 hours of life to reduced performance through slaughter approximately four months later.
Research on blood calcium levels and oxygenation led Trouw Nutrition to develop a water supplement for swine. Added to the sow's drinking water five days prior to farrowing, Gestawean OxiLiv helps support blood calcium levels in the sow, helping the animal maintain calcium during farrowing. Other ingredients in the drinking water supplement aim to improve oxygen transfer across the placenta. The research presentation from ESPHM is available here (under "Participations", press play to watch the recording of the Trouw Nutrition ESPHM presentation – "Why do piglets die during birth: factors that impact asphyxia and stillbirth")
Research Takeaway #2: Dietary strategies to support sows can also improve piglets' performance.
While lactating places energy demands on sows, piglets are also exposed to threats during weaning that can reduce health and performance. A study found that supplementing pre-and post-farrowing diets with a blend of short-chain fatty acids (SCFA) and medium-chain fatty acids (MCFA) helped sows' and piglets' performance, and interestingly improved microbial colonization, supporting piglets in a critical production phase..
In the study, sows receiving the blend showed lower backfat loss (-2.94 vs. -3.75 mm P =0.04) compared to the control group. Piglets of sows receiving the blend had higher individual body weight and lower CV than piglets from sows receiving a control diet). Looking at microbial counts, sows fed the SCFA-MCFA blend had increased fecal lactic acid bacteria at weaning (P=0.013) and their piglets had higher lactic acid and lower S. suis counts compared to a control group. The study found that supplementing sows' diets with a blend of SCFA and MCFA during the peripartum and lactation phases benefitted sow and litter performance, while supporting intestinal microbial colonization. These positive effects of organic acids may be attributed to their antimicrobial properties and ability to improve protein, dry matter and fat digestion through gastric pH reduction.
Research Takeaway #3: Water acidification improves piglet growth efficiency and gut microbiota balance.
Abrupt changes in weaning piglets' environment and diet - including decreased feed intake - can negatively influence their long-term growth and survival. Problems occurring shortly post-weaning include reduced feed intake, increased diarrhea incidence, gastrointestinal dysbiosis and higher susceptibility to infections.
A study found that a water acidifier (Selko pH) containing free and buffered SFCAs, supported piglet gut health and performance during weaning when feed intake drops.
Results showed that pigs receiving the water acidifier had an improved feed efficiency (P<0.05), and higher microbial diversity on day 42 post-weaning compared to a control group. Pigs receiving the acidifier also had a higher relative abundance of beneficial bacteria. These findings show that adding a water acidifier containing SFCAs can have a beneficial effect on piglets' growth and gut microbiota balance.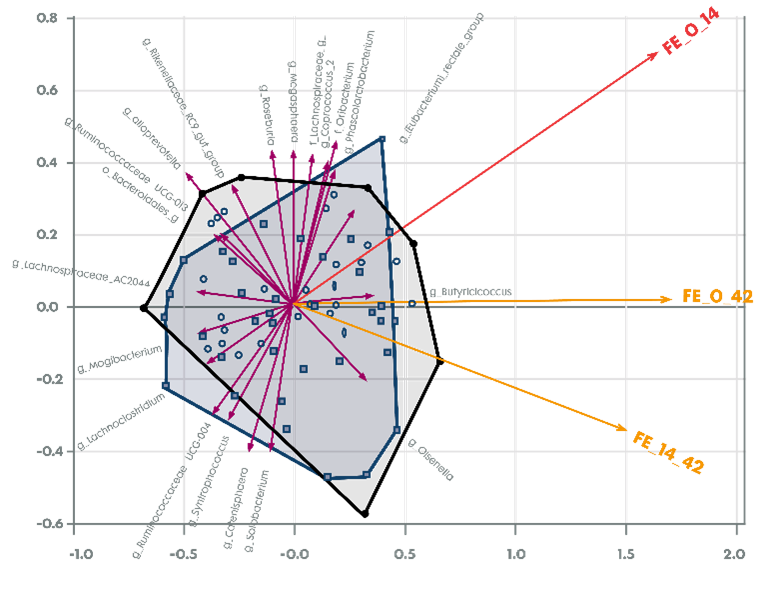 Research Takeaway #4: Fungal fermented feed additive supports immunomodulatory effect in nursery pigs.
Dietary changes during weaning can trigger an inflammatory response in piglets' intestines. A high presence of pathogens in the environment can add to inflammatory pressures, leading to reduced performance and diarrhea challenges. Earlier research that showed a feed additive containing fermented rye and hydrolyzed copra meal can block harmful bacteria and support beneficial bacteria in the microbiome, also suggested the additive could influence cytokine activity during a challenge. These findings prompted Trouw Nutrition to conduct additional research on whether the feed additive could deliver anti-inflammatory responses.
Analysis of blood and intestinal tissue samples showed gene expression for pro-inflammatory cytokines was downregulated in pigs receiving the fermented feed additive, with a reduction in Immunoglobulin A producing cells in different tissues and time points. The findings suggest that including a fermented feed additive in the diet can support a local anti-inflammatory response in swine, benefitting gut health.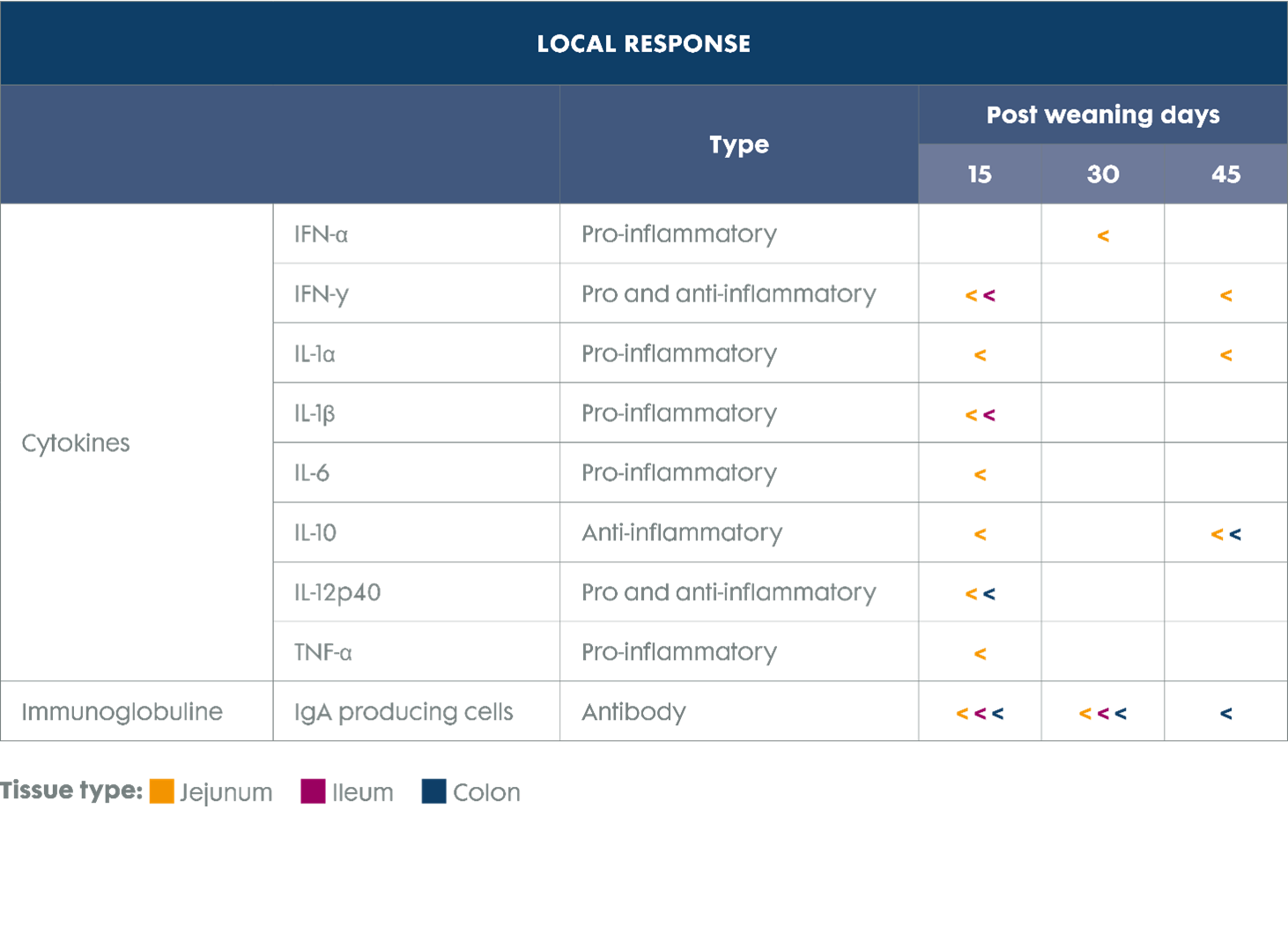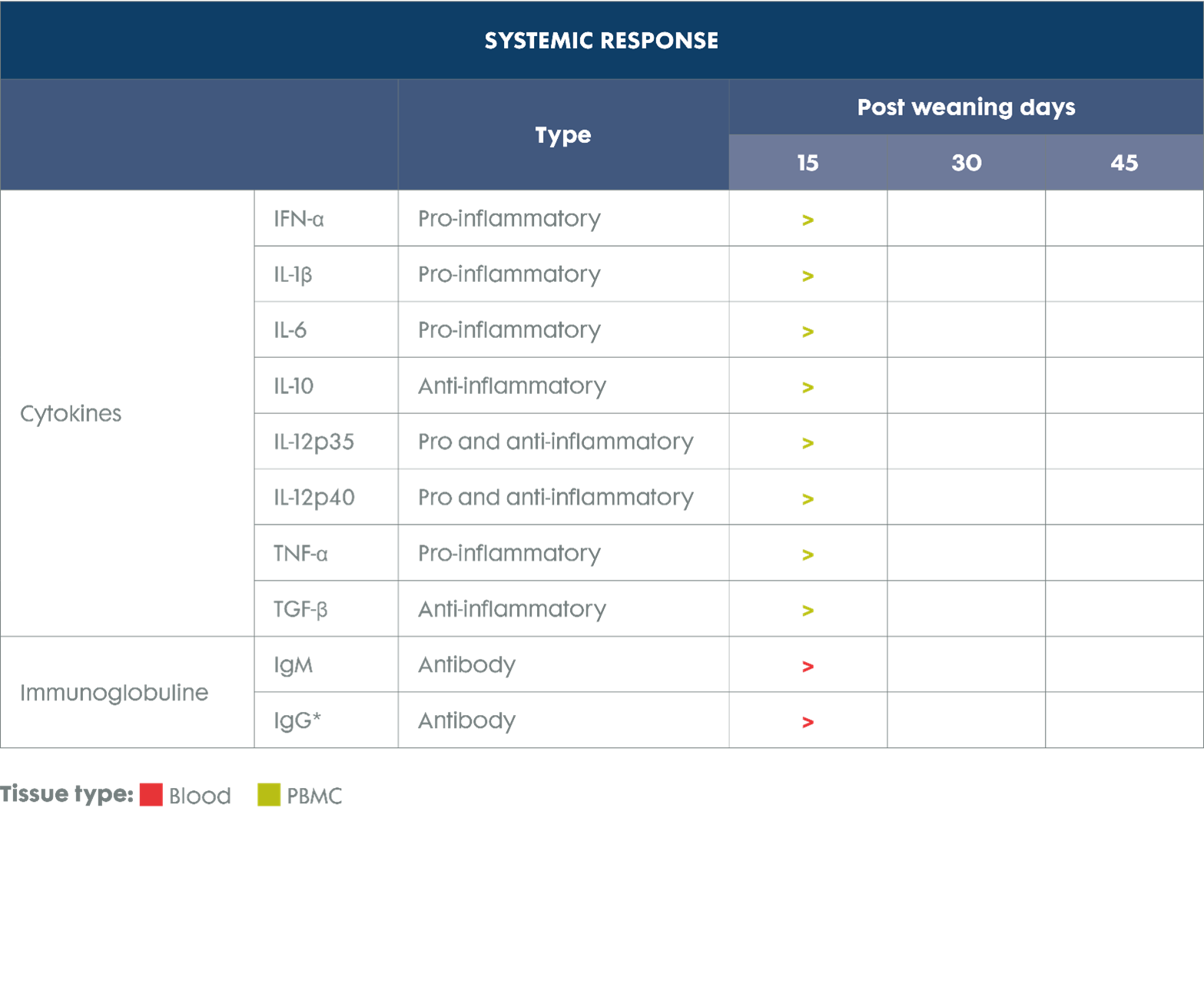 Research Takeaway #5: Water acidification helps reduce prevalence of Salmonella and improve Salmonella category on Salmonella challenged farm.
Reducing Salmonella in the feed-to-food chain helps support a reduction of Salmonella cases in humans. Organic acids improve drinking water quality and the prolonged activity of these acids can help manage the microbial activity occurring in pigs' proximal gastrointestinal tracts.
A commercial field trial was conducted on a swine farm in the Netherlands with a history of Salmonella challenges. The Netherlands mandates that grower-finisher pigs be monitored for Salmonella. The levels of antibodies in pigs' blood samples indicate the optical density (OD), and the higher the OD value, the more Salmonella antibodies are detected in the blood serum. OD values represent three categories which inform risk: <10, 11-20 and >20 OD. Less than OD 10 is considered favorable and > 20 is unfavorable. The Dutch farm in the study was assigned a category 3 (unfavorable) status.
The study showed that water supplementation with organic acids (SelkoPh) reduces the Salmonella risk. Results revealed that pigs receiving SelkoPh increased water intake compared to the control (90 vs 68 litres/pig), and also showed lower OD values compared to pigs in the control treatment. A significant decrease in OD >40 – a level characterized as relatively positive -was reported in blood samples of pigs receiving SelkoPh. The reduction in Salmonella prevalence improved the farm's Salmonella category from 3 to 1 according to IKB Dutch regulations for the drinking water acidification group.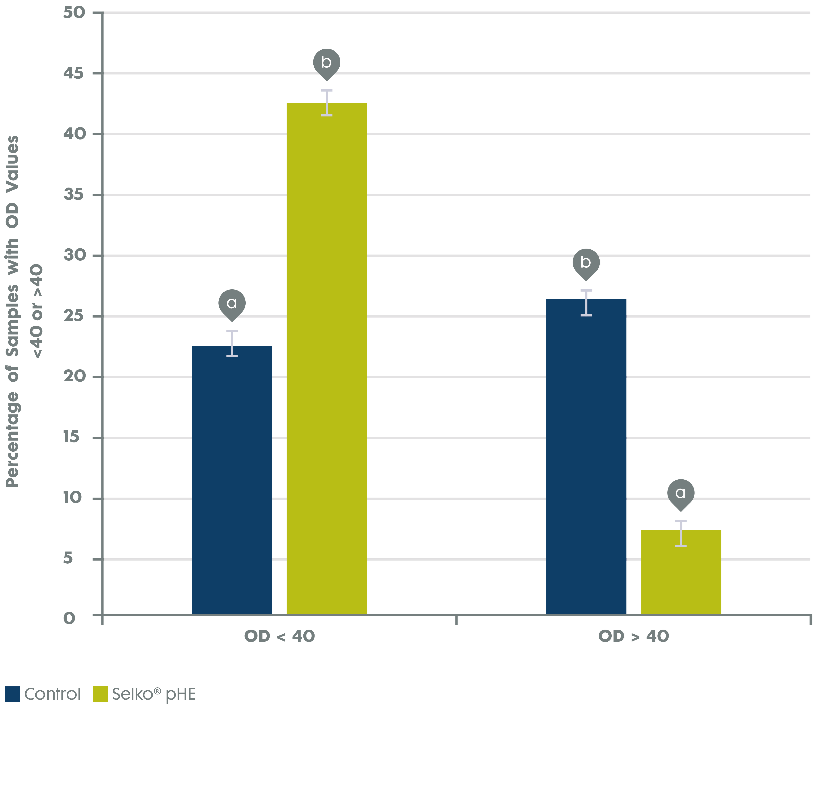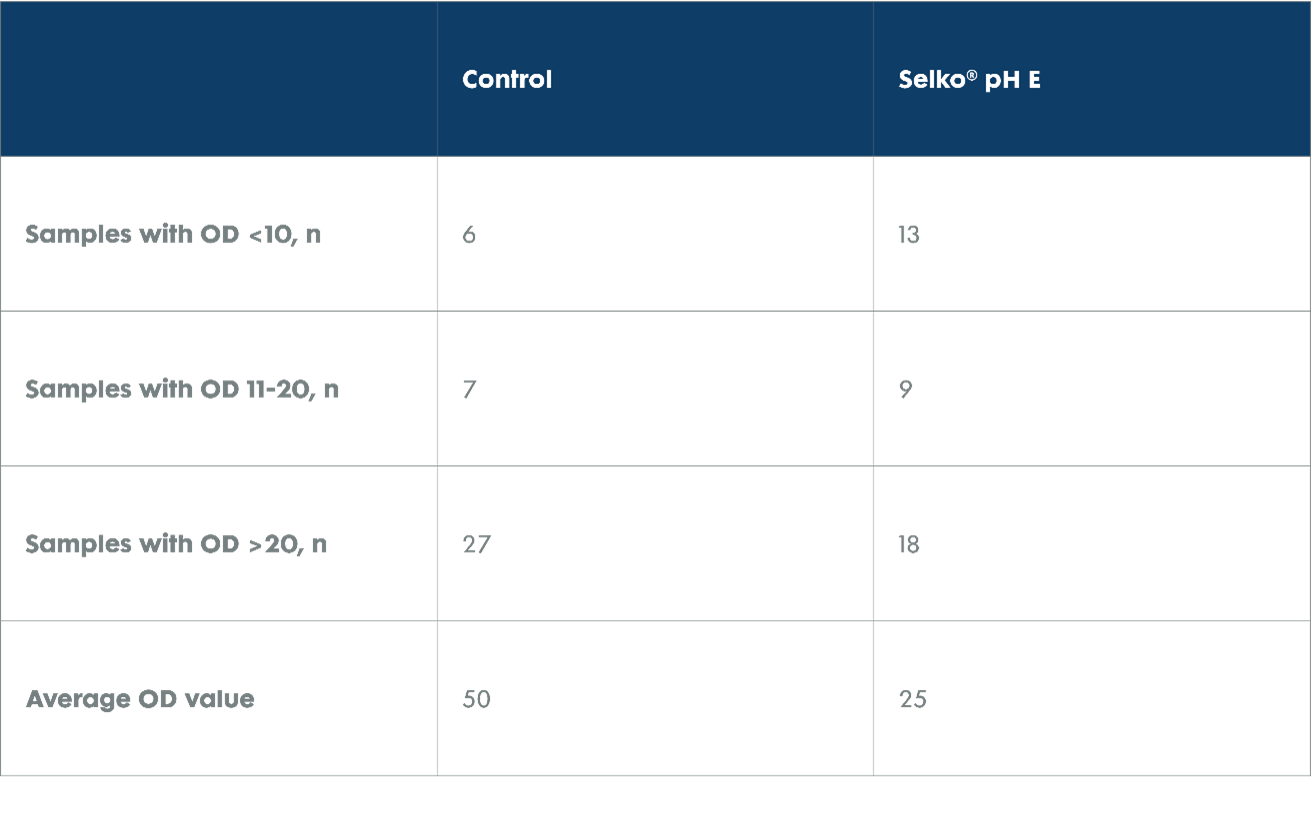 Research Takeaway #6 Innovative dietary strategies including water acidification can achieve similar zootechnical and economic performance while maintaining post-weaning piglet health.
Pending bans on pharmalogical levels of zinc oxide in the EU coupled with continued reduction in antimicrobials/antibiotic growth promoters in many production regions are demanding alternative strategies to support piglet growth. Trouw Nutrition researchers evaluated the zootechnical and economic performance of piglets receiving innovative dietary strategies, including water acidification, and compared findings to a control group.
A total of 192 weaned piglets were randomly assigned to four treatments: a negative control diet, a positive control diet with 2500 ppm zinc oxide, a Milkiwean Vital Start diet and a commercial benchmark diet with water acidification. None of the groups received in-feed antibiotics. Animals receiving the Milkiwean Vital Start and commercial benchmark diets received water acidification.
The study findings comparing Milkiwean Vital Start to a commercial benchmark piglet diet showed Milkiwean provides an effective alternative to a high dosage of zinc oxide. While piglets receiving ZnO showed better growth performance compared to piglets in the negative control group, piglets receiving Milkiwean Vital start were able to keep up with the control group and showed comparable performance in average daily gain and final weight.
Results also showed that piglet mortality was numerically lower for piglets receiving Vital Start (1.5% vs. 7%) compared to piglets receiving other diets (P = 0.12). A profit per pig was calculated and researchers considered treatment cost, mortality cost, and total cost/pig and found that piglets receiving the Milkiwean Vital Start diet had the lowest relative cost per pig when comparing alternatives to zinc oxide in piglets' diets. A production strategy must make sense from an economic as well as a performance perspective. The study findings affirm that it is indeed possible for pig farmers to support animal health and welfare without antibiotics or ZnO, while protecting animals' performance and producers' profit margins.


Conclusion
The results presented at ESPHM 2020+1 represent just a few of the hundreds of validation studies conducted at Trouw Nutrition research centres and commercial farms around the globe.
"Whilst pig farmers face many production challenges, research done by Trouw Nutrition shows that innovative dietary strategies combined with the use of functional feed additives can promote animal health and performance without compromising production economics," said Dr. Jessika van Leeuwen, Global Programme Manager swine Health at Trouw Nutrition.