Turn slurry to water with new treatment solutions
Big Dutchman and BD Blue bring two new solutions for efficient slurry management.
Slurry is an important part of agriculture and is considered the best nutrient for the crop on the fields. The problem is: reconciling a sound nutrient balance with the farm's requirements is often a big challenge for farmers. True options for an efficient utilisation of the farm-produced fertilisers are therefore in high demand.
"Treatment, ideally directly on the farm, is a truly sustainable solution," says Carsten Tamminga of BD Blue Systems.
The company belongs to the Big Dutchman group and focuses its business activities on the question of how pig managers can use their slurry sensibly.
This article will present two solutions for efficient slurry management devised by the German company: The membrane filtration system MemFis and the mobile screw press separator OptiPress reduce the slurry volume significantly, while the nutrients remain on the farm. For farmers, this means:
Less transport effort.
Lower transport costs.
Valuable residues that can be processed.
Fewer storage requirements.
The systems were designed for two different farm needs, with the main difference between them depending on the availability of agricultural areas. For farms with a high number of animals and comparatively little farmland, a membrane filtration system is recommended. Farmers who can spread most of the produced nutrients should opt for the OptiPress separator instead.
MemFis: from slurry to water
The MemFis membrane filtration system uses a three-stage filtration process that turns the "black gold" into clear water, a valuable liquid fertiliser concentrate and stackable solids. And best of all: with MemFis, BD Blue Systems has launched the market's first membrane filtration system that works directly on the farm.
"We developed the system for use by agricultural enterprises. Farmers can thus drastically reduce the logistical and financial efforts required for transporting slurry into regions that need nutrients, or to central treatment systems," explains Tamminga.
MemFis is able to process 15,000 to 20,000 cubic metres of pig and sow slurry per year automatically. The system can be used both on single farms and jointly by more than one farmer.
Compact system technology
Space is often a scarce good on farms. The BD Blue Systems engineers therefore focused not only on user-friendliness, but also on a compact and easy-to-maintain technology. MemFis consists of 2x2 40-foot shipping containers that are stacked on top of one another and have a total area of 59 square metres. Alternatively, the system can just as well be erected in modules in a building.
MemFis passed its practical test long ago: a pilot system has been in operation for five years, and has been running permanently for the past two years, with great success.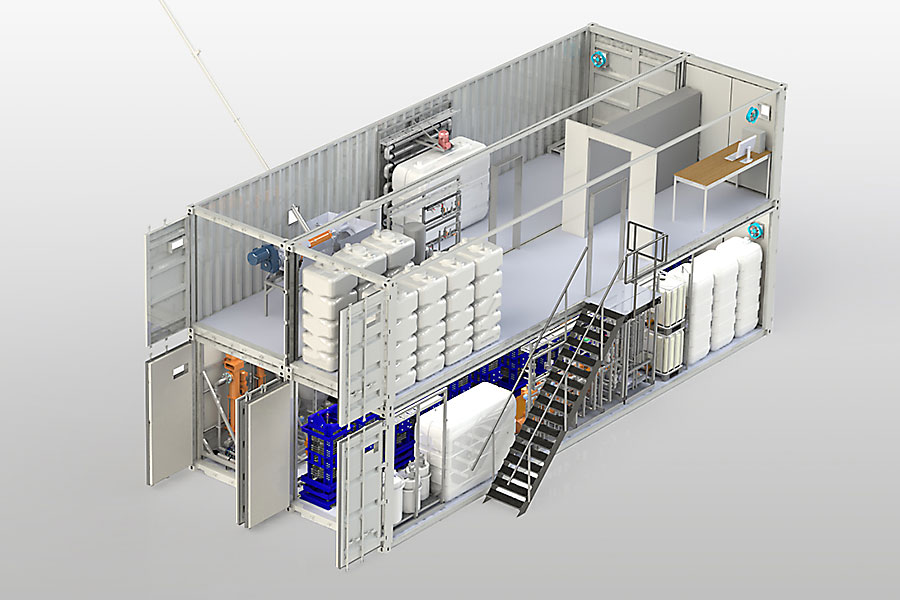 Clean water in three stages
The filtration process consists of three stages: solid-liquid separation, ultrafiltration and reverse osmosis.
Solid-liquid separation
A robust and high-duty screw press separates approximately 80 percent of the dry matter and 85 percent of the phosphate from the untreated slurry to stackable and transportable solids. This can be used as input material for biogas plants.
Ultrafiltration
A clever membrane technology separates all fine particles. BD Blue Systems has developed a special, oscillating membrane for the ultrafiltration stage. This membrane efficiently prevents clogging, which is a general problem in many other filtration systems. The result is a liquid nutrient concentrate (UF concentrate) with a significantly reduced phosphate proportion
Reverse osmosis
A membrane technology, used in seawater desalination, isolates dissolved substances and separates a large part of the slurry as clean water (permeate) resulting in clean water for personal use (irrigation/cleaning) or for discharge into waterways or lakes as well as a nutrient concentrate (RO concentrate) that is rich in nitrogen, sulphur and potassium and that is well-suited for fertilising specific crops (potatoes, soft fruit).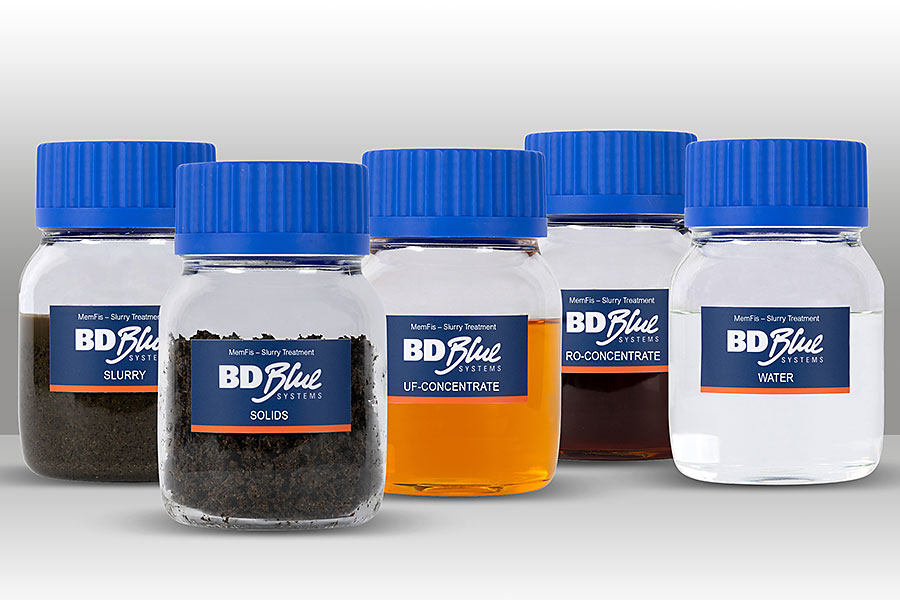 Screw press separator OptiPress IV
"Separators break apart proportions of differing densities," is how Carsten Tamminga explains the general principle of separators.
The results of OptiPress are impressive: the separated solids have a dry matter content of 25 to 35 percent. These solids are suited for further use as spreadable fertiliser with low odour emissions or as substrate for biogas plants.
The liquid proportion's dry matter content is only about half as high as that of the input material and can be spread on the fields as nutrient-reduced, valuable liquid fertiliser. Another benefit is that the separator is mobile: farmers can easily move it to the required location.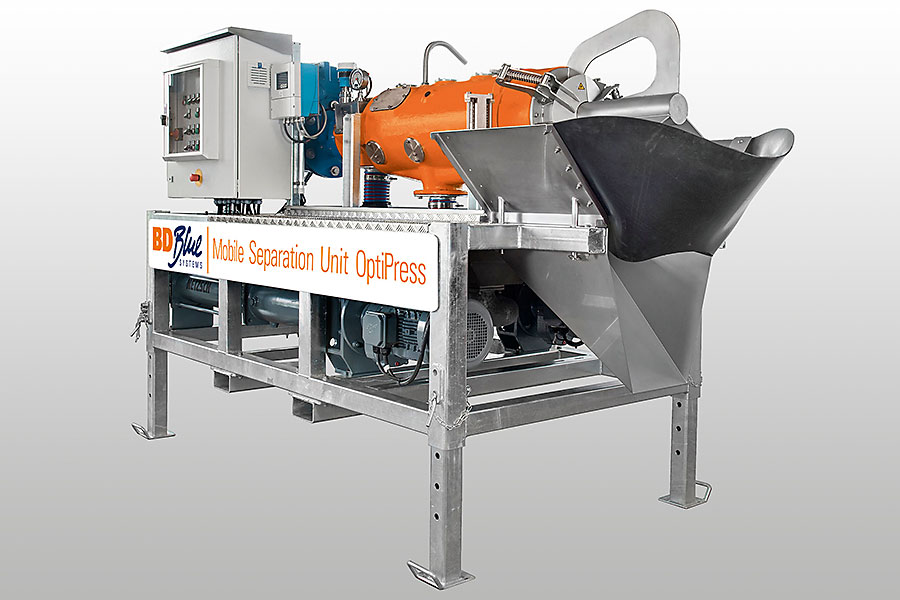 Additional advantages:
Much lower slurry volume.
Less efforts for homogenisation.
High output of 18 to 45m3/h.
Low energy and operation costs.
Compact design with small space requirements.
Little wear, long service life.
Easy to clean and to maintain without removing the press head.
Sponsored Article
---