The costs and benefits of cancelling the biggest pork event of the year
This week the NPPC announced the cancellation of World Pork Expo which many will agree is a decisive move towards keeping the US pig herd safe.
The US National Pork Producers Council (NPPC) announced on Wednesday (10 April) that it is cancelling this year's World Pork Expo as a precaution in light of recent African swine fever (ASF) outbreaks. NPPC's mostly producer-led board of directors made the decision following a risk assessment, led by a group of experts that included veterinarians, an infectious disease expert and government officials.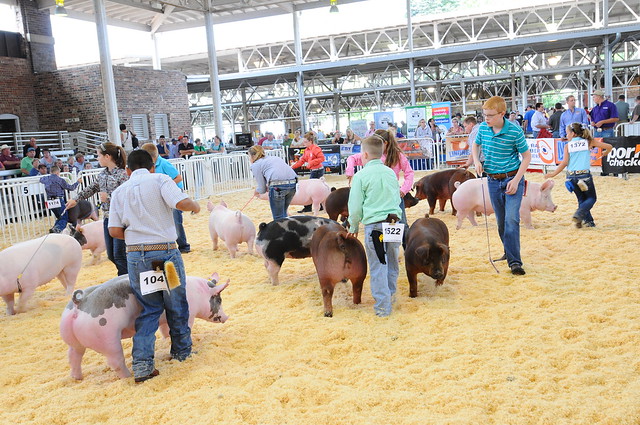 "The conclusion was that the risk of African swine fever spreading here because of the World Pork Expo was very remote," said Jim Monroe, Senior Communications Director, NPPC. "Negligible, but not zero."
"When it's present in the largest swine herd in the world, the risks for it spreading globally are significant," he added.
World Pork Expo was to be held in Des Moines, Iowa from 5 to 7 June. Over 20,000 people attend the event, which is said to be the world's largest pork industry-specific trade show in the world. It brings together pork producers and other industry professionals from around the world for three days of education, innovation and networking.
While most visitors come from the US and other parts of North America, international visitors from 40 countries also attend the event. Some of those countries, including China, are currently ASF-positive.
This isn't the first time decision makers opted to cancel the event. In 2001, the board took the same precautionary measures to avoid the spread of foot and mouth disease, which was present in Europe at the time.

The announcement also heightened awareness about the seriousness of the swine disease. When the decision was made, some 125 producers were in Washington DC for a bi-annual legislative action conference. The conference gives producers an opportunity to speak directly with their members of congress on important issues, including disease prevention.

"We got very good feedback from Members of Congress who are following this issue, who I think now understand more than ever how serious the risk is and how serious it would be if we had an outbreak in the United States," said Monroe.
An outbreak would be 'catastrophic'
With US pork producers already facing trade headwinds due to trade disputes, they are facing less than ideal access to some of their biggest markets, including Mexico and China.
An ASF outbreak would immediately close all export markets, said Monroe.
"It would be catastrophic," he said.
"We're a very export dependent farm sector," he said. "Basically, one in every four hogs in the United States is being raised for the export market."
Last year, the average value of a market hog in the United States was $141, of which $51 was driven by exports.
US pork producers provide 26 million pounds (or nearly 12 million kg) of pork products to consumers worldwide. With annual sales of more than $20 billion, US pork production generates an estimated $39 billion of gross national product and supports more than 500,000 jobs across the country.
Ramping up biosecurity
US pork farmers have been greatly concerned about the spread of disease since the first outbreak of ASF hit China back in August 2018. Monroe said the NPPC continues to work very closely with the US Department of Agriculture (USDA) to advocate for the strengthening of biosecurity measures at the borders.
The USDA, said Monroe, has been very responsive so far. Arrival screening has been ramped up at international airports and seaports. Inspections have increased, as has funding to expand inspection teams.
Recently, the USDA provided funding for 60 new beagle teams for the Beagle Brigade, a canine unit that is trained to sniff out illegal meat products, bringing the total to 179 teams.
"One of our big asks this week of Congress was to appropriate funding for 600 new agriculture inspectors for US Customs and Border Protection," Monroe added. "They've done a lot to ramp up biosecurity, but we think that's a step that needs to be taken too."
The USDA recently committed to advance research on accurate and reliable testing procedures to screen for ASF in grains, seeds, additives and other agricultural products. There are a lot of unknowns with regards to the risks associated with feed, conceded Monroe.
While the decision is unfortunate, Monroe says industry has been supportive.
"It's disappointing for us; it's a significant source of revenue for the National Pork Producers Council," said Monroe. "We're disappointed that Des Moines and Iowa won't see the economic benefit that it typically does from hosting the event."
"But for us, the most important thing is the health of the US swine herd and the livelihood of our producers," he added. "We feel very comfortable that we made the right decision."