Two triggers for PCV2 in piglets: exposure & ability to resist infection
Factors affecting indicance of PCV2
Animal-to-animal virus transmission and the ability to resist infection are main factors that affect incidence of PCV2 infection in weaned pigs. Beyond reducing viral transmission and contamination, stimulating protection through maternally derived, specific immunity is an important factor in limiting PCV2 incidence in young pigs.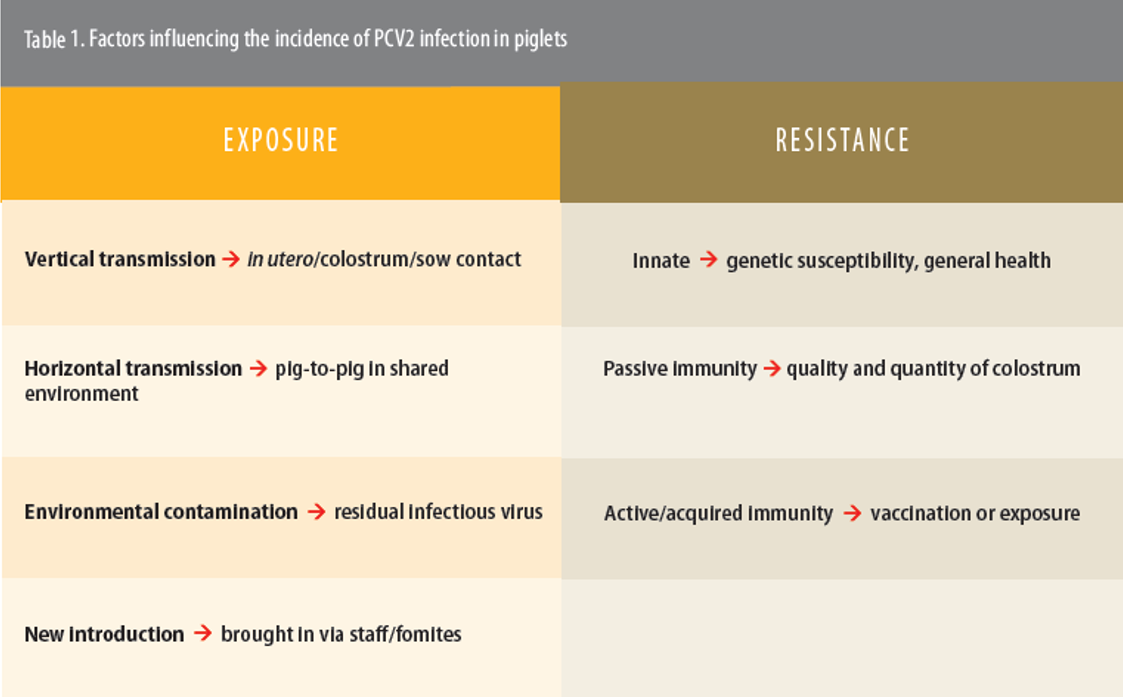 Exposure to PCV2
Vertical transmission. Transmission of PCV2 from sow to piglets, including in utero and from colostrum and milk, is well established. When vaccinating the sow herd, a high incidence of vertical transmission is unusual, but it can occur where the PCV2 status of the sow herd is unstable. Even a low level of vertical transmission may still be sufficient to seed an eventual outbreak in unprotected animals; it just may take longer to develop.
Horizontal transmission. Pig-to-pig (oronasal) transmission is common. While most growing-pig populations are protected by vaccination, testing usually indicates that the virus is present at a low level in the herd.
Environmental contamination. Although animal-to-animal transmission — vertical or horizontal — is assumed to be the most common route of PCV2 transmission, the virus is very stable and easily isolated from farm environments. Concentrations can be decreased but not necessarily eliminated by cleaning and disinfection.
New introduction. PCV2 can be introduced to a pig operation by farm staff, especially from workers' boots. Unwashed farm trucks and trailers are another point of introduction to consider.
PCV2 resistance
Whether pathogen exposure results in infection - and if so, duration and severity of infection - depends on a piglet's resistance.
Innate resistance. General health and genetic susceptibility are factors to consider.
Passive immunity. PCV2 incidence in piglets at weaning is linked to the protection provided by maternally derived immunity. There is no doubt that colostral immunity will protect piglets from PCV2 infection, provided piglets ingest sufficient colostrum of adequate quality.
Active/acquired immunity. Vaccination of piglets will induce an active immune response, producing antibodies to PCV2.
References
References
Galina, L.
(2022)
Breeding-herd Vaccination: Reaching New Highs for PCV2 Protection in Swine.