Sitio Anting: where pigs run free in the mountains of Nueva Vizcaya
The governor of Nueva Vizcaya discusses upgrading free-range pig farming and "letting pigs be pigs" in the Northern Philippines.
Farmed since the 16thcentury, the Large Black pig was once one of Britain's most popular hogs until other breeds dominated and monopolised the industry. Deemed almost extinct by the 1960s, soon many farmers realised its value as a free-range animal and kept the black porkers in circulation.

"I was first interested in free-range chickens before realising that pigs are great free-range animals too," recalls Carlos Padilla Jr, who keeps about 150 pureblood Large Black pigs in his sprawling, tree-lined farm in Sitio Anting, Dupax Del Norte. Soft-spoken and academic, Padilla is a long-time pig enthusiast who also happens to be the governor of Nueva Vizcaya, a mountainous province in the Northern Philippines.
"I was heavily influenced by Peter Kaminsky, author of Pig Perfect, who said we should let pigs be pigs. Anything else is just cruel. I didn't want to preach free-range techniques then, but promised myself that at least in my farm, we would practice responsible and ethical hog raising."
Free-range farming has always been popular in the Philippines, a rural archipelago comprised of over 7100 islands. The Filipino breed of choice has traditionally been the native Philippine pig – a tasty, scrappy, but small black hog.
Native pigs, accustomed to tropical foraging, can reach 40 to 50 kilogrammes after a year – but imported breeds can easily breach 100 kilogrammes, providing twice as much meat and income in the same period. Padilla kept native pigs but wanted something larger.
"Not all breeds are accustomed to free-range life. I experimented quite a bit, importing red Duroc and spotted Piétrain hogs. They were large, but foraging doesn't come naturally to them. When brought to the farm, my Duroc boar Bruno wouldn't even come out of his shed. He didn't know he was supposed to root around the soil or eat grass!"
So Padilla looked for another breed. This time, he bet on black.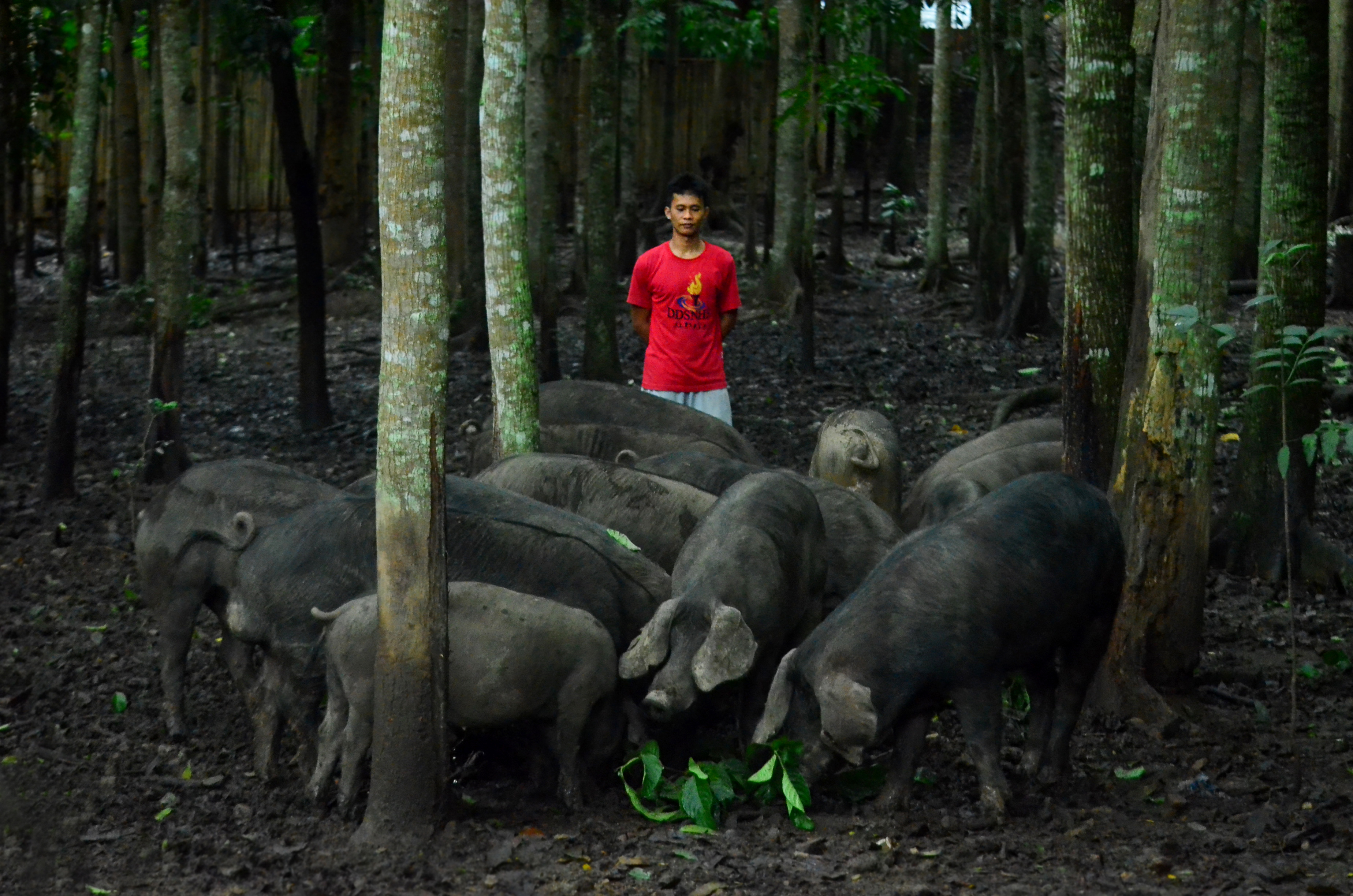 In October of 2015, he imported 18 three-month old Large Black pigs from Australia, seven males and 11 females. Large Black pigs have become popular breeds in Australia, Canada, South Africa and the United States. The breed is one of the largest, with adults reaching 300 kilogrammes. Aside from their impressive size and black skin, their most distinctive characteristic would be their huge, drooping ears, which almost completely covers and protects their eyes while foraging. This gives the docile giants a unique, somewhat dim-witted look.
"The moment we let them loose, I knew we'd found our free-range pigs," beams Padilla. "They were happily cavorting and running around inside their forest enclosures. But they didn't uproot plants nor disturb the substrate too much."
The pigs started breeding soon after. Large Black pigs have high fecundity, with sows giving birth to up to a dozen piglets. His first breeder sow gave birth to 16 piglets. The others followed suit.
Encouraged by the results, Padilla ordered another batch from the United States in 2017. "Remember that if you want good stock, your genetic bloodlines should be distinct. Inbreeding causes lots of problems so we made sure to order our next crop from a different herd," he explains.
Today, Sitio Anting (which has its own Facebook Page) has 370 pigs, including domesticated wild hogs, native highland pigs, Durocs, Piétrains, F1s, mestizo crossbreeds plus 150 pureblood Large Blacks – the stars of the farm.
A buffet for pigs
Around 250 kilometres north of the Philippine capital of Manila lies Sitio Anting, a sprawling, tree-lined free-range farm situated at the foothills of Nueva Vizcaya. The farm entrance is barely noticeable, but once inside, visitors will know they're in a special place.
A well-ordered garden and receiving area welcomes guests. Native and imported Mahogany trees ensure the place is not only well-shaded, but noticeably cool. The aroma of healthy livestock – not all unpleasant – fills the air.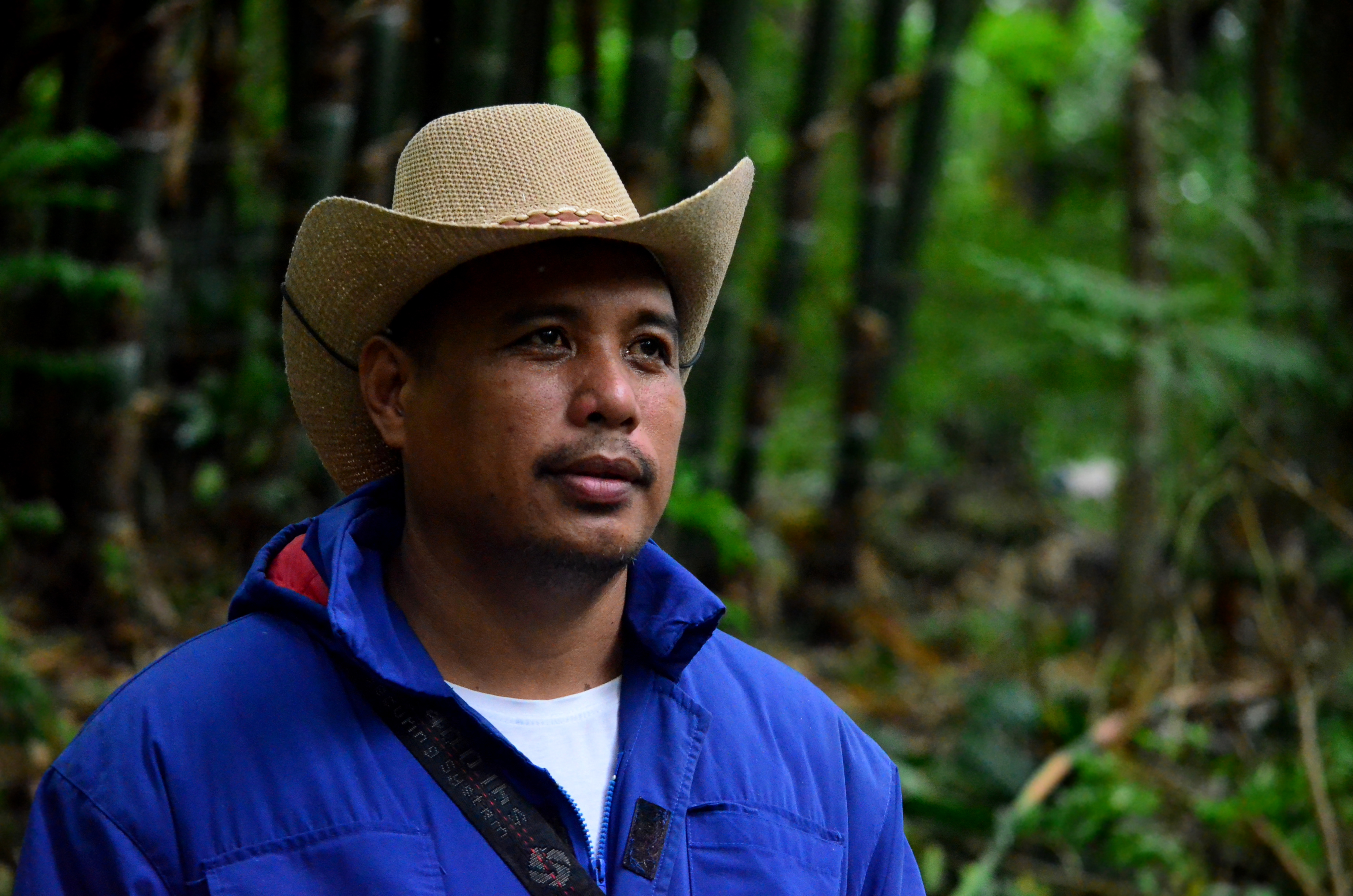 "We don't just grow pigs. We have free-range chickens and ducks too," says Jim Cabacungan, chief farmhand and head of a seven-man crew running the farm. "We have 10 free-range pens, each spanning almost a hectare. Plants, worms and insects are abundant, but we never let the animals overgraze. We leave plots to recover for about a month before setting the pigs loose again."
To ensure a steady supply of quality food, Sitio Anting continuously produces greens for their charges.
"It's harder to produce organic pigs because standards are very strict. For instance, we can't just feed our hogs commercially-available feeds. We can only give them Feedpro, a high-quality plant-based feed which doesn't smell bad nor attract buzzing hordes of flies. Everything else we grow, fetch or prepare ourselves."
Cabacungan and his crew showed us how to prepare a buffet for pigs.
"We're lucky because we're near a place called the NVAT (Nueva Vizcaya Agricultural Terminal), where vegetables grown as far north as the provinces of Benguet and the Mountain Province are sold wholesale," says caretaker Jocelyn Barroga while gesturing to a huge pile of tomatoes, cabbages and beans. "We get two trucks' worth of veggies weekly. Absolutely free."
We investigated the nearby NVAT with its bustling droves of vegetable farmers and middlemen, unpacking and selling produce.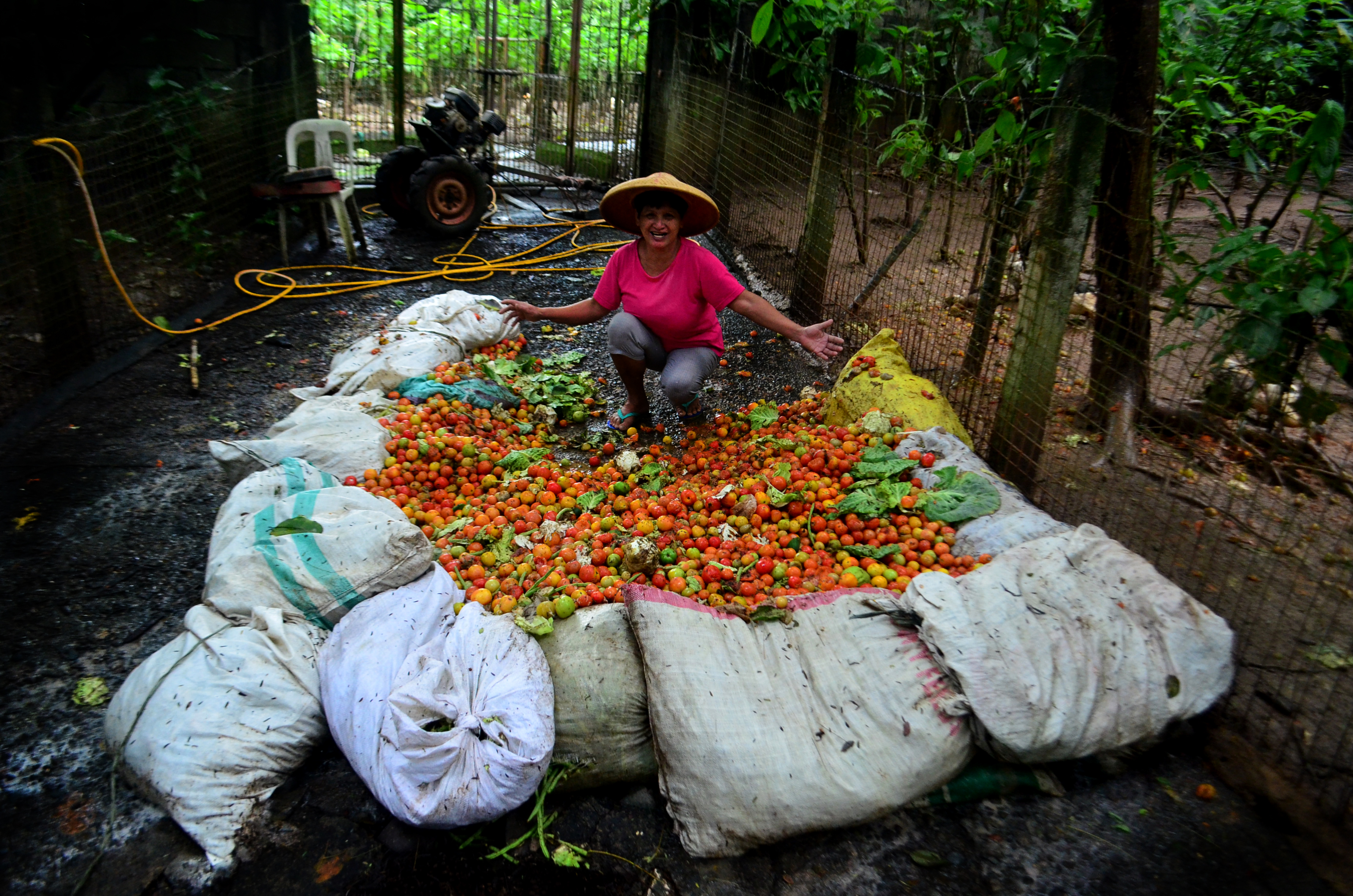 "We can't possibly sell all these vegetables, not even if we price them at PHP1 per kilogramme. There are too many farmers and the price of produce plummets after one or two days because wholesalers want only the freshest greens. Besides, we make enough on these trips," grunts Dano Kinupkup Jr, busily unloading a truckful of fresh, earthy carrots.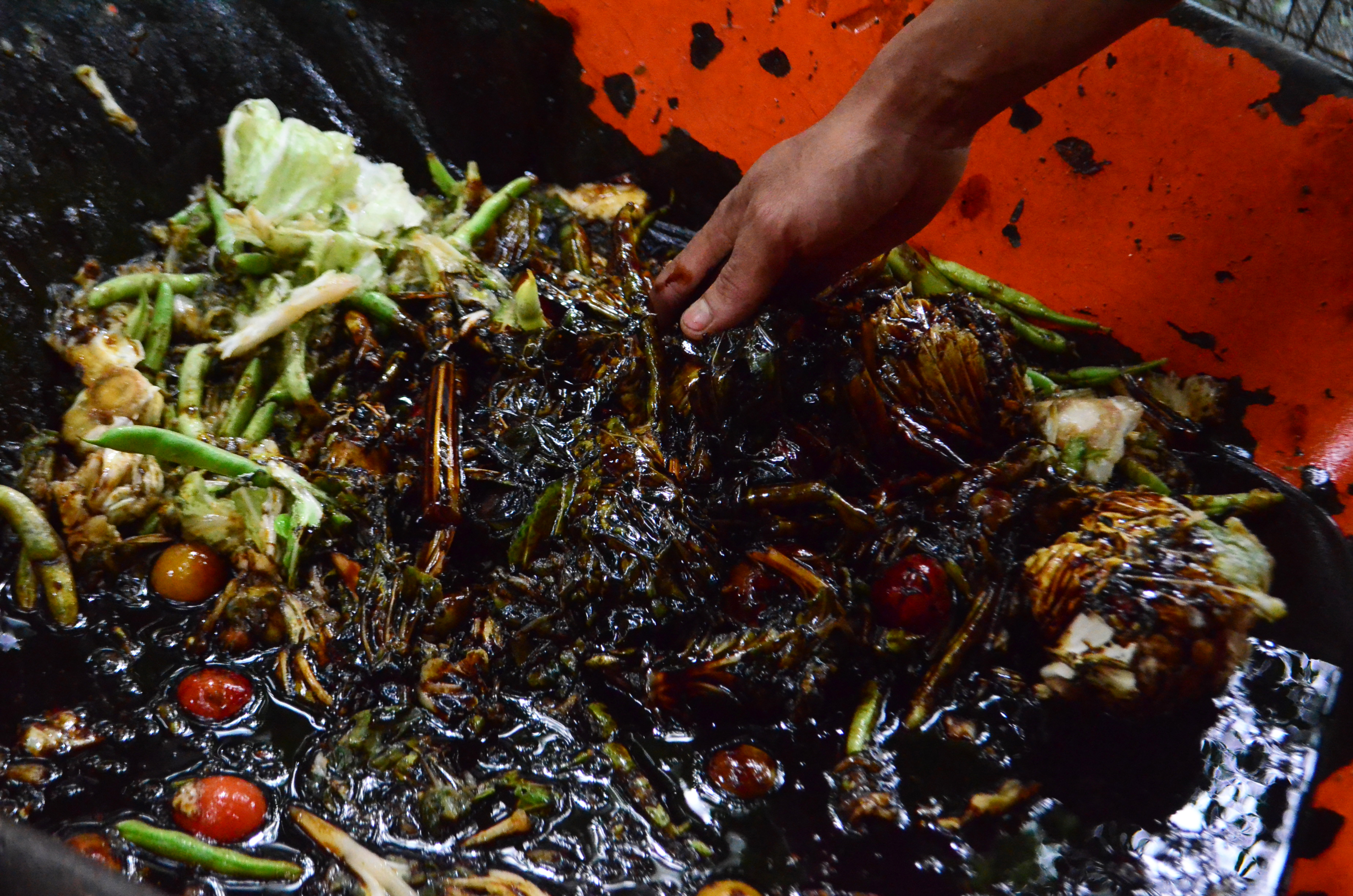 Back at Sitio Anting, pig feeder Jaypee De Guzman shows us how the vegetables gathered from the NVAT are prepared. "We soak everything overnight in this pool of cold, clean water. Modern vegetable farms use quite a bit of pesticide so we need to give them a good rinse." The greens are ground and mixed with molasses, rice bran and corn grits to add texture and additional nutrients.
"Pigs are like people. They get tired of eating the same food every day, which is why we augment their diets with greens we grow locally," says caretaker Jake Llamelo.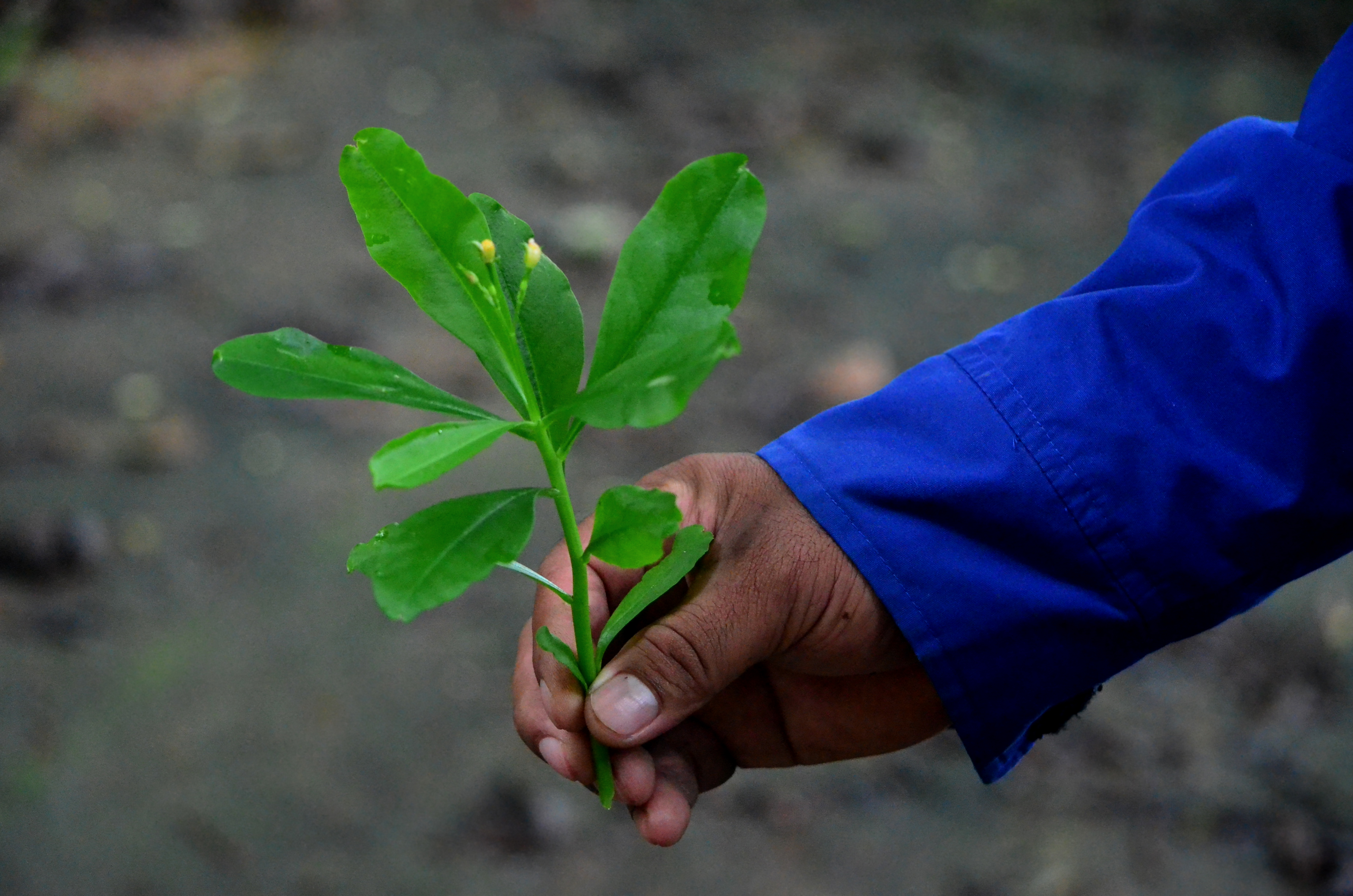 Included in the pigs' green menu are Madre de Agua, Azolla, Kangkong, Napier Grass, Malunggay, Indigofera and a unique native plant called Talilong, which grows naturally in Sitio Anting and is a big hit with pigs. It seems the formula is working, as the farm's hogs are rapidly multiplying.
The future of free-range pork
From being a relatively unknown breed, the Large Black pig now has an online following in the Philippines. Inquiries and orders from as far as the Visayan Islands, over 600 kilometers south, are streaming in – even if the pigs command premium prices. A three-month old pureblood sells for about £500, while adults go for over £1300. As the breeder pool grows, the prices are projected to ease up.
Growing larger and faster than native pigs while providing healthier, softer and more flavourful meat, Sitio Anting's Large Black pigs might just be the future of the Philippine free-range hog industry.
The visionary governor has big dreams for his farm. "We want to be a model farm, so others can follow our free-range methods. This is our way of promoting our advocacy on animal welfare. As Kaminsky said, the best way to produce pork with a purpose is simple – just let pigs be pigs."