China: Hog Markets
CHINA - Looking at the size of the breakdown of the inventory for January 2014, the information from the Ministry of Agriculture (MOA) is difficult to obtain but there appears to be quite a large drop in farm inventory and a reduction n breeding stock numbers, writes Ron Lane, Senior Consultant for Genesus China.
December monitoring results cannot be found. Thus this report has to look at the percentage changes in January from the previous reporting periods.
MOA states that January on-farm inventory was down 4.2 per cent and breeding stock was down 0.6 per cent from the previous reporting period. (not sure if this means December or November, 2013). As compared to November 2013, breeding stock was around 50.33 million and total on farm inventory was around 458.75 million. If one compares to November 2013, then about 19.27 million pigs in inventory changed (decreased) so that on farm inventory would be 439.48 million head.
This seems like an extreme number and it could be that the original count has been adjusted - usually in the month of January, the MOA makes an adjustment of the inventories - or other factors such as disease, cold weather and/or home consumption (mainly backyard farms) for Spring Festival, have all affected the total on farm inventory.
For January, 2013, the breakdown of the inventory for breeding stock was around 51.30 million and total o-farm inventory was around 446.79 million. Again, from the January 2014 report from MOA, it states that on farm inventory was down 2.2 per cent from January 2013 for a total for January 2014 of 436.96 million head. As a comparison, 439.48 (November 2013) versus 436.96 million head (January 2013) — either way means a large drop in on farm pig inventory reported for January 2014.
Profit margins are now showing losses. On 19 February, 2014 it was reported that the losses for a farrow-to-finish operation was RMB199 per market pig (US$32.38). Compared to one month before (15 January), it was reported that profits for a farrow-to-finish operation was RMB49.06 per market pig (US$7.98). This is down by RMB96.01 per market pig (US$15.62) from the week before (8 January) - a 66.18 per cent decrease in one week. This time last year, the estimated profit was RMB382.23 per market pig (US$62.20).
Since the beginning of the year, there has been a continuous decline in profits and now large losses.
A field survey conducted by the Liaoning Provincial Price Bureau (NE China province) illustrated the huge losses that pig producers are currently experiencing.
Current market pig prices have been falling and production costs have been increasing so that pig producers are losing RMB382 per head (US$62.16) for a 105-kg (231-lb.) market pig in a wean-to-finish system. As calculated, a market pig now cost about RMB1,600 (US$260.36) per pig in the province. This includes piglet costs RMB450 (US$73.23), feed costs RMB765 (US$124.49), utilities, interest and marketing costs at RMB120 (US$19.53), vaccination costs RMB30 (US$4.88); mortalities RMB20 (US$3.25) and labour cost RMB180 (US$29.29).
These major costs accounts for a total of RMB1,565 (US$254.68) per pig. Other costs would include waste management, trucking and others to round up to a total cost of about RMB1,600 (US$260.36). The average market pig price in Liaoning during the survey was about RMB11.6 per kg (US$1.89 per kg or $0.86 per pound).
Thus a 105-kg (231-lb) market pig would earn about RMB1,218 (US$198.20), giving an average loss of about RMB382 (US$62.16) per market pig.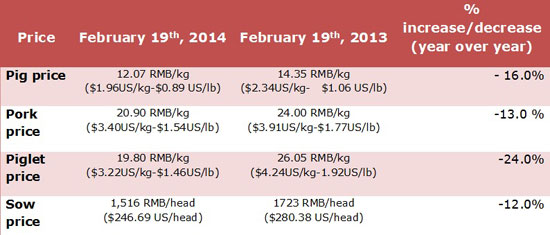 What to watch for over the next few months
Last week (20 February), the pig to grain ratio was 5.49:1. This is sharply lower than at 15 January 2014, when the pig to grain ratio was 6.18:1. This fell from 6.52:1 from the week before (8 January). At the end of October, the pig to grain price ratio was 6.59:1. One year ago, on 13 January, the ratio was at 7.52:1). On the whole, in 2013 the national average of pig grain price ratio was 6.15:1 as compared to 6.25:1 in 2012 (fell by 1.6 per cent). The chief reason was related to the pig market losses of more than five months during the spring and summer of 2013.
Recently, Alltech had its 20th anniversary for manufacturing and operations in China. One report from them outlined the world feed milling numbers. Global feed production increased by one per cent to 963 tons, up slightly from 954 million tons in 2012. China is at the top of the list with a total of 189 million tons of feed produced for livestock in 2013 (produced by 9,500 feed mills), the USA (2nd place) produced 169 million tons from 5,236 feed mills and 3rd place was Brazil (67 million tons and from 1,237 feed mills). China has a declining number of feed mills as the State Government has encouraged the expansion in size to facilitate better traceability and to improve product quality. Also, the large scale farms are requiring larger consistent quality. Looking at the breakdown for species in the world: poultry was 46 per cent of total feed production (444 million tons); swine was 243 million tons; ruminants was 196 million tons; aquatic was 40 tons; pet food was 21 million tons and horses was 12 million tons. Sixty percent (60 per cent) of the feed produced was pelleted. Asia had the highest average price of feed with $524 US/ton for finisher and from $480 to $550 for grower feed. (China Feed Industry Association has data that shows 191 million tons of feed industry output for China was produced in 2013, of which 42 per cent was swine feed-a growth of 3.2 per cent over last year.
In 2013, Shuanghui slaughtered 13.310 million pigs with a total of 1.75 million tons of meat produced. The plan for 2014 is to slaughter 17 million pigs and to produce and market two million tons of meat. The annual report, also shows that the company achieved an operating income of RMB44.95 billion (US$7.315 billion) - an increase of 13.21 per cent over last year and garnered a profit of RMB5.148 billion (US$837.80 million) - an increase of 31.62 per cent over 2012 profits.
On 19 February, the NDRC announced that plans were being put in place for the preparation to buy pigs from the market and to store in frozen pork reserves to "prevent the excessive decline in hog prices". The goal is to help to stabilise pig production and to maintain breeding stock inventories.
Genesus Global Market Report
Prices for the week of 24 February 2014
Country
Domestic price
(own currency)
US dollars
(Liveweight a lb)
USA (Iowa-Minnesota)
103.28 USD/lb carcass
76.43¢
Canada (Ontario)
189.39 CAD/kg carcass
62.03¢
Mexico (DF)
27.03 MXN/kg liveweight
92.50¢
Brazil (South Region)
3.34 BRL/kg liveweight
64.72¢
Russia
86 RUB/kg liveweight
$1.08
China
11.49 RMB/kg liveweight
85.08¢
Spain
1.2 EUR/kg liveweight
74.73¢
Viet Nam
49,000 VND/kg liveweight
$1.05
South Korea
4,716 KRW/kg liveweight
$2.00