SowMAX Had Producers Talking at EuroTier
ANALYSIS - Recently, I had the opportunity to spend a couple of days at EuroTier 2014 in Hannover, Germany, and I asked the same question to the Hog Slat sales teams, "What items are selling in your market?" writes Hog Slat's Scott Bauck.
The answers varied, but they all had one common factor… SowMAX.
From Hog Slat German Country Manager, Karl-Heinz Wöste, "German producers understand feeding lactating sows as individuals results in heavier pigs at weaning. The SowMAX system accomplishes this task while reducing labor. Producers also like how simple the SowMAX is - no electronic ear tags to lose or motors to fail."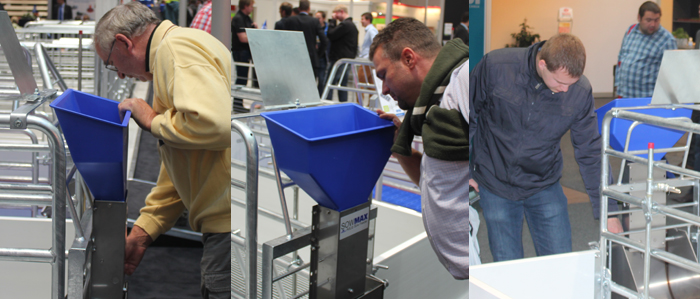 "Our customers are adding SowMAX feeders to existing units," explained Rafal Bozek, Country Manager of Poland. "They tried a few units and saw the results - heavier pigs at weaning. For our producers, the SowMAX is the most durable unit on the market. 100% stainless steel. No plastic parts like competitive products. Simple to use too. Fill the hopper and the sow eats as little or as much as she wants every day without wasting feed."
To learn more about the benefits of SowMAX, click here.
To follow Hog Slat on Twitter, click here.
EuroTier 2014 is the world's leading trade fair for animal production, where innovations are presented, trends set and visions discussed. It is held every two years in Hannover, Germany in November.