UK Pork Trading Slow in Early 2015
UK - According to data from HMRC, both UK imports and exports of pork in January 2015 were lower than a year earlier.
The UK imported 3 per cent less pork than a year before, with lower deliveries from Germany, Ireland and France. This decrease from European partners, despite the growing gap between EU and UK prices due to the weakening of the Euro, concurs with the increased domestic supply and consumer preference for UK product.
Denmark retained over a quarter share of the market and increased the volume of pork it delivered to the UK in January by 5 per cent.
There was also a significant increase in Polish pork imports, perhaps a remnant of redistribution of product previously destined for Russia.
The other legacy of an ample supply, particularly within the EU, was 17 per cent lower unit prices. Bacon and sausages were also cheaper on the year and these categories did increase in import volume.
A 3 per cent rise in bacon imports was supported by Germany and Ireland, as product from the Netherlands decreased and was replaced by Danish bacon.
11 per cent more sausages were imported, with the same key European trade partners involved. Less processed pork was imported, however, as the result of Irish, Dutch and Danish reductions.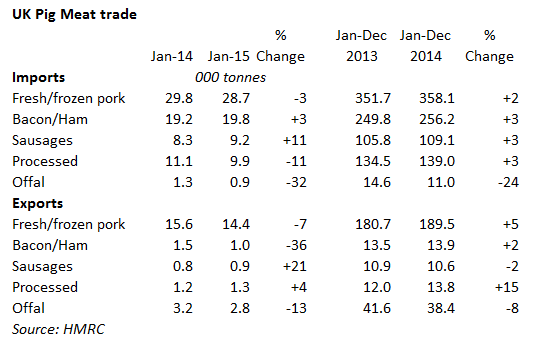 Despite higher domestic supply, UK pork exports in January 2015 were down 7 per cent on the year, even as unit prices dropped by 12 per cent, bringing the value of exports during the month down to £14.5 million.
The UK was competing with supplies from across Europe on Asian markets, as a result of the loss of the Russian market; a 42 per cent reduction in shipments to China and 50 per cent to Hong Kong highlights this.
As US production recovers from PEDv, UK exports to that market were down 13 per cent on the year.
Meanwhile, exports to the rest of the EU were little changed from January 2014, despite the increased gap between pig prices at home and on the continent.
Offal exports to China were also reduced by a third, although more was taken by Hong Kong and South Korea, with higher prices supporting the value of the fifth quarter.