Japanese Pork Imports Continue to Fall
JAPAN - The continued recovery from PEDv, coupled with high stock levels, resulted in a further decline of pork imported into Japan, with volumes for January to September down six per cent at 581,300 tonnes.
The latest figures show that imports of pork continued to fall during the third quarter of 2015, an ongoing trend throughout the year so far.
Volumes were down 9 per cent compared to the corresponding time period in 2014, at 201,000 tonnes.
However, it is worth noting that import demand reached high levels in 2014 as domestic production was affected by PEDv outbreaks. For the first nine months of 2015, the total value of imports of fresh and frozen pork fell by 7 per cent to ¥314 billion.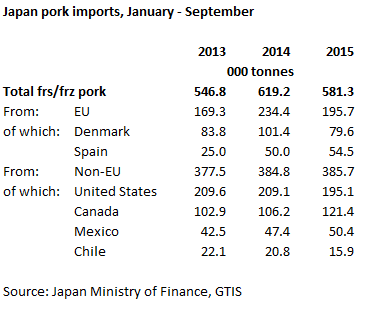 During the months of July to September 2015, imports from the EU fell by nearly a quarter on the year to 72,200 tonnes.
This was predominantly driven by Denmark and Spain, with both countries recording declines, of 17 per cent and 18 per cent respectively.
Outside of the EU, there was a marginal increase in pork destined for Japan, with increases from Mexico and Canada. In comparison to the third quarter of 2014, shipments from Canada were ahead by 22 per cent and Mexico by 7 per cent .
Whilst imports from the US dropped 8 per cent year on year, it remained the largest country supplier, making up just under a third of all shipments.