Global Market Report: Mexican pork market
Last week we attended Mexican Pork Producers Congress organized by one of the Mexican Pork Producers Association OPORPA.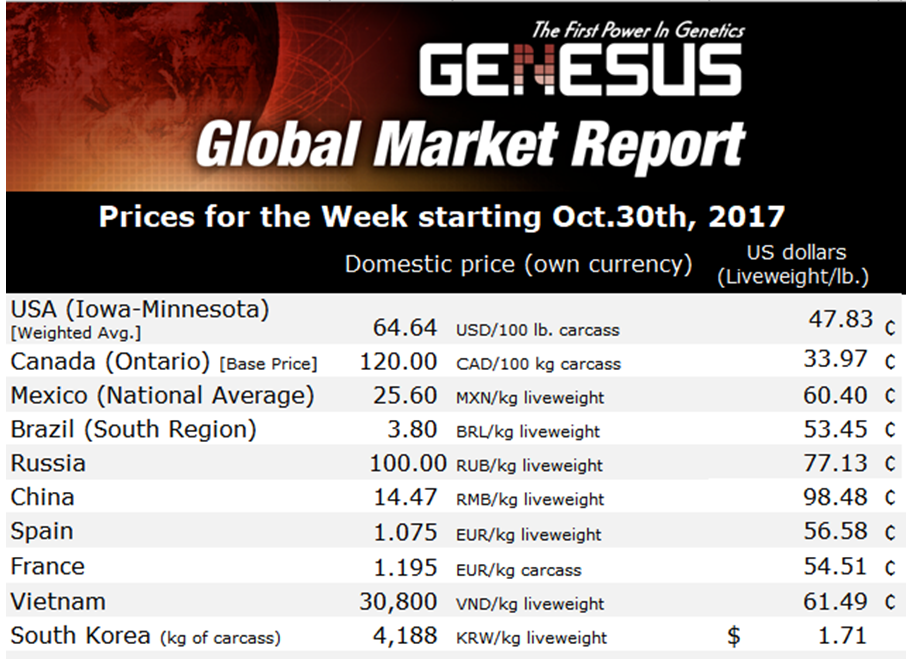 Fernando Ortiz, Ibero-America Business Development, Genesus Inc
There were some debates about the current and future of the Mexican pork industry. Facts like the volatile currency (Mexican peso) on front of the US dollar, NAFTA negotiations, environmental and animal welfare issues, among others were topics of discussion.
National weightlive price average accumulated over the last 12 months is still strong, compared to its North American counterpart.
Talking with people from the industry they clearly observed that steadiness in the market would continue for the rest of the year. The industry does not see major changes on feed prices and the domestic consumption continues to be strong and supportive as well.
The new peso devaluation wave brings some up and downs to the pork sector since creates a little relief for the domestic pork producer in front of imported pork from the US while, on the other hand, financially hits the cost of imported feed as well. They have took this as a fair balance for everyone.
Mexican pork producers are demanding to USDA get approved and recognized Mexico as a Classic Swine Fever free country, as similar recognition was already granted by WHO. The US government deadline for approving this request is December. If that happens, Mexico would be ready to ship to the United States prime cuts at a very competitive price. Even though cost of production is higher in Mexico, they could adjust prices according to the market, they told me, in order to be competitive.
Since Mexico is the US main partner buying pork, NAFTA situation would be favorable to Mexico in case the Free Trade Agreement fails. It will adversely affect the U.S. pork industry and cost jobs.
The national Mexican herd will be, by the end of the year, one million sows, expanding at 2.5% rate by the next year with a total production of 1,370,000 MT of pork.