Emerging technologies at AASV: four new tools to boost efficiency
More intriguing technologies spotlighted at the 2019 American Association of Swine Veterinarians annual meeting.
Between tight margins and constant herd-health challenges, pork producers are always looking for new ways to increase efficiencies and profits while also increasing transparency and addressing societal concerns about animal welfare, production practices and their impact on the environment.
Some of the new technologies highlighted at the 2019 American Association of Swine Veterinarians annual meeting have the potential to help producers meet these challenges. Here are four innovations to watch.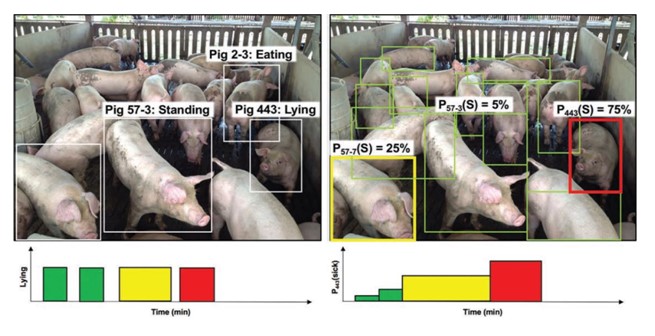 Animal phenomics is a relatively new term that describes the next generation of animal-trait measurement, sometimes referred to as visual sense-making, said Josh Peschel, PhD, assistant professor of agricultural and biosystems engineering at Iowa State University. The precision technology will help producers know when an animal's behaviour isn't ordinary, indicating the animal may be sick.
"While images and video work pretty well, we've realised we can make 3D animations [of typical animal behaviour] and apply it to actual video in livestock barns, which helps us do behavioural health predictions," Peschel said.
Live-animal movements can be scripted in a computer language that is flexible and easy to use, meaning file sizes are manageable for quicker transfer.
"We're able to digitally mark animals and use our tracking techniques," Peschel said, which means if an animal is moved to a different pen, it can still be tracked. Sickness behaviours being tracked include feeding, drinking, interactions with pen mates, and increased resting, huddling and shivering.
Peschel hopes the data can be put in a common library so multiple developers have access to it and, subsequently, can analyse and build tools that will automate processes. The goal will be to identify behaviours indicating distress and be able to send this information to managers so treatment can begin quickly.
Precision injection technology
Advancements in injection technology for vaccines and antibiotics are like "going from an arrowhead to an AK-47," said David Edwards, CEO and founder of Automed. Now, producers have injection technology as a complete platform that focuses not only on automatic delivery but also on treatment records, inventory management, dosing validation, user statistics, drug efficiency, treatment protocols, prescription management and compliance.
"When the system is recording a treatment, there are 129 data points recorded on each treatment delivered," Edwards said. "The essential items recorded are the medication information, user, site, GEO location, animal ID, group ID, procedure ID, incomplete or completed dose, date timestamp, device serial number and adapter serial number. A further 100 data points are recorded on how the medication was delivered into the animal. The data is synchronised on a cloud platform that can be fully integrated into other platforms."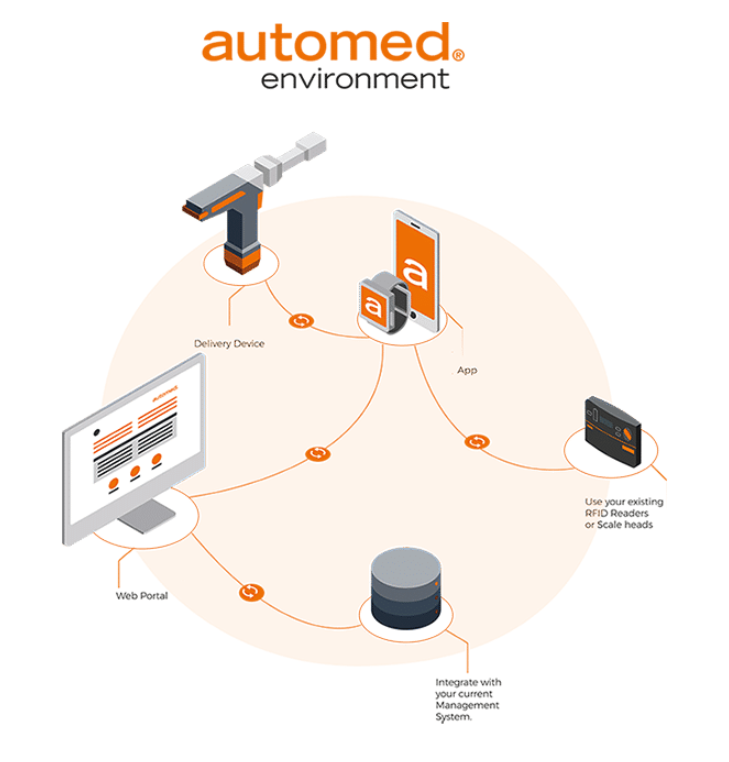 Edwards said trials began in the US pork industry in 2016. Managers liked getting the automatic data recording and accompanying information, and users liked the syringe's ergonomics. A negative to the system is that a mobile device is required, and many managers don't allow mobile devices into their buildings for security reasons. Additionally, users were concerned about being monitored. Edwards said use of the syringe will be a buy-in process from the top-down and vice versa.
Cough-index monitor
Sound within a pig barn can be an effective diagnostic sample, potentially serving as a proxy for disease presence or absence, said Seth Krantz, DVM, veterinarian for Tosh Pork in Tennessee. He used a "respiratory-distress monitor system," or cough monitor (SOMO+ Respiratory Monitor, produced by SoundTalks NV, Leuven, Belgium) to evaluate spatial spread of Mycoplasma hyopneumoniae (M. hyo) within a barn.
"Within the growing-pig sites of a commercial production system, where M. hyo infection can be managed while maintaining market hog sales, SOMO+ monitoring offers distinct advantages in early detection of respiratory disease to facilitate effective intervention," Krantz said.
"This technology could allow caregivers to implement treatment earlier to maximise efficacy, including the responsible use of antibiotics, and can be targeted to a group or lot rather than the entire flow."
He added that implementation of the technology may be related to value, ownership, buy-in and management. As technology evolves and improves, Krantz said a cough-monitor programme will have increased applicability.
EveryPig mobile technology
EveryPig is a SAAS (software as a service) solution created to allow veterinarians to respond more quickly to clients' health issues on the farm. The web app collects daily, farm-level pig health data and presents the information in a news feed called the Farmfeed. Users of the platform access the Farmfeed to evaluate and respond to pig health issues in real-time.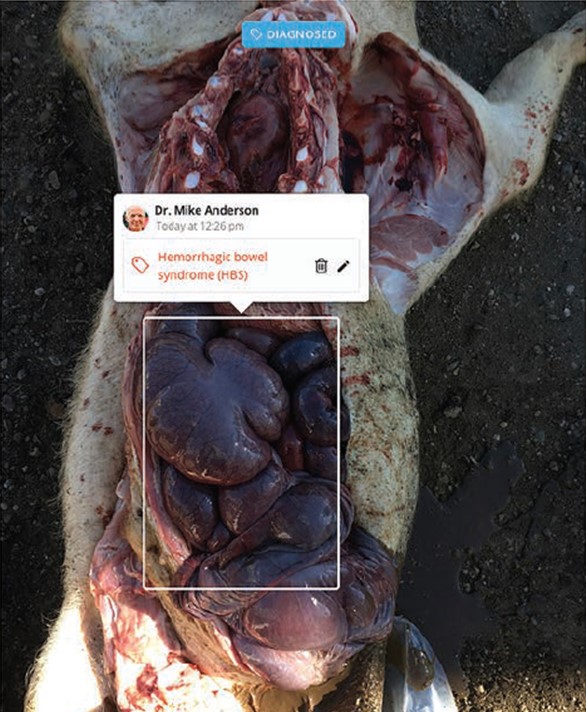 Chris Bomgaars, founder and CEO of EveryPig, grew up on a farm in northwest Iowa, where he helped RC Family Farms grow to 350 farms by 2018. He gained a good understanding of the needs of pork producers and learned how important it is to get a quick, accurate diagnosis so treatments can be implemented quickly.
"As we scaled, we realised it was virtually impossible to get relevant, real-time animal health information," Bomgaars said. "We were learning about issues when it was too late, so we started to digitise the daily checkup. We want to move the industry from being reactive to becoming more proactive."
Presently, EveryPig is being used as a management tool for more than 3 million pigs per year in the US. EveryPig is powered by an array of proprietary data collected by the platform. With this data, proactive suggestions, warnings, recommendations and diagnostic predictions are generated.
Brent Carmichael, DVM, is manager of animal health and welfare at RC Family Farms. He has seen the app's evolution.
"Real-time information comes in quickly and we can react," Carmichael said. "We can set it up as a text message or email and pictures are uploaded. We were able to diagnose porcine epidemic diarrhoea virus based on a picture, which allowed us to immediately develop a plan for tracking and biosecurity."
Carmichael said he can cover a lot more ground "virtually."
"People are not OK with you driving out to their farm," he said. "EveryPig helps veterinarians improve biosecurity while still giving them the context they need."