Novus gathers European key opinion leaders to discuss advances and trends in piglet nutrition
As a leader in swine nutrition, Novus International, Inc., hosted an exclusive Key Opinion Leaders event in Seville, Spain to openly exchange experiences, thoughts on today's European challenges in piglet nutrition and obtain new information related to the latest nutritional approaches that can help optimize piglet development.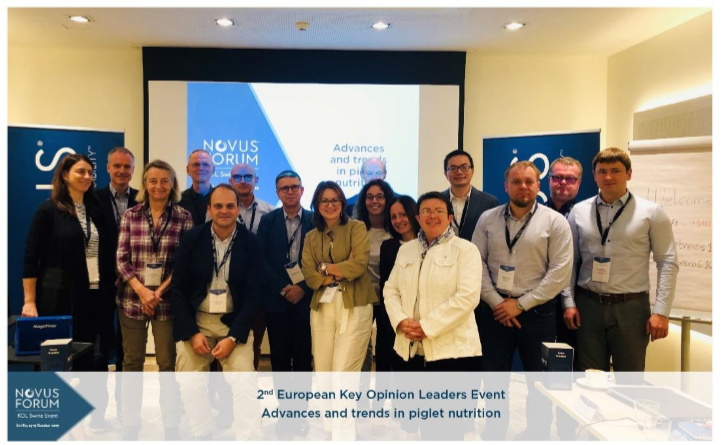 A selected group of key academics, scientists, practitioners and nutritionists within the European swine industry participated in this meeting. Joined by the technical and marketing teams from Novus Europe, the group included Jannes Doppenberg (Schothorst Feed Research), Nathalie Quiniou (IFIP), Krzysztof Lipiński (University of Warmia and Mazury in Olsztyn), Niels Kjeldsen (SEGES) Carlo Lasagna (Gruppo Martini) and Sergii Dobryansky (Cargill Ukraine).
The two-day program involved moderated sessions on topics such as challenges in piglet performance, alternatives to zinc oxide, feed additive trends, and piglet management. Industry professionals presented topics according to their field of expertise while Novus representatives shared the company's latest innovations in trace minerals, enzymes and eubiotics.

Dr Ping Ren, Novus swine nutrition research scientist, had the opportunity to share the latest research on Novus solutions aimed to optimize piglet growth and gut health post-weaning. This included the most recent data on MINTREX® bis-chelated organic trace mineral, its benefits on piglet growth and excellent results showing reduced interactions with phytate in the diet and improved phytase efficacy.
"This event was also a very suitable opportunity to present the latest research on our CIBENZA® protease line in piglets and how it contributes to the improvement of amino acid digestibility and gut health status," Ren said. "I also focused on the research done with PROVENIA™ feed additive, a protected benzoic acid, as a complementary tool to support gut health in piglets and as an alternative to zinc oxide."
Early piglet growth is one of the most widely discussed and researched topics in swine health and nutrition. There are countless challenges associated with early piglet development, and despite efforts to overcome these, producers leave growth potential, and ultimately money, on the table.
This roundtable is one of many being held globally to help Novus experts more thoroughly understand the challenges and needs faced by swine producers while also providing a platform for collaboration across the industry.
Ren said the event was well-received and that he appreciated the perspectives shared.
"I am glad to better understand the current issues and needs in the European market so I can contribute in the development of our nutritional approaches to help producers to overcome those issues," he said.
Novus's research and technical teams aim to take the insights from the event to further develop effective approaches to boost animal performance and producer profitability through its organic trace mineral, enzyme and eubiotic products.
More information about Novus products and other upcoming events can be found at www.novusint.com.