Biomin opens new state-of-the-art premix production facility in Austria
Biomin has opened an ultra-modern premix production facility in order to meet the growing customer demand for its animal nutrition products, including mineral feed, premixes and specialties.
Production began in Haag am Hausruck in Austria in February. The facility can process up to 10 metric tons of finished product per hour. It includes an on-site laboratory for quality control and 54 silos with a storage capacity of 1100 m³.

"The new production unit represents the Biomin promise to customers by leveraging advanced technologies to deliver high quality animal nutrition solutions while ensuring safety, sustainability and traceability" stated Franz Waxenecker, Managing Director of Biomin.

Safety and traceability
The facility has been designed to ensure full transparency and minimise the risk of cross-contamination of final product. Self-driving automated guided vehicles (AGVs) ensure transport of materials throughout the facility in a closed container system. Batch managed inventory and electronic records capture when employees perform specific actions such as dosing or emptying each silo, for example.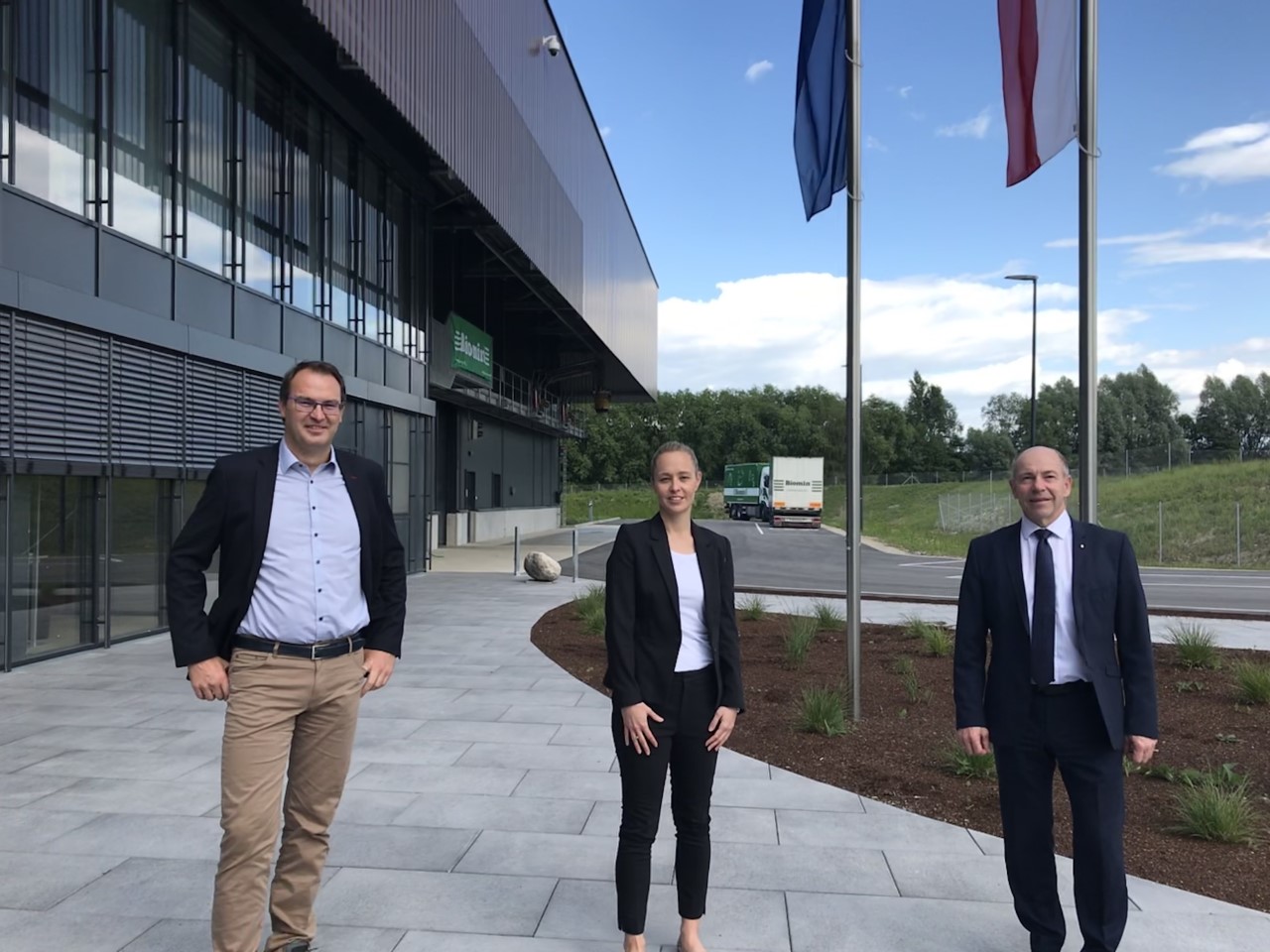 Sustainability
Given the firm's mission to help improve the sustainability of agriculture the plant generates power from a geothermal system and solar panels on the rooftop.

"Our nutrition solutions contribute to sustainability by improving the efficiency of farm animals, boosting farm and feed mill profitability and reducing the ecological footprint of agriculture," stated Barbara Rüel, Head of Global Product Management Animal Nutrition at Biomin.
Growth ambition
"While we have had considerable success bringing our unique feed additives to customers in over 130 countries, our nutrition management solutions encompassing premixes, mineral feeds and specialties has until recently been focused on several key regions," observed Mr Waxenecker.

Sponsored content - article continues below
Mycotoxins in Swine Production
The impact of mycotoxins — through losses in commodity quality and livestock health — exceeds $1.4 billion in the United States alone, according to the Council for Agricultural Science and Technology. This guide includes:
An overview of different types of mycotoxins
Understanding of the effects of mycotoxicoses in swine
Instructions on how to analyze mycotoxin content in commodities and feeds
Innovative ways of combatting mycotoxins and their effects
Download e-book now

"With this new facility we will be able to bring our science-based nutrition solutions to customers in new markets as part of our internationalisation strategy," he added.

Nutrition management solutions

"For many years customers have relied upon well-balanced feeding concepts designed by BIOMIN to achieve a range of objectives, including improvements in performance, health, well-being and reducing antibiotic use or environmental emissions," stated Ms Rüel.

"Our ability to offer flexible, science-based solutions and access to innovative mycotoxin risk management and gut performance solutions are what set us apart," concluded Ms Rüel.
The biomin production unit at Haag am Hausruck has several notable quality certifications, namely GMP+, ISO 9001, ISO 14001 and HAACP.
Production facility currently running
Since scaling up production earlier in the year, BIOMIN has enacted a series of measures to ensure that it can continue to deliver premix products to farmers, feed millers and integrations in Austria and throughout the world.

Precautions taken to limit the risk of coronavirus infection include requiring employees to wear masks, restriction of outside visitors, increased sanitation measures and staggered shift work, among others.

"One result of the coronavirus situation is that agriculture and food production have been recognised as essential sector," observed Mr Waxenecker. "Through prompt and extensive actions put in place, we have been able to fulfill our role in the food production chain and ensure that farm animals receive high quality nutrition, so that farmers can feed the world," he concluded.
Our Partners
---
Sponsored content
Mycotoxins in Swine Production
The impact of mycotoxins — through losses in commodity quality and livestock health — exceeds $1.4 billion in the United States alone, according to the Council for Agricultural Science and Technology. This guide includes:
An overview of different types of mycotoxins
Understanding of the effects of mycotoxicoses in swine
Instructions on how to analyze mycotoxin content in commodities and feeds
Innovative ways of combatting mycotoxins and their effects
Download e-book now