Conservation Practices in Outdoor Hog Production Systems
In a report subtitled 'Findings and Recommendations from the Center of Environmental Farming Systems' at North Carolina State University authors Silvana Pietrosemoli, Jim Green, Chris Bordeaux, Lee Menius and Jennifer Curtis identify several key practices that address conservation issues in outdoor pig production systems, including animal management and nutrition.
If not properly managed, outdoor swine production can pose environmental risks.

This project explored different strategies that can be adopted to reduce the environmental impacts of outdoor hog production systems, with a main focus on maintaining vegetative ground cover as a means to limit soil nutrient losses. The following summarize the authors' primary findings:
Stocking rates need to be established according to on farm circumstances, including soil, forage, weather, animals, management system and skills.
Annual forages appear to be more sensitive to natural pig behaviours, including rooting, grazing and trampling. The authors suggest stocking rates of 15 pigs per acre (wean-finish) on annual forages.
Perennial forages are less sensitive to pigs' natural behaviours and stocking rates can maintained in the range of 15 to 30 pigs per acre and four ro six sows per acre.
Soil nutrient deposition and soil compaction increase as stocking rates increase. Removal of excess nutrients deposited to the system using hay crops is effective and highly recommended.
Rotational management is effective and has many advantages including that it provides a rest period for forages, better distribution of soil nutrients and a potential reduction in parasite loads.
This project identified several key practices that address conservation issues in outdoor hog production systems. Additional research is needed to further refine existing practices and explore potential new strategies. Future research should focus on evaluating an integrated approach to minimising the environmental impacts of outdoor hog production systems, with a particular emphasis on best nutrient management practices to be implemented in grass/legume mixtures.

Two main strategies should be evaluated:
Animal management strategies
Animal management strategies can be explored to minimise vegetative ground cover damage, reduce soil nutrient build-up, and improve the spatial distribution of nutrients. A partial list of potential activities to evaluate includes:
stocking density
management system (continuous versus rotational)
periodic harvest of forage (hay, straw) to remove excess of nutrients
design of a mobile shelter prototype
design and location of wallows
inclusion of 'deep-bedded structures' during a phase of the outdoor swine production system.
implement a 'potty training' strategy
evaluation of composting and vermicomposting processes and products of swine bedding, and
multi-species grazing.
Nutritional and feeding strategies
Nutritional and feeding strategies can be evaluated with the intent to reduce the amount of nutrients imported into the system. A partial listing of potential research activities includes:
multi-phase feeding
concentrate restriction
modification of diet composition, e.g. reduction in dietary protein and utilisation of phytase, and
evaluation of alternative feedstuffs.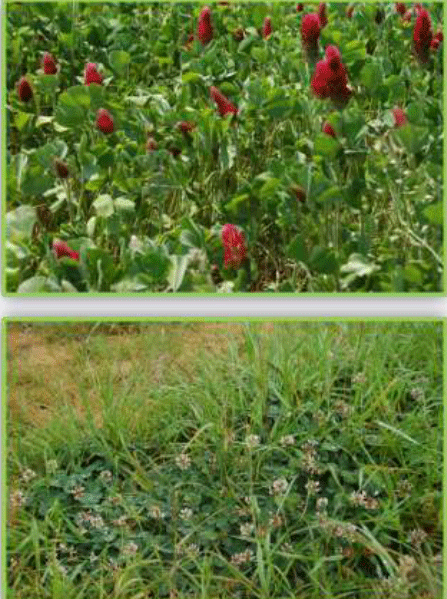 Legumes have an important role to play in a concentrate restriction programme
Dependent variables
On the environment: ground cover percent, soil damaged area, botanical composition, soil biodiversity, Soil physical and chemical characteristics (soil compaction, pH, soil nutrients up load (nitrogen: nitrate and ammonia), carbon, phosphorus, potassium, zinc, copper, calcium, magnesium, boron), nitrogen and phosphorus leaching.
On the animal: growth and reproductive performance, carcass and pork quality (technical and sensorial), parasite load.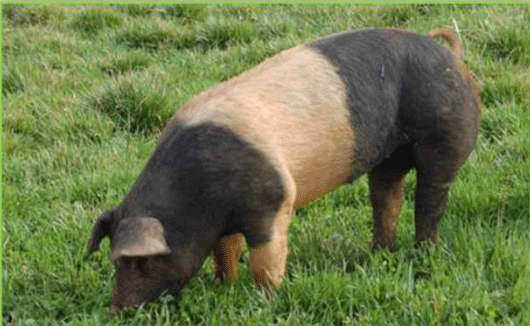 Providing good quality forage is the first step to reducing nutrients imported into the system
December 2012